Commentary
Gallantly streaming
National anthem advice from vets
Updated:
March 28, 2011, 1:54 PM ET
By
Sam Alipour, Sean Evans, Sarah Turcotte
and
Jake Zucker
| ESPN The Magazine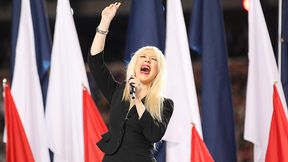 Matthew Emmons/US PresswireIf only Christina Aguilera had read this...
This story appears in the April 4, 2011, issue of ESPN The Magazine.
Between March Madness and Opening Day, a lot of musicians will be tackling the national anthem this month. Some vets offer them a bit of advice.
SHOW RESPECT, NOT LEG.
"You want to be classy in how you dress. You can't show much skin, and I didn't wear a lot of makeup or diamonds. Then again, something sparkly can evoke stars and fireworks." -- Keri Hilson
KNOW YOUR ROLE.
"The anthem's fun to sing -- it's just an old English drinking song that Francis Scott Key adapted with new lyrics. But it's still a public service. You should focus on performing the song well, not on basking in the limelight." -- Bob Weir (Grateful Deal)
STICK TO YOUR OWN PACE.
"I sang it at the 2010 NLCS in San Francisco. Before I started, the producers said, 'We have jets overhead and a giant flag to unfurl. You'll have to follow our lead. Watch for cues.' I was wearing sunglasses, though, so I closed my eyes to pretend I was alone. When I opened them, I saw the producers freaking out. The jets were coming. I debated speeding up like they wanted, but I thought, screw it, and continued at my pace. The jets flew over at the right point anyway." -- Ben Gibbard (Death Cab for Cutie)
TRAVEL IN PACKS.
"Doing it with a band is much easier. Three of us sing. We can't hit the high notes, but we have instruments, even an accordion and a whistle. And we do it in record time. Hey, we're a punk band." -- Ken Casey (Dropkick Murphys)
ADD YOUR OWN TWIST ...
"The Cavs invited me to play Game 3 of the 2007 Finals. I wanted to perform soulfully, so I decided to play on a lap steel slide guitar. I played my version at two gigs before the game, and fans loved it. You think of Jimi Hendrix's famous anthem, but he was on his own stage. I was there to serve the game, so I had to be malleable. But I got to play it with my own twists, too." -- Ben Harper
... BUT FOLLOW THE SCRIPT.
"When we performed at Joe Montana's jersey retirement, I changed a lyric to 'Oh, say could that old Joe Montana play.' The crowd went bananas; I'd never heard anything like it. But we got ripped in the press. It wasn't meant as any sort of disrespect. Still, we've sung it letter-perfect ever since." -- Huey Lewis
DON'T GET COCKY.
"Peyton Manning and I have been friends since he was at Tennessee. In his rookie year, I was invited me to sing before a Colts game. I spent the pregame running routes with him. The organizers kept asking if I wanted to practice, but I said I was fine. Time comes to sing, and all I can get out is 'Oh! say can you see ..." I forgot the rest. I hummed and fumbled around -- it was awful. Luckily, it was before YouTube and cell phone cameras, but I learned my lesson." -- Kenny Chesney
GO EASY ON CHRISTINA.
"Before one Cowboys playoff game, a lady was escorting me onto the field when I panicked and said, 'Do you know the first word?' She said, 'Oh, honey, I don't." I thought, Well, I'm going to have to sing 'Amazing Grace.' Luckily, the words came to me." -- Faith Hill
"A lot of words can throw you off, especially ones we don't use, like 'o'er' and 'ramparts.' Add the silence, the feedback delay and the crying people, and it's nerve-racking." -- Brandi Carlile
FINISH STRONG.
"The first time I sang, we were home against Boston. I can't recall any game when I was so anxious. I got a standing O, but the refs didn't feel the love. I got a second T with just seconds left and got kicked out of the same game I performed at. Got another standing ovation, though." -- Jerry Stackhouse
BLOCK EVERYTHING OUT.
"My first time was at Fenway on Sept. 10, 2008. Preceding the song there was a 9/11 moment of silence, which caught me off guard. You could hear a pin drop when I stepped out. The time to gauge the crowd response is during the "O'er the land of the free &" line. The ballpark came to life then. It gave me chills." -- Jerry DePizzo (O.A.R. saxophonist)
ESPN The Magazine: April 4, 2011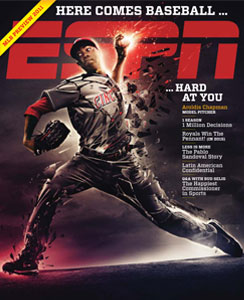 Check out ESPN The Magazine's April 4, 2011 issue below.
MLB Preview
Go/Play
MOST SENT STORIES ON ESPN.COM