Commentary
Readers come up with 10 sports pranks
Updated:
March 31, 2011, 2:34 PM ET
By
Jerry Greene
| Special to Page 2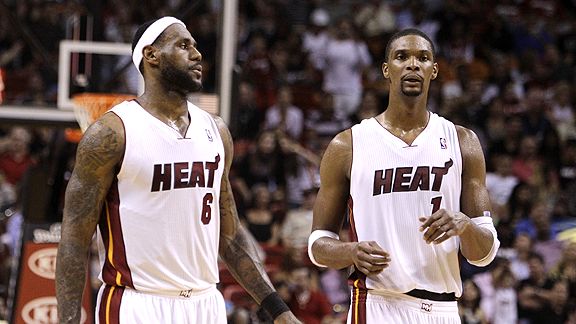 AP Photo/Lynne SladkyOne reader had an interesting April Fool's prank involving LeBron James and Chris Bosh.
In my prejudiced and provincial opinion (IMPPO for those who talk in shorthand), the prank is an American art form.
We have pranks of all kinds -- exploding pranks, stinky pranks, shocking pranks and, of course, the beloved Whoopie Cushion.
And on Friday, April 1, we celebrate the prank and so-called practical joke by encouraging everyone to take their best shots at everyone else. If you do not have a sense of humor, Friday is a good day to stay in bed.
As we stated earlier in the week, the world of sports is a natural breeding ground for the elaborate practical joke, especially in team sports. Nothing is more satisfying than duping a teammate. So we asked you to come up with a list of sporting pranks in honor of April Fool's Day (even though some of them would have to happen at another time of the year).
And you did:
Top 10 April Fool's Day Sports Pranks
10. "Sporting K.C. manager Peter Vermes announces Chad Ochocinco is an active member of the MLS team on Friday but before Saturday's game the only uniform in Ochocinco's locker is the old Wizards mascot outfit," wrote Brian W. of Littleton, Colo.
9. "Tow away Jerry Jones' car while he is reading an eviction notice posted at his personal entrance to Cowboys Stadium along with a note from Tony Romo that he's retiring to be a househusband," wrote Phil H. of Fort Worth.
8. "Send a note from the commissioner's office to Stan Van Gundy informing him that he can say whatever he wants," wrote Ben M. of Peoria, Ill.
7. "Have 'SportsCenter' run a 60-minute Breaking News Special to announce Brett Favre is coming back," wrote Greg of the planet Earth. (Nooooo!!!!!!! That's not funny!)
6. "Tell Craig Sager that he's been named Best Dressed Man of the Year by GQ," wrote Doug B. of Flourtown, Pa.
5. "Announce the NHL playoffs are canceled this year and the Buffalo Sabres are awarded the Stanley Cup for being great sports over the last 40 years," wrote Jamie H. of Buffalo, N.Y.
4. "Pull the same trick on Chicago Cubs fans that always happens by telling them to 'Wait Until Next Year,'" wrote Janice H. of Palo Alto, Calif.
3. "Yankees hold a press conference announcing their anger because CC Sabathia and Bartolo Colon were not winners in 'The Biggest Loser: Couples Edition' contest," wrote Greg of Windham, Conn.
2. "Throw a victory celebration for the U.S. Government after it spends more than $6 million on convicting Barry Bonds, who then gets six months of 'confinement' in his 15,000-square-foot home," wrote Fran G. of San Francisco.
1. "LeBron James apologizes for 'The Decision' and begs to go back to Cleveland but when the plane lands, he's sent Chris Bosh instead," wrote Craig D. of New York City.
One last thing about the American sporting prank. Peggy C. of Oviedo, Fla., is a frequent contributor to our lists. She had no ideas about imaginary pranks this week but wrote about the annual Snipe Hunts held in the late 1960s and early '70s by the St. Louis Blues. Orchestrated by Bob Plager, a true prankster, the scam would involve police and a judge that often informed Canadian rookies that they were banned from playing on American soil due to hunting snipe out of season with illegally large nets. "One player called home in tears to tell his parents that he had failed them because he could never be in the NHL due to his snipe hunting. It was priceless," wrote Peggy.
So we have named "Snipe Hunting" as the greatest prank of them all -- and that's no joke.