Commentary
Dennis Quaid talks about 'Soul Surfer'
Updated:
April 8, 2011, 10:33 AM ET
By
Sam Alipour
| Special to Page 2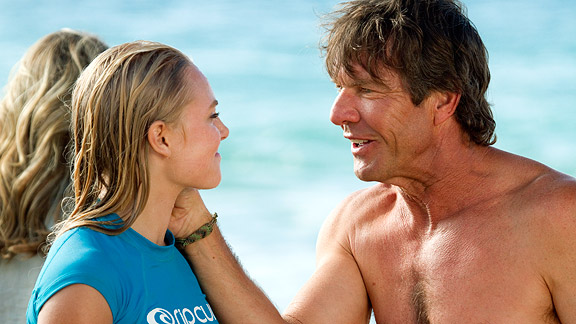 Noah Hamilton Dennis Quaid and Anna Sophia Robb star in "Soul Surfer", which opens Friday.
LOS ANGELES -- Dennis Quaid pulls a rip from his electric cigarette and slumps in his chair, taking a moment to consider the proposition.
"I'm a sports movie hall of famer?" he replies. "Well, I guess I've done quite a few of them, haven't I?"
Um, yes. The list: "Breaking Away," "Everybody's All-American," "Any Given Sunday," "The Rookie," "The Express" and, now, "Soul Surfer," the inspiring true story of teen surfer and shark attack-victim Bethany Hamilton. That film, which hits Friday, is the impetus for this sit-down and the opportune time to present the thespian with this truly great news:
Dennis Quaid is the inaugural member of Page 2's Sport Movie Hall of Fame.
Congrats, man. You're in our Sports Movie Hall of Fame, which we just now made up.
What's the record for sports movies? I want it. (Laughs.) It's nothing I planned on. As a kid, I only played Little League. I was too small for football. So, I wound up in the drama department. I wanted to play sports, but I wasn't developed enough. Now that I'm past my prime, I'm getting all these roles? (Laughs.) Weird timing.
Why "Soul Surfer"?
Bethany's inspiring story. She made this horrific shark attack into a bump in her road. I remember seeing her on "The Today Show," before they were talking about doing a movie, and being struck by her spirit and optimism. It made me well-up, actually. A few days later, my agent called and said, "Do you know who Bethany Hamilton is? They want you to play her father." I said: "I'll do it."
The surfing in this film, including yours, is pretty stellar.
Most of it was me, except when I'm on my feet. (Laughs.) Surfing is hard, man. Even the paddling. By the time you get out there, you're already exhausted. But I'm hooked. During filming in Hawaii, they called me 'The Charger', because I was so determined. (Laughs.) I was out there every day. Now that I've got a heated-wetsuit, for the cold water in California, I'll be doing it out here, too.
Which of your sports films was the biggest stretch, athletically?
"Any Given Sunday." Now, I got to where I could throw, but I remember when I was at 49ers camp, standing back there behind that wall of violence with Steve Young, and one of the coach's said: "He can't throw a cat out of a window." (Laughs.) But that was a fun film, man. On the call sheet, it'd say we start at 7 a.m, but we didn't usually start till noon, so every morning, me, James Woods, Lawrence Taylor and Jim Brown were a golf foursome. It was so bloody. There was money being passed, so there was just ruthless play.
Which was the hardest on your body?
"Everybody's All-American." In football, every play hurts, whether it's a jammed finger or somebody stepping on your foot. In this one, I was playing a running back and, on the very last hit, Tim Fox, a pro safety, put his helmet right on my collarbone and snapped it. They called him 'The Human Missile'. Now I know why.
Which sports flick is your favorite?
"Breaking Away," the first movie I was in that went somewhere, and "The Rookie". That one mirrored my life at the time. It was about second chances and it gave me a springboard for another era in my career. It was also a blast. I had to look like I could throw 98 mph, so I spent every other day for four months throwing with Jim Morris. Then, once a week, I got to go down to Dodgers stadium and throw off the mound. This is a great gig, man.
What filmed sport do you want to tackle next?
I'm good at golf. I've been a scratch. I'm a 5 now. That's the one I'm waiting for.
What's the coolest piece of sports memorabilia that you got out of these movies?
Well, I have footballs signed by Jim Brown, baseballs from "The Rookie." But, without question, the coolest thing I have is from "Great Balls of Fire": Jerry Lee Lewis' ID bracelet, from when he was 21. Nothing beats that.
Wait, you've done movies that aren't about sports?
(Laughs.) I guess so.