Commentary
Athletes have edge on 'Dancing'
Updated:
April 20, 2011, 1:10 PM ET
By
Alyssa Roenigk
| Special to Page 2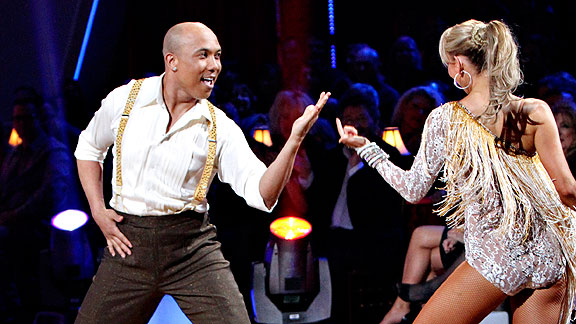 AP Photo/Adam LarkeyHines Ward and Kym Johnson have been front-runners most of the year on "Dancing with the Stars".
On Tuesday night, model Petra Nemcova was the fourth person eliminated from the show.
LOS ANGELES -- There are few scenes stranger than a "Dancing With the Stars" press line -- well, to a sports reporter, anyway.
Pittsburgh Steelers wide receiver Hines Ward, face thick with foundation, is discussing the emergence of his hips and romantic side during Week 5's rumba -- a topic of conversation for nearly every remaining competitor -- and how special it is for him to see the sea of yellow towels in the crowd during each taping -- a point of concern for nearly every remaining competitor.
Next to him, 21-year-old rapper Romeo is wearing a tux and a top hat and bragging about his ability to hang with Ward in weekly one-arm push-up contests. Season 5 winner Helio Castroneves, who came to the show as a way to cheer himself up after a disappointing showing at the Long Beach Grand Prix last weekend, is gushing about Ward's footwork and ability to hold his frame.
"He is doing an incredible job," Castroneves said. "Always smiling, holding his posture. My crew chief told me to tell him he's the man. And you know, he really is. He's surprised me. I didn't know he had that rhythm -- and that hip movement! He will be in the top three."
This is the weird world of "Dancing With the Stars," and something about it is addicting and wonderful. Despite truly intense competition, these contestants cheer each other on during their performances, joke around during commercial breaks and genuinely appear to like and support one another. There seems to be a real camaraderie between the competitors that is lacking even in peewee sports these days, and it likely attributes to the show being such a hit. Well, that and the drama of injuries, stressful practice sessions and surprise wins and losses. Maybe a dance competition isn't so unlike sports, after all.
One thing every cast member agrees upon is the seeming advantage athletes have when stepping onto the "DWTS" stage. In 11 seasons (this is the 12th), five athletes have won the competition, and 11 have made it into the final three. If the Week 5 "American Week" performances were any indication, an athlete might run away with this season's title, as well.
[+] Enlarge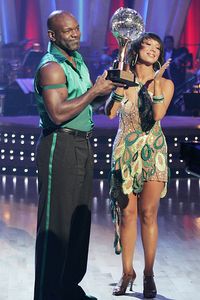 AP Photo/Adam Larkey/ABCEmmitt Smith and Cheryl Burke celebrate their win and display the mirrorball trophy.
"Hines is representing for all the football players, and for all us wide receivers," says NFL free agent wide receiver Hank Baskett, who is at the taping to support his wife, Kendra Wilkinson. "I knew this would be competitive, but this is the closest thing to the NFL I've ever seen. They have three or four days to perfect something and one day to get it right. It's like an NFL practice week."
Perhaps that level of familiarity is why Ward is doing so well.
"It's not about the sport you play, but it is about playing sports," says Maks Chmerkovskiy, a cast member since Season 2 and former partner to boxer Laila Ali and beach volleyball star Misty May-Treanor. "Emmitt Smith was amazing. Dance didn't come easily to Jerry Rice, but he was fun to watch and had an amazing personality. And Hines has been phenomenal. He reminds me of Emmitt. It's their mindset. They are so accomplished in such a volatile sport, and yet they are so humble and chill. Athletes are some of the best partners you can have on this show."
The first thing new cast members learn when they show up for the first day of practice is that dancing is a lot of work.
Chelsie Hightower, who lists rodeo star Ty Murray and Olympic snowboarder Louie Vito as partners, says she lights up when she finds out she's scored an athlete as a partner.
"Athletes know that if they put in the work, they can win," she said. "It doesn't matter what kind of dance ability they have, if they are successful in their realm, they are going to work their butts off to be successful in this competition. I could give Ty and Louie any choreography and any challenge and I knew they would rise to the occasion. It was incredible, and I learned so much from them."
Athletes are also much more conditioned to taking criticism than the average person. In this week's show, Wilkinson cried and lashed out after a pretty harsh critique from judge Carrie Ann Inaba.
"We know how not to take it personally," Castroneves said. "We just take it in and do whatever it takes to make that judge happy."
When Chmerkovskiy was partnered with Ali, he believed the possibility of fireworks between two highly opinionated people was what brought them together.
"I think the production company wanted drama," he said. "They thought I would tell her to fix something and she would swing at me. But it never happened. She knows how to be trained and was totally cool with anything I threw her way. Besides, I am nothing compared to her coaches."
For all those reasons, Ward's partner, Kym Johnson, believes they will be around in the final week.
"Hines is such a natural," said Johnson, who was partnered with Season 7 runner-up Warren Sapp. "Warren was light on his feet, but Hines is lighter. He is agile and has rhythm."
Besides, this show might be more than a dance competition.
"If there is a lockout," Ward said, "Kym and I are taking this show on the road."
First stop: Steel City.