Commentary
Prospective NFL rookies enjoying NYC
Updated:
April 28, 2011, 6:42 PM ET
By
Lynn Hoppes
| Page 2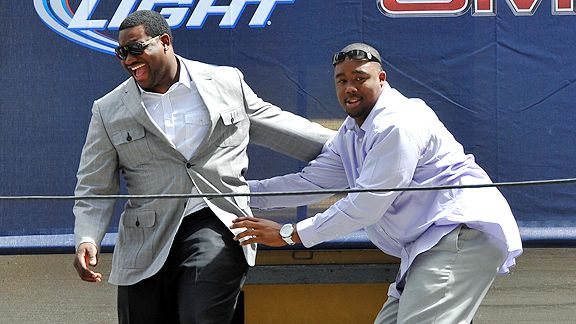 AP Photo/Kathy KmonicekProspects Marcell Dareus and Nick Fairley clown around atop the Radio City Music Hall marquee.
NEW YORK -- Alabama running back Mark Ingram stands next to a 3-foot-tall, 75-pound replica of himself in the form of an orchard chicken salad statue at a Subway store in midtown Manhattan. He looked left for one set of cameras. He looked right. He then did a few media interviews.
And then did it all over again. Another set of photos. And more interviews.
And again.
After about 30 minutes of doing this, Subway pitchman and New York Giants defensive end Justin Tuck said, "Hey, Mark, do the Heisman pose next to it!"
Ingram gives him a weird look: "No, you do it."
Tuck responds, "Uh, I didn't win a Heisman Trophy."
And that is the life of prospective NFL players leading up to Thursday's NFL draft at Radio City Music Hall.
After partying Wednesday night with other players at the ESPN The Magazine party, Ingram was up early for a TV interview and then popped into the Subway to talk about his partnership with the sandwich chain.
"I love Subway sandwiches. I ate them way before they came at me to represent them," said Ingram, standing next to his likeness that took 300 pieces of chicken to complete. "I pretty much eat six or seven varieties. I'm so honored to be representing them."
With just a few hours before the draft, the rookies are getting in all their appearances and not really having a lot of time to spend with family and friends.
Auburn defensive lineman Nick Fairley headed to a New York hospital to boost the spirits of patients. LSU defensive back Patrick Peterson took time Thursday for a big brunch to thank his family for support for his years in college. And several players were going to stop by some NFLPA events.
Page 2 hung out with several NFL draftees heading into Thursday night:
Mark Ingram, Alabama running back: "I've been waiting for this my whole life. I'm starting to get a little nervous. But my family is here so I'm going to spend the afternoon with them. I haven't even had much chance to enjoy New York. It's been all work. But tonight is what it's all about. I'm ready to make a contribution to whichever team picks me."
[+] Enlarge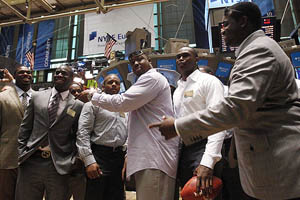 AP Photo/Frank Franklin IIAuburn's Nick Fairley gestures to Nebraska cornerback Prince Amukamara, second from left, as they pose at the New York Stock Exchange.
Nick Fairley, Auburn lineman: "I've never been to New York, so it was really cool going to Radio City Music Hall with some of the other draft picks. And then we got to go to Wall Street and be part of that action. It was really cool. I want to see so much more here. Today, I'm heading to a hospital. Hey, I'm just doing as I'm told right now. I'm here for the NFL draft. This is going to be a dream come true for me. I will have some high emotions and I won't really understand things until the end of the night. I, like so many others, want to get back on the field. I need to keep my body right. I went to the Auburn spring game and I was dying to run out there and play. My family came with me to New York and I love being with them. But I'm really bonding with the other players here. That's what I've taken from this trip. I'm ready to get back to work."
Patrick Peterson, LSU cornerback: "I'm here in New York with my family. We're having a great time together. They've always been there for me. I had this weird tradition when I was playing at LSU. For good luck during the season, I would always wear the same underwear. Seriously. When I first started playing in college, I wore this one pair of underwear and I had a really good game. So each week, I'd wear it. And don't be disgusting. Of course I'd wash it before wearing it. But here's the funny thing: I forgot that pair of underwear for my draft today. But today is going to be a good day. I'm taking my whole family to a big brunch. They've supported me from the very beginning and I want to pay them back. When I was in ninth grade, I had poor grades in one semester and my dad didn't let me play football for one semester. I cried and cried. But it taught me not to take anything for granted. So I want to pay them back for all they've done for me. I've always dreamed of this day since I played Pee Wee football. I made it to college. I'm making it to the next level. My family means the world to me. They have created a great foundation. They've been married for 23 years. They are high school sweathearts. I need to pay them back for what they've done."
Cameron Jordan, California defensive end: "My dad, my brother and my cousin are already here, and my sister is coming today. My mom stayed back and is throwing a draft party there. So I'm being represented all over. My dad played in the NFL for 12 years and this is almost like his draft. He's here with his buddies and we're really kind of cool. He's been a great influence on my life and has always kept me grounded. And my mom, who was an athlete also, has kept me focused too. They've been my rock. So we're going to enjoy our days here in New York by just seeing the sights. It's going to be strange not to be in college anymore. I loved living in my apartment with my two roommates. We'd talk about football and all that stuff. When I get to the NFL, I'll be living by myself!"
Ryan Williams, Virginia Tech running back: "I'm from the New York area, so hanging out in New York is nothing new to me. I've seen the good of the city and the bad. I'm just so happy for this opportunity to make the NFL. But I am getting myself prepared if I sit a long time in the green room tonight. I downloaded 20 games on my cell phone. I'll be playing those games until my name is called. Well, I hope it's called."
Greg McElroy, Alabama quarterback: "I came up to the North to do some work at ESPN and I'm here in New York to hang out with some friends. I'm heading back home today to watch the draft from my house. We're having an event Saturday for the rounds I'm likely to go. I've always wanted to play in the NFL. It's going to mean a big deal to me. It's going to be a dream of mine."