Commentary
Sun rose and Indians still in first place!
Updated:
May 22, 2011, 2:33 PM ET
By
Jerry Greene
| Special to Page 2
Good news! If you are reading this, apparently the world did not end at 6 p.m. Saturday. Of course, that means I lost money on the Preakness because I always lose money on the ponies. You can count on that.
And it got worse. A bookie gave me 10-to-1 if I would bet that the world would end Saturday at 6 p.m. and then it hit me: If I won, how was I going to collect?
To each his own, but wouldn't it feel a little strange to be disappointed that we were still here to see the sun rise? But if the world had ended Saturday at 6 p.m., how do you think certain folks would have felt in their final moments?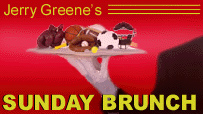 • With the Indians in first place, Cleveland fans would have thought, "It figures."
• More than one NFL player would have thought: "Does this mean the lockout is over?"
• And LeBron James haters would actually celebrate because it would have meant the Heat wouldn't win a championship. Although if the world had ended Saturday, a lot of us might be really feeling the heat the day after, if you get my drift.
Now for a few more isolated and random thoughts before we get to the main dishes in this We-Made-It-To-Sunday Brunch:
• If the Heat do win a title, they'll have to erect some statues in South Beach -- full-sized statues of Dwyane Wade and LeBron James plus half a statue of Chris Bosh.
• The Mets will have to pay Bobby Bonilla (Bobby Bonilla!) $1.2 million annually for 25 years even though he hasn't played in a decade. Actually, that sounds exactly like something the Mets would do. The only surprising thing is that Bonilla never coached for Notre Dame, too.
• Apparently Carson Palmer has a buyer for his $2.1 million house in Cincinnati. No, it's not his brother, Jordan Palmer.
• "Cavs win the lottery! Cavs win the lottery!" -- OK, I tried.
• NASCAR Chairman and CEO Brian France was quoted by the Orlando Sentinel as saying "NASCAR is a contact sport." -- Uh, that's not good, is it?
• Question for ESPN: Are we having all the fun yet?
Well, we're having a good time inside the We-Made-It-To-Sunday Brunch and it's about to get better. Check this quintet of reading treats:
• We begin with a startling report on a psychiatric discussion about adding the term "hyposexual disorder" to the list of recognized problems. Shari Roan of the Los Angeles Times says names such as Tiger Woods, Arnold Schwarzenegger and Bill Clinton are the straws stirring this provocative drink.
• Turning to the Miami-Chicago NBA East finals, Greg Cote of the Miami Herald gives us insight into just how much Udonis Haslem means to the Heat, giving human context to his Game 2 on-court contribution.
• Meanwhile, back in Chicago, some are comparing young Derrick Rose to Michael Jordan. But David Haugh of the Chicago Tribune says that's foolish and unfair. The Bulls don't need Rose to "be like Mike," but they do desperately need him to be like himself.
• Extremely busy week for Chicago. The Cubs are playing the Red Sox in a rare and historic match. Dan Shaughnessy of The Boston Globe points out that the DNA of the two teams is similar but he can't help but mention only one team is called "lovable losers" now.
• We close with a moment for Harmon Killebrew. La Velle E. Neal III of the Minnesota Star-Tribune was at Killebrew's funeral and recorded some of the warm testimonies given. Great hitter, better man.
As for the rest of us, the miscalculation of the time of the Rapture should remind us that there is wisdom in treating each day as if it could be the last. Hey, go hug somebody (just as long as it's not a stranger in the 7-11.)