Commentary
Is Miami most hated city in America?
Updated:
May 31, 2011, 11:28 AM ET
By
Patrick Dorsey
| Special to Page 2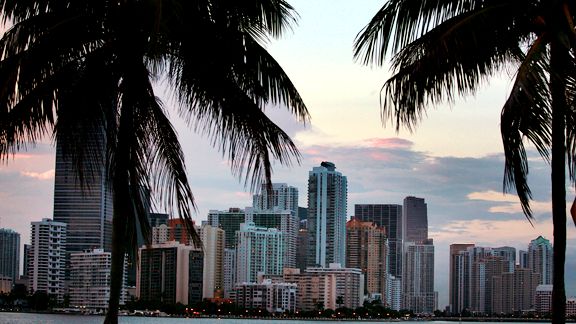 Joe Raedle/Getty ImagesThe city of Miami looks pretty pristine. Maybe, that's one of the reasons it's so hated.
MIAMI -- Pollster John Zogby recently conducted a survey about the city of Miami. His findings, in the smallest of nutshells: Americans don't like it.
And that was before "The Decision." Before "The Celebration." Before the crying, before "The Celebration 2" (after the Boston series), and before the party-loving, late-arriving, fair-weathering city saw its basketball team make its torrid run through the Eastern Conference and into this year's NBA Finals against the Dallas Mavericks.
"People always think Miami is really different, and generally not [in a positive way]," said Dave Barry, the Pulitzer Prize-winning humorist and Miami Herald columnist since 1983. "The Heat thing has just exacerbated that."
So, as those much-hated Heat stand four wins away from holding the Larry O'Brien Trophy up in the faces of a large swath of chagrined Americans, we ask:
Is Miami the most hated city in America right now?
LET US COUNT THE WAYS
Naturally, such a thing is hard to quantify. Google "most hated city" and you won't find much in terms of lists and polls. Even Forbes -- the king of bests, worsts, mosts and leasts -- doesn't rank cities in general.
Still, there's a lot for Americans to dislike about this strange outpost in one of the country's far corners -- even before sports is brought into the equation. Such as …
Flash: According to filmmaker and South Florida native Billy Corben, who directed the Miami-themed "Cocaine Cowboys" and "The U," Miami once was "America's Casablanca," a place for crooks and thrill-seekers to hang out anonymously.
Now, there's nothing inconspicuous about this multicultural mecca.
Consider:
• It's America's No. 1 party city (Maxim in 2007).
• It's the No. 4 place for plastic surgery (Men's Health in 2008), with the most cosmetic surgeons per adult and a special affinity for buttocks implants.
• The flourishing Latin music and hip-hop scenes.
• And really, did anybody bat an eye when Kourtney and Khloe took Miami or when "Jersey Shore" took South Beach?
So no wonder the "Three Kings" celebrated the way they did when they realized they would be spending the next few years in the city.
"For better or worse, the way those three guys were introduced was pretty Miami," Dan Le Batard -- a Miami native, multimedia sports journalist, Herald columnist and local radio show host -- wrote by email over the weekend. "[It was] loud, flashy, fun, musical, emotional and even had Chris Bosh speaking Spanish."
Crime and corruption: Barry used to jokingly say, "Come back to Miami -- we weren't shooting at you." Even a Florida-wide slogan once stated "The Rules are Different Here."
One of the reasons: Those so-called Cocaine Cowboys, a group of warring drug outfits whose violent ways caused Time to run a well-known 1981 cover story titled "Trouble in Paradise."
Now, the FBI's recently released crime data placed the city nowhere in the country's 10 most dangerous. Still, that reputation doesn't go away easily, especially with headlines like Monday's that involve multiple shootings on South Beach, plus frequent stories about corruption and fraud.
Said U.S. Rep. Ileana Ros-Lehtinen, a Republican whose district includes part of Miami, Miami Beach and south to the Keys: "We still have that bad-guy image of the 1980s."
Foreign feel: Corben tells an old joke about this: "The thing that's so great about Miami, is that it's so close to the United States."
And he says that lovingly. Not everyone likes it, though. Some even call Miami a "banana republic" (and not the store) because of its large rich-poor gap and climate that more resembles a tropical country than the rest of America.
On the other hand …
Arrogance? Some of the most beautiful women in the U.S.? Check. Some of its best weather? Check. And did we mention it's the No. 1 party city in America? Indeed we did.
Of course this isn't all Miami offers. But it is a city that likes thrills -- "Even the hurricanes make us kind of exciting," Ros-Lehtinen said -- and it likes to flaunt them. Unapologetically.
Even congresswomen.
"[The haters are] just jealous," Ros-Lehtinen added.
BAD SPORTS
And then you add sports.
Sure, the Marlins aren't disliked all that much -- but how can one truly resent a plucky low-budget team like that? The Dolphins, meanwhile, have one playoff appearance in the past nine years, and the Panthers have none in 10. Even the once-loathed University of Miami football program -- the controversial subject of Corben's "The U" -- hasn't done much to bring back that camouflage-wearing, end zone-celebrating swagger that so turned off America in the 1980s.
But those Heat? They're the new U, Corben said.
And the fans: They don't make people too happy either. Throughout the season, the early part of Heat games has been marked by empty seats and plenty of barbs calling Miami a bad sports city, one that's undeserving of a potential dynasty.
On that last part, Le Batard contends: "We don't. Who does?"
As for the whole fair-weather idea?
"We're not the most stable when it comes to supporting our sports teams," Ros-Lehtinen said. "We have gung-ho fever when our teams are doing well, [but] if they start to not do well, were kind of fickle."
They're finicky and self-admitted? No wonder they draw the ire of fans from more tradition-rich cities.
'US AGAINST THE WORLD'
Still, according to Le Batard, "Sports hate isn't real hate" and "most of the people who 'hate' Miami would love to spend a weekend on our beaches."
Said Ros-Lehtinen: "When people ask me what area I represent, and I say South Florida ... they drool. So I don't think it's a hated city."
But since teams are so tied to the community, when outside fans hate the Heat, some locals see it as hating Miami.
And Miamians often embrace that. They might get mad. They might throw towels at Charles Barkley. But it's a role some say they welcome, one that fits the people well.
"Miami does and always has thrived on that 'us against the world' mentality," Corben said.
Said Ros-Lehtinen: "It adds to the panache that is Miami."
And it's going to keep going for at least four to seven more games.
"Let 'em root [against us]," Barry said. "I guess Dallas is America's team now, and we're -- I don't know whose team we are. The Devil's team."
Hey, better than being the Devil's city.
Patrick Dorsey is a free-lance writer based in Miami. He can be reached at pdorsey1984@gmail.com