Commentary
Here's 10 unluckiest breaks in sports
Originally Published:
June 2, 2011
By
Jerry Greene
| Special to Page 2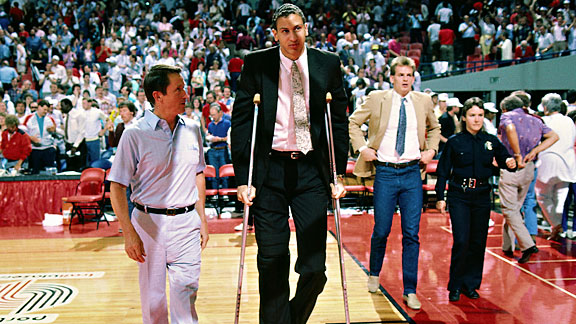 Brian Drake/NBAE/Getty ImagesPoor Sam Bowie. The Portland Trail Blazer will forever be remembered for a photo like this.
One reason I love putting together your weekly top 10 lists (other than getting paid) is that you constantly surprise me. This week you were all over the place with your suggestions for "Top 10 Unluckiest Breaks in Sports."
The list was inspired by the major auto races of the weekend when a rookie lost the Indy 500 due to his unassisted crash on the final lap and, in the Coco-Cola 600, Dale Earnhardt Jr. proved "Little E" stands for "empty" when he lost by running out of gas with a mile to the finish line.
But your suggestions ranged far and wide in the world of sports. Great reading for me but two problems for creating the list:
Problem 1: Far too many injuries. My bad because I should have disqualified them. Injuries are always "bad breaks," so we're looking for other unlucky moments. However, we are creating a very special one-man list for Joe Theismann: "Worst Sports Injury We Ever Saw Over and Over Again."
Problem 2: Numerous suggestions about the misfortunes of fans of specific teams. Not really what we wanted but we are listing the fan groups that got the most sympathy:
• Buffalo Bills fans -- "Come on, you need a reason? Four consecutive Super Bowls, four trips back to Buffalo with no trip to Disney World," said Fran R. of Buffalo.
• Minnesota Viking fans -- "One disappointment after another, such as watching the 2003 NFL draft when the Vikings let two teams pass them in the first round while they tried to make up their minds," said Kenny S. of Winter Park, Fla.
• Chicago Cubs fans -- "Duh!" said Alicia P. of Chicago.
• All Cleveland fans -- "The Drive. The Fumble. The Decision. 'Nuff said," said William B. of Cleveland.
OK, with the eliminating and the categorizing out of the way, let's get to it. And if you are really sharp, you will notice our top 10 really has 11 names. So sue us.
Top 10 Unluckiest Breaks in Sports
[+] Enlarge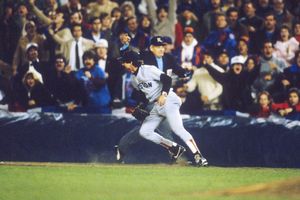 Focus on Sport/Getty ImagesBill Buckner's error in the World Series might be the biggest gaffe in baseball history.
10. Don Mattingly -- "Donny Baseball played for the mighty Yankees but broke into the majors the year after a World Series lost and retired the year before a World Series win to leave without a ring. He was also thrown off a championship softball team for refusing to trim his sideburns," said Mike W. of Wilmington, Del. (It was the tragic softball story that got him on the list.)
9. Dave Stieb -- "The Toronto pitcher had consecutive potential no-hitters broken up in the ninth inning with two outs in 1988. The second one ended when a ground ball took a bad hop over the second baseman for the only hit," said Paul DeBoer, Toronto. (Paul didn't mention that Stieb had a potential perfect game ruined with two outs in the ninth one year later.)
8. Phoenix Suns -- "They lost a simple coin flip to determine the first pick in the 1969 NBA draft, so it was the Bucks who picked Lew Alcindor (aka Kareem Abdul-Jabbar) while they got Neal Walk," said Vicki A. of Tempe, Ariz.
7. Oakland Raiders -- "Franco Harris' 'Immaculate Reception' in the '72 AFC Championship is remembered as an all-time great break for the Pittsburgh Steelers but what about the poor Raiders that were on the losing side?" said Bill P. of Tualatin, Ore.
6. A dove (name unknown) -- "It was spring training in '01 and Randy Johnson was making his delivery when the poor bird decided to fly between him and home plate. Nothing left but some feathers floating to the earth," said Erik D. of Elmhurst, N.Y. (Officially, it was a "no pitch," not a "fowl ball.")
5. Sam Bowie -- "Has to live with forever being hailed as the worst draft pick ever because he was chosen before the greatest player ever," said Ben M. of Peoria, Ill.
4. Bill Buckner and Steve Bartman -- "Neither deserves to be remembered for one little mistake," said Karl H. of Chicago.
3. Eddie Hart & Rey Robinson -- "In the '72 Olympics, their coach did not tell them about a schedule change for their 100-meter sprint qualifying heat. Not only were they disqualifed, while waiting for a bus to the stadium, Robinson saw the race starting with 'N/A' next to their names," said John H. of Kailua, Hawaii.
2. Alydar -- "Had the bad break of being 3 years old in 1978, so he finished second to Affirmed in all of the Triple Crown races when he probably would have won all three in '77 or '79," said Janice H. of Palo Alto, Calif.
1. Mistar -- "An Indonesian soccer player, he was preparing for a match in 1995 when the training ground was attacked by wild pigs -- who trampled him to his death," said Sean M. of Fort Lauderdale, Fla.
Now that's a bad break.