Commentary
Wardrobe malfunctions in badminton
Updated:
June 5, 2011, 4:51 PM ET
By
Jerry Greene
| Special to Page 2
Once again what should have been the really big sports news story of the week went barely noticed. What's wrong with you people? When the blood starts flowing in the streets, you can't complain because you were warned.
This time it's bad news for badminton. Or more exactly, bad badminton news that was barely averted.
The badminton federation (kind of like the Star Trek Federation except that you can wear a red jersey and live past the first commercial break) was going to enact a rule this week that would require female players to wear dresses or skirts. Oh, the women could have the freedom of wearing shorts or long pants -- as long as they were beneath a dress or a skirt.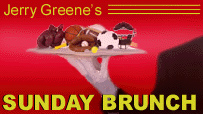 As you might have guessed, a mighty wind of protest shook the very foundation of the badminton federation. So they said it needed further study. Right.
But here's the alarming quote from a member of the federation's executive council: "It is still our contention to focus on a better presentation of the game, but we will like to broaden the scope to include both men and women."
What? The men will have to wear a dress or a skirt?
Funny game, badminton.
While we are practicing our badminton serve, here are a few more notes from the week that was before we move on to the main courses in the Sunday Brunch:
• Shaq has retired and we both live in Orlando. Hey, big guy, we could hang out. How about some shuffleboard and then we'll terrify them at the seniors' buffet?
• Rickety Ricky Rubio is actually coming to the NBA. The big men in the game already have a nickname for him: The Appetizer.
• The Philadelphia Eagles players called for a passing camp -- and quarterback Mike Kafka and wide receiver Jeremy Maclin showed up. Yeah, they'll be in great shape if there's a season.
• The WNBA has 5 of 12 teams wearing corporate logos instead of the team nickname on their jersey. You make your own joke 'cause anything I'd say would be wildly inappropriate.
• Heat coach Erik Spoelstra says Pat Riley is like the Godfather. If Spoelstra came in and complained about the Mavs' Dirk Nowitzki, can't you hear Riley saying: "I'm gonna make him an offer he won't refuse. OK? I want you to leave it all to me. Go on, go back to the party."
• Comedy Central's Norm Macdonald: "This week Steelers wide receiver Hines Ward was crowned champion of 'Dancing With the Stars,' narrowly defeating his own teammate, Pittsburgh Steelers offensive lineman Kirstie Alley." -- Don't blame me, he said it.
• FIFA president Sepp Blatter was re-elected to a fourth four-year term by a vote of 186-17. That sounds impressive -- until you realized he was unopposed.
• Finally, Gordon Gee, president of The Ohio State University, expressed his support of athletic director Gene Smith. This is known as the pot endorsing the kettle.
Now let's get to the main courses, carefully prepared by some of our best:
• We began with the bad times in the world of badminton, so let's move to the good times in the fascinating world of Ping-Pong. Thomas Lin of the New York Times describes it as "the ultimate basement sport, requiring mongooselike reflexes, unflinching hand-eye coordination and deodorant." And much, much more.
• Good times, bad times. Gordon Gee, hunkering down and trying to ride it out as president of The Ohio State University, was once president of The Vanderbilt. David Climer of The Tennessean reminds us that, while at Vandy, Gee once said: "many athletic departments exist as separate, almost semi-autonomous fiefdoms within universities." Got that right, Gordon.
• Speaking of Ohio, The Memorial golf tournament is happening there. Bob Baptist of The Columbus Dispatch harks the new battle cry of global golf: "The Americans are coming! The Americans are coming!" In yo' face, Euros.
• What do the Boston Bruins and the Miami Heat have in common -- other than a sudden inability to win? Kevin Clark of the Wall Street Journal explains that both teams use a player whose main assignment is a simple one: Just stand there.
• And speaking of the Heat, Dan Le Batard for the Miami Herald eloquently describes how the Dallas Mavs turned the Heat crowd into departing zombies. Not a pretty picture.
The Brunch is closed. Go out and be fruitful or something like that.