Commentary
My college traditions differs from list
Updated:
July 3, 2011, 10:15 AM ET
By
Jerry Greene
| Special to Page 2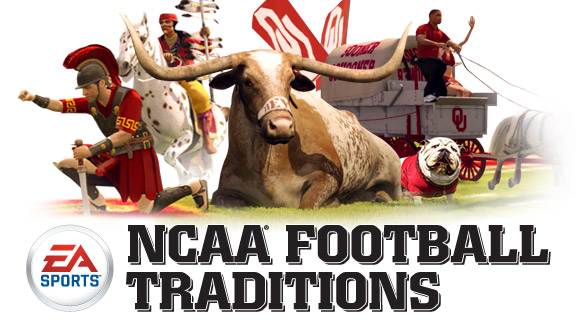 ESPN.com IllustrationYou have a chance to vote for greatest tradition
here
. My list isn't the same.
What is the greatest tradition in collegiate football?
Our SportsNation, plus EA Sports, is letting you answer that question by having a bracket-style tournament that began with 16 great traditions. They're down to the semifinals, so without looking, I guessed at what the top four collegiate football traditions must be:
• Classical expulsion rule for all starting quarterbacks who break team rules or even break laws: "Seven strikes and you're out -- no exceptions!"
• Traditional statement by coaches one week before they leave town for a better offer: "I'm not going anywhere."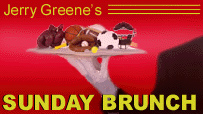 • Time-honored summer job for a starting wide receiver: "You flip this switch, let the field sprinklers run for an hour, then flip this switch and go home."
• Mandatory bidding for all Heisman Trophy candidates: "Opening bid is $180,000? Do I hear $200,000?"
Turns out I struck out, as none of those traditions are among the semifinalists. You can vote on SportsNation now. My prediction is that in the finals FSU's Chief Osceola and his horse Renegade will be runaway winners over Nebraska's "Tunnel Walk." What do you think?
And while you are pondering your vote, we'll list a few more moments in the week that was and will be while awaiting the main courses in this Independence Weekend Brunch:
• Holding Nathan's Famous Hot Dog Eating contest with Joey Chestnut but without Takeru Kobayashi is like having your dog with mustard but without the relish. I'm just sayin'.
• You can get 200-to-1 on the Marlins winning the National League pennant while the odds are slightly better on U2.
• Duke's men's basketball team will play in China and Dubai this year in hopes of finding someplace where it won't be booed.
• Tennis player Andy Murray loses. Heavyweight boxer David Haye loses. The United States of America celebrates its independence. So how was your week, Great Britain?
• Maria Sharapova is too old? When did that happen?
• ABC's Jimmy Kimmel: "In baseball, the Dodgers today filed for bankruptcy protection. I don't know how an organization that sells a beer for $12 runs out of money, but they did. … It's pathetic. It really is. Their Fourth of July fireworks show, they do this every year, this year it's going to be three stoners with disposable lighters running around the infield."
• There's going to be a new radio show in Cleveland called "Cleveland Browns Daily." Really? During the lockout? How long will it take to say, "No news today?" Of course, even when the lockout ends, how long will it take for the Browns to say, "No news today?"
• And the Marlins say they will open their new stadium on April 4, 2012 -- U2 willing and the creek don't rise.
Now let's get to the hot dogs and hot commentary by some of our best for this holiday weekend:
• We're starting by tooting one of our own horns in case you missed it. ESPN's David Schoenfield turns his SweetSpot blog into a list of the "Top 10 worst owners in MLB history." Where do you think Frank McCourt will fall? Place your bets here.
• Sticking with baseball, Mark Viera of The New York Times tells us what it was like when Derek Jeter jogged on the field as a proud member of the Trenton Thunder. Yes, he got a hit; No, it doesn't count on his march to 3,000.
• You think there is no good news about the NBA lockout? Wrong, hoops breath. Mitch Lawrence of the New York Daily News tells us there is great news -- David Stern will not grow a beard.
• Now for something a little different, Jeremy Singer-Vine of Slate.com, explains how Texas hold 'em poker became such a gigantic online venture. Can you say "Moneymaker?"
• The Coke Zero 400 is over at the Daytona Speedway but you can count on NASCAR to have another race next week and for all your favorite drivers to be there. Mike Bianchi of the Orlando Sentinel wonders why professional football, basketball and even golf can't make the same guarantees?
There you have it. Have a great Independence Day weekend or, as they call it in Great Britain, July Third and Fourth.