Commentary
Jay-Z, LeBron spark NBA hair revolution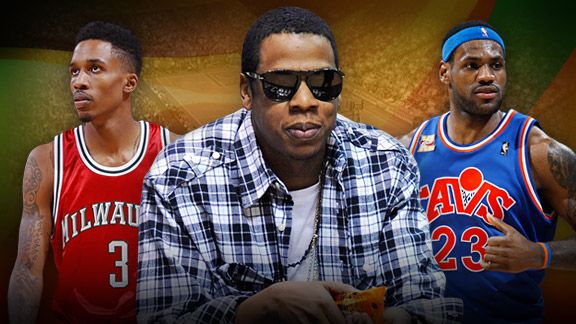 ESPN.com IllustrationBold-headed ballers: More and more NBA players sport the nappy, unkept hairdo.
If you look around, there seems to be a new trend sprouting. Literally.
The hair game in the NBA (and NCAA) is slowly changing. The day of the nice, crisp, Nas-like Caesar cut is dying a slow death. The newness now is about being nappy.
Have you seen LeBron this season? How about John Wall recently? Or Derrick Rose before his barber got nervous? (I would include Baron Davis in this, but who knows what's on BD's mind when it comes to hairstyles? Facial or otherwise.)
The less-corporate look seems to be the next phase in basketball fashion. The new look of the uncut, sometimes unkept, b-ball hero. Andre Iguodala in Philly got it goin' on. Tyrus Thomas of the Bulls is growing his. Paul Pierce goes back and forth with it. J.R. Smith of the Nuggets went old school and grew an '80s fade. Grant Hill did the same. Amar'e Stoudemire seems to have settled in with his new style. And Brandon Jennings dumped the baby twists to personally bring Big Daddy Kane's look back.
[+] Enlarge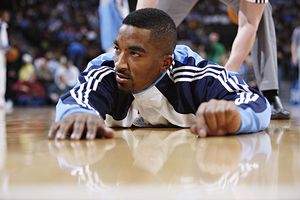 AP Photo/David ZalubowskiJ.R. Smith rocks an old-school, 1980s fade.
(Still, there are players like Joe Johnson and Stephen Curry that'll probably never change their hairstyles because it fits them perfectly. Others that seemed prime to test the new 'fro waters? Kevin Durant, Carmelo Anthony and maybe Chris Paul.)
But the one person who pulled it off best -- and the one who can probably be credited for starting the trend -- isn't a ballplayer, he just has ownership in a team.
It began last year when he started showing up at Nets, Knicks and Cavs games in flashback "Risky Business" shades, urban-chic lumberjack shirts and an mini-'fro that would have made Linc from "The Mod Squad" proud.
That would be Jay-Z.
The hoop world took notice, and all figured the rest of the world (as it tends to do when Jay-Z does or says something) would follow accordingly. It was believed, though, that once he got his hair cut in the video for "D.O.A" in late June that the fad would be over.
On to the next one.
But LeBron, in his power to influence both culture and couture, is bringing the baby 'fro back and keeping it alive simultaneously. Getting his Samuel Dalembert on. And since no one can do a Joakim Noah or has the courage to do a Etan Thomas, the leader of the next "hair" revolution will be credited to 'Bron.
Which at its current pace means that by this time in 2011, basketball will be full of players looking like Anthony Hamilton or … Chia Pets.
Scoop Jackson is a columnist for Page 2.