The nickname bracket, Round 2
Originally Published:
March 17, 2010
Page 2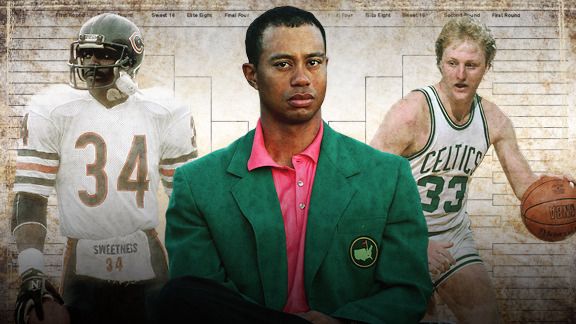 ESPN.com Illustration
After introducing the Field of 64 and Round 1, we now bring the second-round results of our nickname bracket.
(Winners in bold)
Baseball Region
Second Round
(1) Stan "The Man" Musial
vs. (9) Ted Williams, "The Splendid Splinter"
In 2010 everyone still wants to be the man, while splinters hurt and are annoying.
(5) Ron Cey, "The Penguin" vs. (4) Ryan Braun, "The Hebrew Hammer"
Look what happens when people talk about walking like a penguin. No one makes fun of hammers like that.
(14) Dennis Martinez, "El Presidente" vs. (11) Babe Ruth, "The Sultan of Swat"
El Presidente is also a cerveza. Even the Sultan would be jealous of that.
(2) Mordecai "Three Finger" Brown vs. (10) Joe Page, "The Gay Reliever"
Even when gay means happy, it can't hold a candle to three fingers. Also, it's hard to hold a candle with three fingers, but that's not important.
Basketball Region
Second Round
(1) Earvin "Magic" Johnson vs.
(8) Darryl Dawkins, "Chocolate Thunder"
When you combine treats and weather not even the power of Harry Potter can beat you.
(4) Charles Barkley, "The Round Mound of Rebound" vs. (12) "Pistol Pete" Maravich
Yes, Barkley's name is long, but you have to admit it's a pretty concise way to say "Wow! This guy can really work the boards even though he looks like he could lose 50 pounds."
(6) "Dr. J," Julius Erving vs. (3) Michael "Air" Jordan"
Come to think of it, andrewvh9123 is right ... no one ever called MJ "Air."
(7) Vinnie Johnson, "The Microwave" vs. (2) Jerry West, "The Logo"
Being a logo is great and all, but can it make popcorn in three minutes?
Football Region
Second Round
(1) "Sweetness," Walter Payton
vs. (8) Jevon "The Freak" Kearse
You know what's freakier than The Freak?
Any of these runs
.
(5) O.J. Simpson, "The Juice" vs. (4) "Broadway" Joe Namath
When your name is O.J., what else are they going to call you?
(6) Paul "Bear" Bryant vs. (3) "Mean" Joe Greene
Animal vs. emotion? Exactly.
(7) Chad Ochocinco vs. (2) Dick "Night Train" Lane
Any form of transportation beats out an incorrect Spanish number.
Miscellaneous Region
Second Round
(1) Eldrick "Tiger" Woods
vs. "Iron" Mike Tyson
If Eldrick does well at Augusta, we'll get to
hear this song
-- and the possibility of that is enough to beat Iron Mike.
(5) Dave "Cementhead" Semenko vs. (4) Robert Craig "Evel" Knievel
Robert decided to misspell his nickname so people wouldn't think he is evil. Dave really doesn't care what you think.
(6) Chuck "The Bayonne Bleeder" Wepner vs. (3) Eric "Butterbean" Esch
While butterbeans don't taste very good, they certainly taste better than blood.
(2) Dale "The Intimidator" Earnhardt vs. (10) Rudolph "Minnesota Fats" Wanderone
Minnesota Fats sound an awful lot like Lambeau Field cheese curd, which is delicious but not intimidating.