1980s
The endorsements of the 1980s weren't much different from the ones in the decades before, dating back to the Babe Ruth era. A few select athletes who shone in the sports spotlight connected with corporate America and really cashed in.
Pros: The '80s saw the beginning of athletes' working well in TV commercials. The decade kicked off with Mean Joe Greene throwing that kid a jersey in the tunnel, and that still remains many fans' favorite sports-celebrity commercial of all time. O.J. Simpson got better at running through airports, Magic Johnson's smile sold everything from Converse to KFC, and a parade of former athletes argued over "Tastes great" or "Less filling!" To top it all off, the decade finished with Bo Jackson knowing it all, a hugely successful ad campaign.
Cons: The marketing of the era didn't ask athletes to go too far out of their comfort zones, keeping them in their unis and near the sports venue. The production was very simplistic, and hardly any athletes said anything. Most of the spots were attempted humor or put athletes in goofy situations. Some players even pitched tobacco products, a modern-day no-no.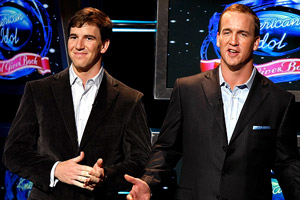 Kevin Winter/Getty Images
A couple of the most popular endorsers right now.
Today
Athletes have worked so well at selling over the years that a billion dollars is spent annually for their endorsements. Companies are foaming at the mouth to sign the next big name, but many times fans are left wondering what that person has done.
Pros: Strength, power and intensity are parts of the commercials today. Sure, many are light and fun, but athletes are showcased more as icons of success and hard work than people just clowning around. The Eli Manning is "unstoppable" campaign comes to mind. Eli Manning, unstoppable? Who would've said that in Week 1 last season? Turned out they were right, at least for that year. Computer technology also has pushed things along for the better, and we see more surprises. Kobe jumps a car, Shaq races in the Derby -- the modern-day spots are much more creative.
Cons: The quest for athlete endorsements is so huge now that many unproven commodities are entering the national spotlight. Specifically Brady Quinn. Has anyone sold more on the national stage by doing less on the field? Sorry, no offense, Anna K. The products themselves are getting a little weird, too. Ballplayers selling Viagra? Talking foot odor? Please.
VERDICT: I'm a sentimental guy, but to me, the current days are better. Sure, it's strange to see Peyton Manning call timeout and then sell us phones and a credit card with a great interest rate. It's even stranger when we return to action and he's intercepted by a guy who sells a different phone the following commercial break. You could say that the corporate hold on athletes and sports is crushing the little-guy fan, but athletes' pitching products will never change. From Babe Ruth to Bob Knight, it has worked. So is it better for the fan now? Probably. Commercials always will manipulate us, so why not be manipulated by someone drafted with the 22nd pick?
2008 NBA FINALS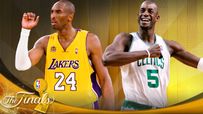 And then there were two -- the Lakers and Celtics. Who will win the NBA Finals? Let the games begin.
Finals schedule | Playoff bracket | Playoff home
Daily Dime
•
Celtics win 17th championship title
•
Did C's lose Regret Game?
•
A little help from Kobe's friends
•
Time for L.A. to go small
•
The Finals Can't Shake Donaghy Mess
•
Unlikely Game 4 comeback gives C's 3-1 lead
•
Rondo's ankle could change L.A.'s game plan
•
Kobe leads Lakers to Game 3 win
•
Lakers need to attack the paint
•
Lakers learn Powe's name in Game 2
•
Time for Gasol to step up
•
Lakers need better defense in Game 2
•
Pierce sparks Celtics in Game 1 victory
•
Expert predictions, clutch stats
•
Pierce loves playing Lakers
•
Celtics to meet L.A. in the Finals
Lakers vs. Celtics
•
Stein: Q&A after six-game "sweep"
•
MacMullan: Pierce's long road to greatness
•
Hollinger: From camp to champs
•
Stein: Boston's big three shine
•
Adande: Questions loom over Lakers' future
•
Hollinger: Celtics commit to defense
•
Scouts Inc.: Game 6 breakdown
•
Hollinger: Farmer steps up in Game 5
•
Sheridan: Late-game letdown for Celtics
•
Stein: Lakers ready to make history?
•
Adande: Greatness eluding Phil and Kobe
•
MacMullan: Doc adheres to dad's lessons
•
Jackson: Time for L.A.'s concession speech?
•
Stein: Game 4 not Kobe's finest hour
•
Adande: KG dominates Gasol again
•
Hollinger: Rivers makes all the right moves
•
Hill: Kobe's Laker legacy on the line
•
Hollinger: Vujacic lends helping hand in Game 3
•
Jackson: Jump shot Jesus has returned
•
Stein: Lakers need to earn sympathy
•
Adande: Lakers feel foul over whistle disparity
•
Jackson: Leading role suits Pierce
•
Adande: Kobe turns away from the pass late
•
Stein: Pierce's knee key to rest of series
•
Finals factor 1: Kobe Bryant
•
Finals factor 2: Celtics Defense
•
Finals factor 3: Paul Pierce
•
Finals factor 4: Home-court advantage
•
Finals factor 5: Battle of the benches
•
Hollinger: Lakers offense vs. Celtics defense
•
Broussard: Turning back the clock

•
Adande: How did Kobe get here?
•
Scouts Inc. breakdown: Lakers vs. Celtics
•
Coaching comparison: Red vs. Phil
•
Smith: Kobe's moving forward
•
Scoop: Fiendin' for a ring
•
Top 10 moments of Lakers-Celtics rivalry
•
ESPN Classic schedule: Relive the rivalry
TrueHoop
•
TrueHoop: Finals reflections
•
TrueHoop: Doc Rivers' redemption
•
TrueHoop: Lakers got Rondo'd
•
Tough night for Allen
•
Game 5 live blogging
•
Laker nation vs. NBA refs
•
Pierce and the evaporating knee story
•
Game 2 live blogging
•
Coaxing Kobe Bryant into hero mode
•
Game 1 live blogging
•
Today's game isn't so different
Simmons
•
Notes from the C's winning night
•
Boston's X factors
•
Game 4 running diary
•
Time for NBA Finals answers
•
The C's and city both look good
•
The Truth comes out in Game 1
•
NBA Finals forecast
•
Chat: NBA Finals preview
•
Simmons: You want a piece of Kobe, Boston?
ESPN The Magazine
•
Sporting Equivalency: NBA Finals meets hip hop
•
Broussard: Reporting from the NBA Finals
Fantasy
•
Join the fun of NBA Finals: Playcaller
Audio
•
Dish: NBA Finals recap
•
Wyc Grossbeck on C's championship
•
Ray Allen on how the Celtics evolved
•
Bob Ryan compares '86 C's to current one
•
Jon Barry credits Tom Thibodeau's team defense
•
Game 4 reactions
•
Rajon Rondo on Pierce, Game 2 plans
•
Bill Walton on Celtics-Lakers history
•
Dr. J on Finals, '80s hoops
ESPN Top Headlines