1980s
Some say fantasy sports began when a Cincinnati attorney named Aaron B. Chapman hired Harry Wright to organize the first professional baseball team to help promote the city. This was 1869. Others say fantasy sports have been around for decades, in the form of tabletop games such as Strat-O-Matic. But what we now widely refer to as "fantasy sports" began in 1980, when some folks met at the New York City restaurant La Rotisserie Francaise to draft fake rosters of real baseball players, using real statistics to determine a winner who would win a pot of real money. It sounded like good fun, shouting out things like "I'll take Juan Eichelberger for $3!" Of course, somebody had to count up all the home runs and stolen bases and strikeouts. By hand. Yes, there was no Internet back then.
Pros:
It was pretty cool to outsmart your friends by realizing that Vince Coleman, though a mediocre player in real life, was a fantasy stud because he swiped 96 bases. For baseball fanatics, it was a new way to enjoy the game; checking out box scores in your daily paper helped feed your obsession. Oh, and if you actually won some money? Just a bonus.
Cons: You had to rely on someone in your league to tally up all the statistics. Or you could pay a stat service to do it, with results sent via … mail. Yeah, that wasn't so much fun in retrospect, was it? And if your local paper missed a late box score? Better hope somebody in your league got The Sporting News. As for Vince Coleman, all the insight Bill James brought to the game with his Baseball Abstracts in the 1980s was canceled out by those who thought Coleman was a great player in real life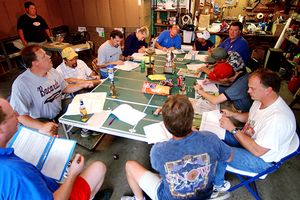 AP Photo/Brainerd Daily Dispatch/Steve Kohls
Is there anything better than a fantasy draft?
Today
Now we have fantasy baseball, football, basketball, hockey, golf, NASCAR, soccer and so on all the way down to bass fishing. League standings updated daily. Waiver wires and daily transactions. You can feed your addiction by checking in-progress box scores or getting automated updates whenever Jarrod Saltalamacchia comes up to bat. If you want to find out whether Sidney Ponson will start once or twice this week, it's two clicks away.
Pros: There's nothing wrong with owning five fantasy football teams, is there? Talking trash with your buddy after he falls five spots in the standings in one day. Activating Jay Bruce the day before he gets called up to the majors. Five-hour fantasy drafts with your friends, beer and pizza.
Cons: The dude from the cubicle next to you who tells you four times a day that he got Josh Hamilton dirt cheap in his draft. The dude who is always up at midnight scouring the transactions wire. The dude who trades Peyton Manning to the second-place team for Shaun Alexander. The dude who roots for his fantasy team more than his hometown team. The dude who reminds that you kept Jay Bruce on your reserve roster.
VERDICT: Now. There's nothing wrong with owning 10 fantasy football teams, is there?
David Schoenfield is an editor for Page 2. He does not really own 10 fantasy football teams. Or five.
2008 NBA FINALS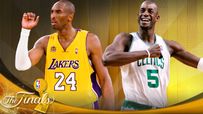 And then there were two -- the Lakers and Celtics. Who will win the NBA Finals? Let the games begin.
Finals schedule | Playoff bracket | Playoff home
Daily Dime
•
Celtics win 17th championship title
•
Did C's lose Regret Game?
•
A little help from Kobe's friends
•
Time for L.A. to go small
•
The Finals Can't Shake Donaghy Mess
•
Unlikely Game 4 comeback gives C's 3-1 lead
•
Rondo's ankle could change L.A.'s game plan
•
Kobe leads Lakers to Game 3 win
•
Lakers need to attack the paint
•
Lakers learn Powe's name in Game 2
•
Time for Gasol to step up
•
Lakers need better defense in Game 2
•
Pierce sparks Celtics in Game 1 victory
•
Expert predictions, clutch stats
•
Pierce loves playing Lakers
•
Celtics to meet L.A. in the Finals
Lakers vs. Celtics
•
Stein: Q&A after six-game "sweep"
•
MacMullan: Pierce's long road to greatness
•
Hollinger: From camp to champs
•
Stein: Boston's big three shine
•
Adande: Questions loom over Lakers' future
•
Hollinger: Celtics commit to defense
•
Scouts Inc.: Game 6 breakdown
•
Hollinger: Farmer steps up in Game 5
•
Sheridan: Late-game letdown for Celtics
•
Stein: Lakers ready to make history?
•
Adande: Greatness eluding Phil and Kobe
•
MacMullan: Doc adheres to dad's lessons
•
Jackson: Time for L.A.'s concession speech?
•
Stein: Game 4 not Kobe's finest hour
•
Adande: KG dominates Gasol again
•
Hollinger: Rivers makes all the right moves
•
Hill: Kobe's Laker legacy on the line
•
Hollinger: Vujacic lends helping hand in Game 3
•
Jackson: Jump shot Jesus has returned
•
Stein: Lakers need to earn sympathy
•
Adande: Lakers feel foul over whistle disparity
•
Jackson: Leading role suits Pierce
•
Adande: Kobe turns away from the pass late
•
Stein: Pierce's knee key to rest of series
•
Finals factor 1: Kobe Bryant
•
Finals factor 2: Celtics Defense
•
Finals factor 3: Paul Pierce
•
Finals factor 4: Home-court advantage
•
Finals factor 5: Battle of the benches
•
Hollinger: Lakers offense vs. Celtics defense
•
Broussard: Turning back the clock

•
Adande: How did Kobe get here?
•
Scouts Inc. breakdown: Lakers vs. Celtics
•
Coaching comparison: Red vs. Phil
•
Smith: Kobe's moving forward
•
Scoop: Fiendin' for a ring
•
Top 10 moments of Lakers-Celtics rivalry
•
ESPN Classic schedule: Relive the rivalry
TrueHoop
•
TrueHoop: Finals reflections
•
TrueHoop: Doc Rivers' redemption
•
TrueHoop: Lakers got Rondo'd
•
Tough night for Allen
•
Game 5 live blogging
•
Laker nation vs. NBA refs
•
Pierce and the evaporating knee story
•
Game 2 live blogging
•
Coaxing Kobe Bryant into hero mode
•
Game 1 live blogging
•
Today's game isn't so different
Simmons
•
Notes from the C's winning night
•
Boston's X factors
•
Game 4 running diary
•
Time for NBA Finals answers
•
The C's and city both look good
•
The Truth comes out in Game 1
•
NBA Finals forecast
•
Chat: NBA Finals preview
•
Simmons: You want a piece of Kobe, Boston?
ESPN The Magazine
•
Sporting Equivalency: NBA Finals meets hip hop
•
Broussard: Reporting from the NBA Finals
Fantasy
•
Join the fun of NBA Finals: Playcaller
Audio
•
Dish: NBA Finals recap
•
Wyc Grossbeck on C's championship
•
Ray Allen on how the Celtics evolved
•
Bob Ryan compares '86 C's to current one
•
Jon Barry credits Tom Thibodeau's team defense
•
Game 4 reactions
•
Rajon Rondo on Pierce, Game 2 plans
•
Bill Walton on Celtics-Lakers history
•
Dr. J on Finals, '80s hoops
ESPN Top Headlines