1980s
When were uniforms at their most wack? The stock answer is the 1970s, but things were just as over-the-top in the '80s. You had
rainbows
,
modified rainbows
,
beach blankets
,
all-lowercase typography
,
faceless makeovers
,
Cooperalls
,
extra-wide piping
,
powder blues
and, at the close of the decade, the start of the
purple and teal craze
. On the other hand, for the most part these elements were projected onto a traditional template: Baseball players wore stirrups; football jerseys had sleeves; basketball shorts were short.
Pros: Definitely a lively period -- you never knew what you'd see next. … An excellent time to be in the fabric dye or sunglasses biz. … Somehow all those synthetic-looking designs meshed well with all the artificial turf that was so common back then. … Laid the foundation for some very amusing throwback games 20 years later. … Admit it, Cooperalls looked kinda cool.
Cons: There's something just wrong about Yogi Berra being forced to wear this.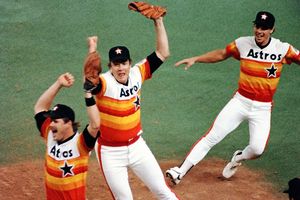 AP Photo/Ed Kolenovsky
Ugh, cover your eyes!
Today
In terms of colors and graphics, we're in a fairly classicist era -- lots of primary colors, and the design excesses of decades past have given way to a
back-to-basics
feel. But the underlying template has shifted -- baseball players wear their pants down to their shoetops, football sleeves have vanished (plus teams now wear matching colored pants and jerseys), and basketball "shorts" extend to the kneecap or beyond. And thanks to the growth of merchandising, the whole point of uniforms has changed: What you saw on the field used to be dictated by someone saying, "I think this will look good on the field"; now it's dictated by someone conducting a few focus groups, doing a marketing study, hiring a branding firm, and then saying, "I think we can sell a bunch of these at the pro shop … and maybe a bunch of this, this and this, too." Which is how we ended up with teams like the Mets (five jerseys, three caps) and Rockies (ditto). And now almost every uniform carries a maker's mark, so we're forced to think about Nike (or Reebok, or Majestic, or whatever) while watching our favorite team.
Pros: Relatively low "What were they thinking?" factor (emphasis on "relatively"). … We no longer have to look at basketball players' upper thighs. … Teams that have stuck to their aesthetic guns (Raiders, Celtics, etc.) look more classic than ever. … Uniforms are taken seriously enough for ESPN.com to employ a uniform columnist.
Cons: What day is today? OK, that's the day my team wears its alternate road throwback cap. … Wait, unless it's the second Thursday of the month. … Wouldn't it be nice if we could see the Red Sox's red socks? … Hating the Yankees is one of life's great pleasures, but it's hard to keep loathing them when they resist all the worst uniform trends.
VERDICT: 1980s. Yeah, there was some retina-searing stuff going on, but there was an endearing innocence to the designs of that era. Today's uniforms feel so calculated, so focus-grouped, so "Run it past the marketing staff and get their feedback first." I'll take harmless over pointless every time.
Paul Lukas' Uni Watch blog, which is updated daily, is here, his answers to Frequently Asked Questions are here, and his Page 2 archive is here. Want to learn about his Uni Watch membership program, be added to his mailing list so you'll always know when a new column has been posted, or just ask him a question? Contact him here.
2008 NBA FINALS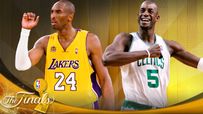 And then there were two -- the Lakers and Celtics. Who will win the NBA Finals? Let the games begin.
Finals schedule | Playoff bracket | Playoff home
Daily Dime
•
Celtics win 17th championship title
•
Did C's lose Regret Game?
•
A little help from Kobe's friends
•
Time for L.A. to go small
•
The Finals Can't Shake Donaghy Mess
•
Unlikely Game 4 comeback gives C's 3-1 lead
•
Rondo's ankle could change L.A.'s game plan
•
Kobe leads Lakers to Game 3 win
•
Lakers need to attack the paint
•
Lakers learn Powe's name in Game 2
•
Time for Gasol to step up
•
Lakers need better defense in Game 2
•
Pierce sparks Celtics in Game 1 victory
•
Expert predictions, clutch stats
•
Pierce loves playing Lakers
•
Celtics to meet L.A. in the Finals
Lakers vs. Celtics
•
Stein: Q&A after six-game "sweep"
•
MacMullan: Pierce's long road to greatness
•
Hollinger: From camp to champs
•
Stein: Boston's big three shine
•
Adande: Questions loom over Lakers' future
•
Hollinger: Celtics commit to defense
•
Scouts Inc.: Game 6 breakdown
•
Hollinger: Farmer steps up in Game 5
•
Sheridan: Late-game letdown for Celtics
•
Stein: Lakers ready to make history?
•
Adande: Greatness eluding Phil and Kobe
•
MacMullan: Doc adheres to dad's lessons
•
Jackson: Time for L.A.'s concession speech?
•
Stein: Game 4 not Kobe's finest hour
•
Adande: KG dominates Gasol again
•
Hollinger: Rivers makes all the right moves
•
Hill: Kobe's Laker legacy on the line
•
Hollinger: Vujacic lends helping hand in Game 3
•
Jackson: Jump shot Jesus has returned
•
Stein: Lakers need to earn sympathy
•
Adande: Lakers feel foul over whistle disparity
•
Jackson: Leading role suits Pierce
•
Adande: Kobe turns away from the pass late
•
Stein: Pierce's knee key to rest of series
•
Finals factor 1: Kobe Bryant
•
Finals factor 2: Celtics Defense
•
Finals factor 3: Paul Pierce
•
Finals factor 4: Home-court advantage
•
Finals factor 5: Battle of the benches
•
Hollinger: Lakers offense vs. Celtics defense
•
Broussard: Turning back the clock

•
Adande: How did Kobe get here?
•
Scouts Inc. breakdown: Lakers vs. Celtics
•
Coaching comparison: Red vs. Phil
•
Smith: Kobe's moving forward
•
Scoop: Fiendin' for a ring
•
Top 10 moments of Lakers-Celtics rivalry
•
ESPN Classic schedule: Relive the rivalry
TrueHoop
•
TrueHoop: Finals reflections
•
TrueHoop: Doc Rivers' redemption
•
TrueHoop: Lakers got Rondo'd
•
Tough night for Allen
•
Game 5 live blogging
•
Laker nation vs. NBA refs
•
Pierce and the evaporating knee story
•
Game 2 live blogging
•
Coaxing Kobe Bryant into hero mode
•
Game 1 live blogging
•
Today's game isn't so different
Simmons
•
Notes from the C's winning night
•
Boston's X factors
•
Game 4 running diary
•
Time for NBA Finals answers
•
The C's and city both look good
•
The Truth comes out in Game 1
•
NBA Finals forecast
•
Chat: NBA Finals preview
•
Simmons: You want a piece of Kobe, Boston?
ESPN The Magazine
•
Sporting Equivalency: NBA Finals meets hip hop
•
Broussard: Reporting from the NBA Finals
Fantasy
•
Join the fun of NBA Finals: Playcaller
Audio
•
Dish: NBA Finals recap
•
Wyc Grossbeck on C's championship
•
Ray Allen on how the Celtics evolved
•
Bob Ryan compares '86 C's to current one
•
Jon Barry credits Tom Thibodeau's team defense
•
Game 4 reactions
•
Rajon Rondo on Pierce, Game 2 plans
•
Bill Walton on Celtics-Lakers history
•
Dr. J on Finals, '80s hoops
ESPN Top Headlines