For the past 24 hours, vicious, heartless rumors have circulated on the Internet claiming that Reggie Bush has been banned from the Playboy Mansion for a reported "conduct violation" not involving a Playmate.
For the record, we never believed these rumors. The Mansion's personas non grata include Luke Wilson, Cade McNown, Pauly Shore, and Axel Foley, Taggert, Billy, and the evil foreigners they busted in "Beverly Hills Cop II." It's a tough list to crack.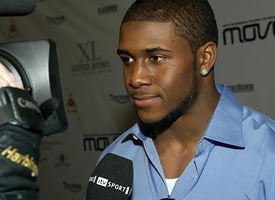 WireImage.com
Contrary to the rumor mill, Reggie Bush hasn't lost his Playboy Mansion privileges.
Furthermore, how egregious and strangely demented must one's conduct be to be considered a violation at Hugh Hefner's place, particularly if it did not involve the fondling of a Playmate? If his alleged sordid conduct did not involve a Playmate, then it likely could mean only that he committed one or both of the following acts: A) either Mr. Bush fondled the wait staff or B) Mr. Bush fondled Hefner. We doubt he's capable of either. Regardless, Bush can rest easy. The Saints tailback has not been banned from the Playboy Mansion. In fact, Bush was present at Saturday night's Golf Scramble party. "Reggie was at the mansion on Saturday night enjoying the Playboy Golf Scramble party, so no he's not banned," said Playboy spokesman Rob Hilburger. "We're not sure where the rumor came from."
Together at last: Tony Gonzalez and Oprah Winfrey

Chiefs tight end Tony Gonzalez has aligned himself with the most famous person on the planet, teaming with Oprah Winfrey on "The Big Give" (Harpo Productions and ABC), a reality series that will give 10 contestants money with which they are to do as much good as humanly possible.
According to a source close to the production, Gonzalez will be an "American Idol"-like judge, overseeing the contestants' efforts and determining the winner, who will then have his or her wish granted.
We applaud Gonzalez for a serious philanthropic effort that will produce tangible -- and highly visible -- results. But we wish he was a contestant. That way, he'd have the chance to win, and thus, have his wish granted. That would present nonbelievers with the most irrefutable evidence to date that miracles do, in fact, happen: a team quarterbacked by Damon Huard can win a Super Bowl.
Wright immortalized in wax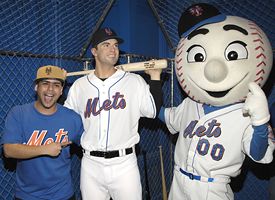 WireImage.com
Can you guess which one is a wax statue?
On Tuesday, David Wright will be on hand to unveil his wax likeness at Madame Tussauds wax museum in New York. To join the Babe and Derek Jeter, Wright donated three hours of his time -- and a uni and bat -- for measurements, photos, teeth impressions, and hair, skin tone, and eye color matches. "I thought they'd take a bunch of pictures and then that's it," says Wright. "They did any type of measurement you could possibly think of." Judging by this sneak peek, they missed one. Not that Wright will ever be mistaken for Chuck Norris. He's one of the genuine good guys of the game. But which measurement translates into "stop looking at the little birdy?"
Cube coaxes Magic into cameo

When the filmmakers behind "Are We Done Yet?" (in theatres Wednesday, Columbia) were searching for a sports legend for a cameo in the comedy about a sports magazine editor's disastrous attempt to remodel his family's dream home, they called Magic Johnson. And they didn't hear back. So they leaned on the film's star, Ice Cube. One phone conversation later, Magic was on board to play himself in a scene with the legendary rapper. "That's the magic of Hollywood for you," says Cube. "To have him in my movie, that was special. I've been a fan of Magic Johnson since I was knee high to a horse fly." Which we think means, really young.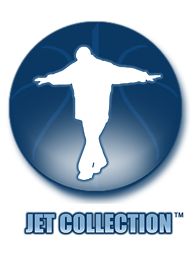 Nike has apparently taken a liking
to Jason Terry's Jet Collection logo.
Terry to the runway
Mavericks point guard Jason Terry's empire includes the record label Tha Reason Records and a travel agency. Next up is Jet Collection, Terry's line of athletic and casual wear for men, women, and children, debuting this week on
Terry's online store
. "It's real hot, a bit Sean John-ish and a bit Juicy Couture for the ladies," Terry said, adding that Nike has taken a liking to his logo, which features his signature celebratory "jet" pose. "We're doing a test run with my logo on Nike gear. They know a thing or two about logos." As for his label, Terry will unveil the first act, rappers West Coasta Nostra, in May, followed by R&B artist Ike James in the fall. "I guess these R&B guys are supposed to be good with the women," explains Terry, who's talking to Sony for distribution, but doesn't plan to hit the mic himself. "I'm too busy. A record label, clothing line, travel agency. What else do you need?"
Tony Romo wasn't available?

Hollywood recently seized Texas Stadium to shoot the April 11 season finale -- and possible series finale -- of the ratings-challenged series "Friday Night Lights." If the show is indeed kaput, it seems the Dillon Panthers will go out with a bang when they face the West Cambria Mustangs and assistant coach Julius Jones (the Cowboys running back) in the series' first big-name cameo since Mack Brown in the pilot.
Too little, too late? If so, this was a blunder that'll cost us another season of staring at Lyla Garrity's mug, legs and pouty lips.
Er, Minka Kelly's acting ability.
Sam Alipour is based in Los Angeles. His Media Blitz column appears in ESPN The Magazine and regularly on Page 2. You can reach him at Sam.Alipour@gmail.com.