LOS ANGELES -- Since his days with the Bulls, Phil Jackson has motivated -- and, often times, perplexed -- his players using an array of tools borrowed from Eastern and Native American philosophies.
But none of Jackson's motivational techniques has captured the attention of his players quite like his penchant for splicing movie footage into his playoff game films.
This season, however, with his reeling squad in danger of missing the playoffs, Jackson had to dig into his bag of tricks earlier than ever.
Where meditation has failed, Britney Spears must not.
In employing a tool once reserved for the playoffs, Jackson spiced up recent regular-season game tapes by splicing in clips of "Little Miss Sunshine" and Spears' music videos.
According to several players, Jackson tossed his first cinematic curveball on the eve of a March 30 contest against the Houston Rockets. "Thankfully, Coach explained it, so it wasn't as shocking as it might've been," says rookie point guard Jordan Farmar. "But, I mean, 'Little Miss Sunshine'? Yeah, it took me a little bit by surprise."
Though you can't blame Farmar for scratching his temple, these are strange new times -- Jackson was in danger of missing the playoffs for the first time in his 16 seasons as coach -- and strange times call for increasingly unorthodox measures.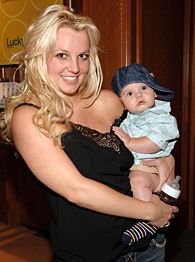 Jamie McCarthy/WireImage.com
Maybe Britney needs to listen to some motivational advice from the Zen Master.
Jackson has been called everything from a Zen Master to a master manipulator, but when did he become so L.A.?
Turns out, Jackson's transformation into Hollywood Phil actually began in Chicago, not as an exercise in pop culture purveying but, rather, as a means to drill Native American philosophies into his players' noggins. To complement the arrows and bear claw necklaces that adorned the Bulls' team room, Jackson deployed a little-known television series to help teach the soon-to-be world champs the virtues of embarking on a very Lakota Sioux-like spiritual quest.
"Back then, when I used to do the game tapes myself, my first game film incorporated scenes from 'Mystic Warrior' about the Sioux, believe it or not," says Jackson, smiling in bemusement at his creative journey. "As the years went on, I learned that it's probably smarter to intersperse things like that with clips of James Bond car crashes and more dramatic exclamation points."
Lakers game films are created inside the bowels of the team's practice facility in El Segundo. The task of executing Jackson's creative vision now falls to Chris Bodaken, the team's director of video services, although Jackson continues to personally preview and select the movies based on several criteria, including comedic punch.
"Sometimes, he'll ask for a humorous clip just to lighten the mood," says Bodaken. "And the comedy stuff is a big hit with the players."
In past years, Bodaken has borrowed from "The Three Stooges," "Little Rascals," "South Park" and "Chappelle's Show." To get the laughs, Jackson will even poke fun at his star pupil. Bodaken says he recently discovered a music video from Kobe Bryant's unreleased hip-hop album "Visions." "Let's put it this way," says Bodaken of the video from 2000, "there's a reason they didn't air it."
This season, Jackson is calling on "Little Miss Sunshine." The dark comedy from Fox Searchlight follows the dysfunctional Hoover family as it bands together for a road trip to deliver daughter Olive to a beauty pageant in California. At first glance, the film's theme and plot have no relevance to sports.
But look closer. The film with a minuscule budget of $8 million became Hollywood's little engine that could. Following its release last July, the film went on to gross $60 million at the box office, earning critical raves and an Academy Award nomination for Best Picture.
And then there are the film's laughs. Jackson had Bodaken follow game footage of Rockets guard Luther Head breaking down the Lakers' interior defense for a layup with a clip that saw teenage son Dwayne cursing up a storm. Explains Luke Walton: "It was Coach's funny way of letting us know that we blew a layup we shouldn't have." Then on Thursday, prior to a pivotal contest with the Clippers, the players watched as the Hoover family went to identify their deceased grandpa's body. But when the nurse peeled back the sheet, the face the Lakers saw was not actor Alan Arkin's, but Vlade Divac's.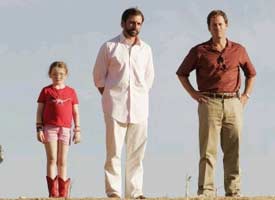 Fox Searchlight
With motivation like this, maybe the Lakers can pull off a first-round upset.
Hey, if two packs a day didn't kill Vlade, Jackson would.
But it was a clip featuring Ms. Spears that earned Jackson his biggest laughs. Jackson addressed the recent rumors of a Walton-Spears romantic courtship by following footage of a Walton basket with a clip from a Spears video. "The rumors are untrue, but that doesn't stop us from teasing Luke a bit," says guard Maurice Evans. "And when Coach got into it, that just had us rolling."
Good thing Walton is a sport. In fact, he hopes to see more of the same. "Our team is losing and we're getting down," he says. "But that added some enjoyment and it had everyone joking and talking again."
Jackson will also turn to movies to provide his players with inspiration.
During the Lakers' first-round matchup with Sacramento in 2000, Jackson made one of his more controversial creative decisions when he attempted to motivate his players by juxtaposing images of various Kings players with the neo-Nazis from "American History X." "He just wanted to let us know who the enemy was," explains assistant coach and former Lakers guard Brian Shaw. But the game tape raised the ire of Kings coach Rick Adelman, who was reportedly compared to Adolf Hitler. ("If he did that, that's crossing the line," Adelman said at the time.)
More often than not, Jackson chooses clips based on themes and dialogue that correlate directly to team issues or game plans. Against the Suns in the second round in 2000, when Jackson was the leader of a ringless collection of individual talents and supersized egos, he helped flip the Lakers' disjointed script with scenes from "Gladiator," including Maximus' [Russell Crowe] first battle as a Roman gladiator.
"What got our attention was when [Maximus] told the other prisoners they had a better chance of surviving if they stuck together as a group as opposed to going out individually," recalls Shaw. "As everyone now knows, that was our problem as a team. It was Phil's subtle way of waking us up."
Perhaps no film drew more unwanted attention than Jackson's choice for last year's first-round series with the Suns. To pound home the theme of getting the ball inside, Jackson wanted Bodaken to splice in hard-edged clips from "The Sopranos" and Spike Lee's bank-heist thriller "Inside Man." For Bodaken, attaining the former was easy: set the VCR to HBO. Acquiring a copy of the latter was considerably more difficult. At the time, "Inside Man" was still in theaters.
Lakers vice president Jeanie Buss knew the marketing head for the film's production company and soon the Lakers were in possession of a screening copy of "Inside Man."
Did the film inspire the team? "For coach, playing the Suns is all about not getting caught up in their pace and tempo," Bodaken says. "So we used the scene where the bank robber [Clive Owen] is coming out of the bank and the SWAT team is all uptight. So when Denzel [Washington] yells for everyone to calm down, I cut that line in after a Suns fast break."
Once reports of the game film surfaced however, Jackson's efforts raised the ire of the industry's piracy watchdogs, the Motion Picture Association of America. Recalls Buss: "They called [the production company], freaking out, saying, 'This is a disaster! How did they get a copy? Someone's pirating the film!'"
Buss says the MPAA relented once it became clear that the filmmakers had given their blessing. Good thing for team executives, as the experience might have shaken Jackson. In the future, he's planning more low-frills visits to Blockbuster. "I have a DVD of 'Jarhead' that I'm looking at and that 'Funny Movie 3,' or whatever," he says, actually referring to "Scary Movie 4." "I hear there's a funny Shaq scene in that one."
He might not have the movie titles straight, but it's clear Jackson has come to appreciate Hollywood fare.
Bryant, for one, knows his young teammates appreciate their coach's increasingly popcorn palate. And, Bryant says, the lighter, the better.
"We've got a young team and when we get into playoffs situations, I'm for anything that keeps us loose and keeps the pressure off," Bryant explains, before citing Jackson's choice of "Monty Python and the Holy Grail" during the epic seven-game 2002 conference finals against Sacramento as his favorite game film. "He showed us just random comedy scenes, but we battled back [down three games to two] and won the series, so it obviously worked.
"Plus, it was the funniest thing I've ever seen. It had me crying."
And, you know, winning.
Sam Alipour is based in Los Angeles. His Media Blitz column appears in ESPN The Magazine and regularly on Page 2. You can reach him at Sam.Alipour@gmail.com.