If LeBron James has an offseason "to do" Post-it stuck to his fridge, it might look something like this:
1. Sleep.
2. Eat.
3. Play with kid.
4. Ball. (and maybe remind Danny Ferry about available free agents.)
5. Eat.
6. Sleep.
7. Play with kid.
8. Xbox with Chris Paul.
9. Eat.
10. Sleep. Or dominate CP3 again, then sleep.
Sweet. This summer, though, the not-so-typical Cavs superstar has added a few more items to his list: the Olympics in Beijing, accepting an award at the Spike TV Guys Choice Awards in Los Angeles (airs at 10 p.m. ET Sunday) and a nice assist to The 50 Million Pound Challenge, the national health initiative aimed at getting Americans to lose 50 million pounds. (Half a million participants have lost two million pounds to date.)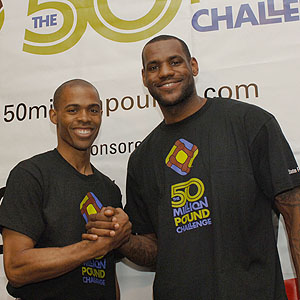 Jeff Soucek
Dr. Ian Smith and LeBron James are teaming up to encourage America to shed 50 million extra pounds.
On Wednesday at Quicken Loans Arena, James joined with Dr. Ian Smith, physician, "Celebrity Fit Club" diet expert and Challenge founder, to promote the program's first City Team Challenge, the idea being that Cleveland, united, can lose more weight than your city. (Read more about the program and join the Fit 4 Cleveland team at
50millionpounds.com
.)
Apparently, the usually accommodating James was so busy -- you know, eating, sleeping and getting Clevelanders to eat salad -- that his "Challenge" publicist was only able to secure five minutes with the Cavs superstar. Thankfully, though, James was kind enough to stretch it a bit longer. Hey, there's always time to help overweight people, and to debate the Evas.
---
Page 2: Are you OK to watch the Finals, or are you one of those dudes who takes his ball, goes home and breaks a bunch of stuff?
No, I'm OK. I love the game so much, so I'm OK to watch the games. I thought it was great, very competitive. Boston's physical play really took a toll on the Lakers. That's why they won.
Much like you, Kobe struggled from the field against the Celtics. What is it about the C's defense that is so effective against you two?
They're very good. They're definitely one of the best defensive teams I've seen in my lifetime. You know, they have the defensive player of the year in Kevin Garnett, but they have guys around him who learned how to play defense. I think Tom Thibodeau, their assistant coach, did a great job of getting those guys orchestrated and playing the game the right way on the defensive end.
Your Cavs got bounced earlier, but some of us feel you had a stronger team this year than you did when you reached the Finals last year. Do you agree with that, and what offseason personnel changes do you think you would benefit most from?
I think we're a very good team right now, and we'll continue to improve. The guys that are already on the team will improve their game; that's definitely going to happen. And if there's going to be personnel changes, that should happen also. I'm ready to go to war with whatever we have on the court.
Walk me through your typical offseason day.
Well, I wake up and eat breakfast. Then I go to the gym and work out. After the workout, I'll take me a nap. Then I wake up, eat lunch, play with my kid and go to sleep. Oh, and lots of video games in between.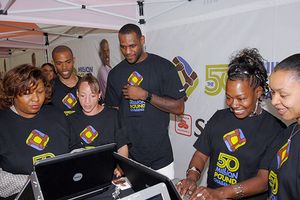 Jeff Soucek
Smith and James watch contestants sign up online in Cleveland for the 50 Million Pound Challenge.
Boooriiing. Although you left something out: You were at the Spike TV Guys Choice Awards last week, where you beat Tom Brady for best fantasy player, which I'm sure was a big honor for you. But let's talk about some of the other awards.
OK.
The hottest Eva: Eva Longoria or Eva Mendes?
Hmmm, Eva Mendes.
Wow, I'm telling Tony Parker.
(Laughs.) Well, let him know I chose Eva Mendes only because Eva Longoria is already taken.
No can do. More awards … the best video gamer: LeBron James or Chris Paul? (Editor's note: not an official category)
LeBron, of course.
Top flopper: Manu Ginobili or Manu Ginobili? (Ed's note: not a category either)
(Laughs.) Manu. I guess, right?
I don't know; it's close. Most crooked: a cork screw or NBA referees? (Ed's note: nope)
(Laughs.) Cork screw. Definitely.
Best front-office type: Hank Steinbrenner or the guy who sent Pau Gasol to the Lakers for Kwame Brown and three cans of beer?
Oh man … ouch. Probably the guy … (Laughs.) I don't know. Let's say even. You know I'm a big Yankee fan.
I do. Is Hank getting the job done?
I don't know. I will say we need some pitching, bad.
I'll say that, too. Something else on your plate, and perhaps a bit more important than Guys Choice Awards: Team USA. Which would be more painful: not winning Olympic gold or falling just short of winning the NBA championship for the second year in a row?
Well, I think it's 50-50. But I'm in a position right now where I'm very focused on Team USA. Right now, it'd be more painful to come up short in the Olympics because I see how much we have. We have a very good team, and we're working hard, so I'm very excited because I think we can bring home the gold.
The Cavs aren't going to let Zydrunas Ilgauskas play for Lithuania in the Olympics, which begs two questions: A) Do you agree with that decision? and B) Did you know Lithuania still is a country?
I'm not sure. I think that's a decision between Z and the Cavs. But I would've loved to play against Z. (Laughs.) I do think we play Lithuania before we get to the Olympics, so it'd be fun to go against my teammate. That's the first thing. The second: Yes, I do know that Lithuania's still a country.
I'll have to double-check that. Another offseason priority for you: The 50 Million Pound Challenge. Great cause, and one Shaq was involved in last season. If I'm a fat kid -- and I'm not, because I'm not a kid -- whom should I listen to, you or Shaq?
You should listen to both of us! (Laughs.) The 50 Million Pound Challenge is good for people in Cleveland, people in Miami, anywhere in the United States. You should get involved in it because it's a great cause.
OK. Maybe. So, like Shaq, who's been criticized for being overweight, you're a big boy. Six-foot-9, 250 pounds. As a fat man, are you right for this job?
Fat? (Laughs.) Not at all. Me being a guy who works out every day, who's in shape, I thought it was a good cause to get involved in. Also, Dr. Ian is very passionate about it. … If you look at the numbers across America, ours are definitely high. It's causing health problems way faster than we're supposed to be. But this is a good team program, and it's much easier to become healthier with teamwork. When you work out or you're doing anything active, it's more fun as a group. You may lose track of the time, and the next thing you know, you're working out for two hours because you're having fun.
Which is more difficult, getting a big-name free agent to come to Cleveland or getting Clevelanders to eat salad?
(Laughs.) I guess we'll see. Free agency hasn't been good for the franchise thus far.
Sam Alipour is based in Los Angeles. His Media Blitz column appears in ESPN The Magazine and regularly on Page 2. You can reach him at sam.alipour@gmail.com.