PHOENIX -- Here are some sights and spoken words from the All-Star festivities:
LeBron and Jay-Z: The interview
What can bring Jesse Jackson, Kobe Bryant, Chris Paul, Mark Cuban, Spike Lee and Fortune 500 CEOs together under one roof? An NBA All-Star Weekend party hosted by Jay-Z and LeBron James.
Free fine dining helps, too.
If the third annual Two Kings dinner and afterparty were any indication, the All-Star festivities are recession-proof. With help from sponsor Sprite Green, the swanky affair at the opulent Phoenix Hotel in Scottsdale served up a three-course meal featuring a petite filet, jumbo prawns and a chocolate silk mousse made with port reduction. (Port reduction!)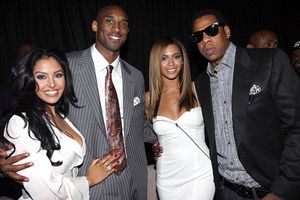 Getty Images
Kobe and wife Vanessa joined Jay-Z and Beyonce for a star-studded photo.
It also brought out some of the nation's finest reporters, like the celebrity-rag writer who wanted to know if Jay-Z would like to compare himself to Gandhi. (Um, no, he did not.) ESPN.com, as high-minded as any of 'em, was there, too.
ESPN.com: You guys are tight and all that, but like they say, opposites attract. For example, Jay-Z, I hear you have no game?
Jay-Z: Whoa, whoa, whoa.
I'm just sayin', it's what I hear.
Jay-Z: I can beat you.
LeBron: Yeah, he can definitely beat you.
Jay-Z: Definitely. Like 100-1.
LeBron: (Laughs) Definitely.
Another example: Jay-Z is a legend in his field. But LeBron, Chris Paul tells me you have zero musical ability. Like, when you sing, glass breaks.
LeBron: 'Cause all I do is recite [Jay's] lyrics, the greatest lyrics in the world.
LeBron, everyone knows you're a great dancer. Jay, they say you're not so good.
Jay-Z: Yo, what's wrong with you?
LeBron: Uh-oh (keels over in laughter).
Jay-Z: What happened? What did I do to you, man?
LeBron: Lemme get in the middle.
But you Two Kings are powerful. I mean, you got a man elected president. That was all you, right?
LeBron: I don't know if it was all us.
Jay-Z: Well, the guy did something. The guy is pretty smart. We just supported what was already happening.
You also had a great event today, donating musical instruments to a school in Mesa, and making the kids cry. You like making kids cry?
Jay-Z: No, I don't make children cry. It was tears of joy and happiness. (Laughs) Naw, but it was beautiful. It's fantastic anytime you can reach the heights in our respective fields, but we've never forgotten where we come from. You know you made it when you go into a school like that and affect people's lives.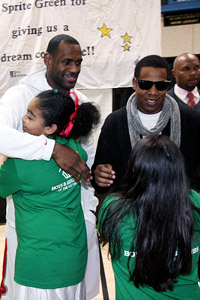 Johnny Nunez/Getty Images
LeBron and Jay-Z received hugs and tears after giving 150 musical instruments to a school in Mesa, Ariz.
LeBron, rumor is you might participate in the slam dunk contest next year?
LeBron: It's up in the air still, but I'm looking forward to it being in Dallas next year. We'll see what happens. I may be out there, though.
Jay-Z, your top five All-Stars?
Jay-Z: Wow. I would put CP3 at the 1. I'd put Kobe at 2. I'd put LeBron at 3 and Dwight Howard at 5. See, the 4 is difficult, because you have a lot of talent there. Man, with that team, I got enough defense, so I need a shooter. I'll probably put Dirk at the 4. I would say Kevin Garnett, but I need someone to hit that jumper.
LeBron, top five hip-hop all-stars?
LeBron: Jay, Nas, Biggie, Tupac, Scarface.
Jay-Z: Oh, you can't beat that five. That's unbeatable. How you gonna beat that?
Finally, it's Valentine's Day. And you guys are together.
Jay-Z: What is your problem? Do you have a date? We gotta get you a date.
LeBron: Yeah, we'll find you someone.
Jay-Z: That's the problem here.
Nash's bash … and a few wacky friends
Everybody wants in on this Steve Nash bash.
And Guillermo is no exception.
Your typical NBA All-Star Weekend party attracts a strange assortment of characters, and the highly anticipated VitaminWater party hosted by the Suns star drew everyone from Yao Ming and his typically low-profile wife Ye Ling to a Swiss watchmaker who speaks loudly and likes to inform partygoers that he has blinged out the wrists of Tony Parker's entire family.
And then there was Guillermo. Of course, the lovable "Jimmy Kimmel Live" security guard-turned-talk show sidekick, flanked by the Kimmel video crew, didn't have an invite to the poolside affair held at the Mondrian. But that didn't stop him from trying. Among his efforts: Begging for Yao's help, suggesting that the party could use a "short Mexican" and turning up the charm on Parker and Eva Longoria Parker.
"Guillermo, this is my husband," Eva said. "We can't flirt anymore."
This did not deter Guillermo.
"Can you get me in the party?" he asked Tony.
"No."
"I want to be your Eva Longoria for tonight."
"Guillermo's drunk," Eva explained.
Minutes later, the host of the shindig came to the rescue. "Guillermo, this is an exclusive event," Nash said sternly, before changing his tune. "Listen, I can get you in, but you have to behave yourself. I can't let you in and have you embarrass me."
With Guillermo safely inside the party (and serving drinks), Nash took a moment to a reflect.
"It's very humbling to have so many people come out to support my city and my events, but it's been the busiest four days imaginable," he said. "And among the strangest."
Rolling with Amare
It's just after 11 p.m. on Thursday, and Amare Stoudemire is on a stage in a banquet room at the W Hotel accepting a humanitarian award for his work in Sierra Leone -- building water wells, fact-finding, spreading the game of basketball -- this past offseason. The high-minded event, thrown by 944 Magazine, is an atypical opening to NBA All-Star Weekend festivities, and one that might suggest a toned-down and buttoned-up four days ahead.
But when the applause dies down, the Suns big man descends from the stage, claps his hands together and bellows a question for all to hear.
"Where the party bus at?"
(For more on Amare's busy weekend, check out the story over at ESPNtheMag.com.)
The awards
Best Party: LeBron James and Jay-Z's Two Kings.
Coolest Daytime Event: A private screening of Spike Lee's "Kobe: Doin' Work," a portrait of Kobe Bryant premiering at the Tribeca/ESPN Sports Film Festival in April.
Best Drink (or so we're told): The Nash Bash Smash, at Steve Nash's Friday affair. Ingredients: A splash of VitaminWater and a whole lotta Grey Goose. "It's all about functionality," Nash explained. "And I'll be honest with you: The functionality is to get smashed."
Best Swag: A bottle of Hennessy 44, celebrating our 44th president, available at the House of Hennessy event. Said Ian Gold, Denver Broncos linebacker: "Now all I have to do is get Obama to pose for a picture with it. Shouldn't be too difficult."
Best Sounds: DJ Jazzy Jeff, former sidekick to Fresh Prince Will Smith, who rocked the EA party at Jackrabbit's ("Summertime," anyone?) and inspired Danny Granger in his NBA Live 09 victory over Jameer Nelson. (Said Granger, who won $10,000 for charity, "My defensive strategy is to let Jameer shoot.")
Mr. Everywhere: Michael Strahan.
Surprise Athlete Sighting: Kobe Bryant, seen at Two Kings (KB24 at an All-Star Weekend party? You're better off searching for a rhinoceros.)
Most Straight-Laced: Mike Bibby. Says the Hawks guard, 3-Point Shootout contestant and Arizonan: "I've been at home with my four kids, trying to juggle that, plus my daughter got baptized yesterday and my mom had a birthday party last night. But mostly, I'm too old for this stuff."
Most Star-struck Celebrity: Scott Porter ("Friday Night Lights"' Jason Street), at Reebok's party at Canal: "I'm a huge Hoyas fan, so when I met Allen Iverson, who's just the nicest guy, I had that look on my face." (Makes a face which he goes on to describe as "jaw on the floor, eyes wide, drooling like a baby.")
Best Phoenix Sales Pitch: "It's an amazing city. Great weather, clean environment, great golfing, great sports teams like the Cardinals and Diamondbacks and it's one of the greatest party cities in the country. It's beautiful. That's why I want to remain a Phoenix Sun." -- Amare Stoudemire, All-Star Weekend ambassador, Phoenix tour guide and the subject of trade rumors.
Best Couple: This weekend, Parker and Longoria were like two peas in a pod. Watching them together, arm in arm, you get the feeling they have something truly special, until they're presented with a quiz, that is. Meet the Parkers:
Q: Tony, what's Eva's favorite movie?
Eva: Oh, that's a good one.
Tony (smiles sheepishly): That's a bad question because you have different categories. Comedies …
Q: Give me one?
Tony: (Silence.)
Eva: I told you a million times my favorite movie!
Tony: "The Notebook"?
Eva: No.
Q: OK, Eva, what's Tony's favorite movie?
Eva (confidently): "Face-Off," "Titanic," "Gladiator" …
Tony: That's a long time ago. You're just saying all of them. "Wedding Crashers."
Eva: Mine is "Steel Magnolias."
Tony: (Looks like he smells dead fish.)
Eva: Come on, Julia Roberts? (Sighs).