Commentary
Behind the scenes of "The Blind Side"
Originally Published:
November 19, 2009
By
Sam Alipour
| Special to Page 2
Michael Oher won't be doing any interviews about "The Blind Side."
That was the message from the Ravens' PR staff three weeks ago, anyway. Baltimore's rookie tackle was not involved in the making of the film based on his life, doesn't want to talk about the movie or the book from which it sprang, and he'd much prefer to move on with his life, thank you very much.
Dude even turned down Oprah.
Oher's disinterest in promoting a film about him might lead some people to think that he disapproves of its existence. Those people don't know Michael Oher. His eyes-forward mentality is what propelled this forsaken son of the Memphis projects -- known appropriately as Hurt Village -- to escape a hardscrabble youth empowered, not embittered or angry, for an incredible journey that led to a college degree and a multimillion-dollar contract.
It began with a single act of kindness on a rainy winter night, when a white couple from a well-to-do part of town spotted the African-American teenager wandering the streets of Memphis wearing only a T-shirt and shorts. Leigh Anne Tuohy, the tough-as-nails matriarch of her family, called for husband Sean to pull to the side of the road. When she learned that the gentle giant, who was a schoolmate of her young children, was homeless, the Tuohys offered him a place to stay for the night. When he revealed that he didn't own any clothes other than what was on his person, they bought him a wardrobe. When it became clear that Oher, who was born to a crack-addicted mother, had no one else to care for him, they invited him into her family -- permanently. Given the means to succeed in the classroom and on the field, Oher, who had attended 11 different schools and was a late comer to football, would eventually become one of the most prized recruits in the nation, an All-America left tackle at the University of Mississippi and the 23rd overall pick in the 2009 NFL draft.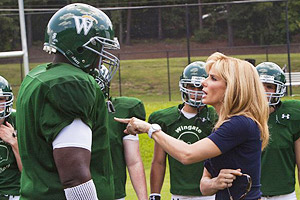 Courtesy of Warner Bros."The Blind Side" tells the story of Michael Oher, who rose from the Memphis streets to the NFL thanks in part to the family who welcomed him into its home.
On Friday, Oher's remarkable story -- first documented in "Moneyball" author Michael Lewis' book "The Blind Side: Evolution of the Game" -- hits the big screen, with Sandra Bullock and Tim McGraw playing the Tuohys and newcomer Quinton Aaron in the role of Oher. On Sunday, Oher will protect his quarterback, Joe Flacco, in a matchup with the 9-0 Indianapolis Colts, just the latest test for the 6-foot-4, 310-pound rookie, who has started every game for the 5-4 Ravens, splitting time between right and left tackle.
That demanding day job is another reason why Oher, who skipped the film's red carpet premiere in New York on Tuesday, isn't talking, even going so far as declining a sit-down with the queen of TV talk.
But he's got plenty of admirers who were willing to speak for him.
---
The colleague
Ravens center Matt Birk, a six-time Pro Bowl selection, says Oher has earned the respect of his teammates. Birk, for one, plans to see the film about his fellow lineman -- after the rookie buys his ticket, of course.
Media Blitz: Did you know Michael's story before his arrival?
Birk: I had no idea. I didn't know until a couple of weeks into training camp. I saw a Ravens employee reading the book, so I asked, "Hey, what's with that book?" I do believe there are stupid questions, and that was a stupid question. [Laughs] Hey, I have kids, so I don't have a lot of free time. And it's not like Mike is the type of guy who'd tell you about it himself.
What's your take on Michael's progress, having to step into the starting lineup right away as a rookie?
I think what he's done, playing left tackle in college and having to play here on the right, then playing on the left for three games and back to the right, he's handled it really well. That's hard for anybody, let alone a rookie. But that speaks to Mike. On the field, he's intense. He busts his butt, and he's a pro. You don't usually see that with rookies, but he's a mature professional and obviously very talented. When the opportunity came up, he seized it. And off the field, he's a pretty easygoing guy. Good rookies, when they come in, they keep their mouth shut and try to fit in. Mike definitely did that, but I wouldn't say he's shy at all. In the locker room, he's a lot of fun.
Will this movie lead to a little more rookie hazing?
Yeah, maybe a little bit. But we like to have fun with Mike. He's kind of, like, sneaky funny, and he likes to give it back to us. But what the movie represents, we have a lot of respect for Michael in that regard, as a person, aside from the football player.
He didn't take you veterans to the premiere. You gotta get something out of his movie moment, right?
Right, the least he can do is get me and my wife some tickets to see it. He's pretty big-time now, so he should be able to set that up. [Laughs] And while we're at it, I think I'll have him babysit my kids that night. Yeah, that should do it.
---
The actor
After a nationwide search, the filmmakers went with an unknown actor for the role of Oher. Quinton Aaron nails the role, but that should come as no surprise. The soft-spoken native of Augusta, Ga., had a lot in common with his real-life doppelganger -- off the field, anyway.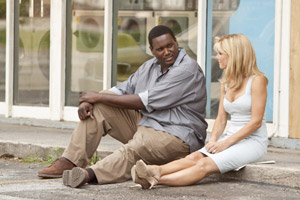 Courtesy of Warner BrosQuinton Aaron and Sandra Bullock portray Michael Oher and Leigh Anne Tuohy in "The Blind Side."
Media Blitz: You didn't get a chance to meet Michael. Did that make your job harder?
Aaron: I think in a way it turned out good. Michael today is nothing like the Michael back then. So speaking to him might've caused me to mess up because I'd be trying to act like Michael today. I just put myself in the role. Michael and I were a lot alike when we were in school. We were gentle giants who stayed to ourselves. We didn't want to fight or be violent.
What was your football experience going in?
I played a little right tackle in high school for one semester. I wasn't good. I was the guy in the huddle who you had to tell exactly what do before you say "break." Then my knees gave out, so I said forget it. But I'm a better athlete now after training for this movie. I did two-a-days, two-hour sessions each, everyday for eight weeks during preproduction. And I had a strict regimen of five small meals a day. The motto for the diet was, if it tastes good, it's not good for you. That was cruel and unusual punishment. But I went from 472 pounds to 372 pounds, so it paid off.
Are you afraid that you'll get a call from Mike one day saying, "Dude, you messed up. I'm coming for you."
If I do get that call, I'll be glad it's not in person. I don't think I could outrun him. I heard at the combine he ran a 4.9 or something. That's pretty quick for a lineman. My legs ain't that fast.
---
The filmmaker
In the hands of writer/director John Lee Hancock, Oher's tale is more than a sports film. It's a tearjerker, of course, but it's also surprisingly nuanced, shaded with takes on politics and race in the contemporary South. It takes an educational system that fails far too many to task, and it raises and answers questions about the Tuohys' motives. (The NCAA would investigate Oher's commitment to the Tuohys' alma mater, Ole Miss.) In our book, "The Blind Side" is the best sports flick since "The Rookie," Hancock's 2002 film about teacher/pitcher Jim Morris, and it cements the Texas native's status as the best director of scripted sports fare since Ron Shelton.
Media Blitz: This has the least amount of sports I've ever seen in a so-called sports movie.
Hancock: Yeah, there's no big game. There's like two practices and eight plays from a game. That's it.
As a big fan of both of your sports films, I have a question that I feel you're uniquely suited to answer: What's the trick to directing a sports movie?
Gosh, that's a really good question. Sports movies are always about something else, ultimately. Sports just happens to be the engine in most of the best ones. They're usually relationship dramas. Before reading the book, I'd already done a sports movie and didn't want to be pigeonholed. But I read it and realized that this is a sports movie in the way that "Jerry Maguire" is a sports movie. Sports is just the engine for what I think is an unconventional mother/son story. Also, I think it's really important to be as realistic as possible with the way you portray the sport. Sports fans know the difference. They can tell.
Is it possible to do a good sports movie that's not fact-based?
Absolutely, it is. The thing is, the two I've done, "The Rookie" and "The Blind Side," they're both too-good-to-be-true stories, but they are true, so you have to be careful with that. With these feel-good stories that have these elements, it's difficult. You couldn't do either of these movies if they were fiction. Nobody would believe it.
What did you learn from "The Rookie" that you could use here?
They're similar stories in that if you leave them unfettered, it's like a horse running to the barn. It can get schmaltzy at the drop of the hat. They can veer into melodrama, which is not good for a sport movie. The thing I learned from "The Rookie" is to pull the reigns. I had no idea how difficult it would be to exercise that degree of restraint. I talked to Sandy [Bullock] and said we have to pull back, keep it simple and keep moving, and she agreed. That's very much the character of Leigh Anne Tuohy, anyway. She doesn't stop and dwell on drama. For her, it's, "What's next on the list? Cross it off." We were able to accomplish that, both through Leigh Anne's character and also through some humor to keep it real.
For the recruiting sequence, you were able to get all of the coaches [Tommy Tuberville, Nick Saban, Houston Nutt, Phil Fulmer, Ed Orgeron and Lou Holtz] to appear as themselves. How did you pull that off?
That was tough. I wrote them in, and I knew I had to cast them all as themselves, because if I cast even one actor, then they'd all be actors. Then, as a sports fan, I'd be like, "Come on, that's not Nick Saban!" I knew if I'd get one, I'd be fine. Ed Orgeron [formerly of Ole Miss] signed on to do it first. And then, gosh, I thought it'd be tougher to get [Alabama coach] Nick Saban, because he'd have to wear his old LSU garb and sell for the Tigers. Leigh Anne helped out. She and Nick know each other through the recruiting process, and she said, "Nick, you better do this because if you don't, we're going to cast some fat ugly short guy." Then she said to me, "Nick's so vain, he'll do it." [Laughs]
There was some heavy lifting for all of them, because none of these coaches are with the teams they were coaching at the time. I think it helped when they saw they'd have a scene with Sandy Bullock.
The NCAA is one of the film's antagonists. How do you feel about their investigation of the Tuohys and Oher?
I think what they were doing was reasonable, actually, even though in this case Michael hadn't played football before he walked into their house. So there was nothing for them to gain. And they're wealthy people, so it's not like they said, "We're going to help this kid because he's going to the NFL." That would've been a bad wager on their part. So they had nothing but the best of intentions. But the NCAA and SEC can look at that, and they can probably find some crazy person who found a skilled kid, adopted them and sent them to their alma mater for money. Lord knows there've been plenty of investigations over college kids being paid. Like Sean says, I wasn't surprised at all they showed up.
Michael Oher wasn't involved in this film. What kind of challenge did that present to you as a filmmaker?
It wasn't a challenge for me because when I first met Michael, and got to know him, Leigh Anne said, "This isn't the Michael in your movie. This is the evolution. He bares no resemblance to that Michael in your story." So it's not like I needed insight. The Tuohys and the book were plenty. You know, he didn't read the book for four years. Like the movie says, he's not mad at anybody, and he really doesn't care about the past. He's in the NFL now, and as Sean says, the thing that Michael does better than any human being I've ever been around is his singular focus. Right now, he has his hands full starting as a rookie in the NFL. That's like 10 jobs. I suspect he'll see the movie soon. He was very supportive of the whole thing.
The book, more so than the movie, spends considerable space dissecting the left tackle position. What did you learn about the position?
Absolutely, the book is a macro- and micro-examination of the same question: How did the stars align to shine so brightly on this kid from the projects in Memphis? The macro talks about the evolution of the position, and the genetic traits and disposition that makes for a perfect left tackle. Then there's the evolution of Michael Oher and how he comes to be this person. The questions are the same, and they're answered in the movie as well. I needed to have some of the macro and explain that. The thing I learned is how Bill Walsh and Bill Parcells, with their philosophies, shaped the game. I had no idea how many coaches come from those two trees. It's amazing. Also, the fact that if you look at the salaries of any team, [left tackle] is always in the top five. I had no idea.
Safe to say this is the last movie we'll ever see about an O-lineman?
[Laughs] Gosh, never say never, but I think it's a long shot.
---
The family
The regulars in Section 203 of M&T Bank Stadium in Baltimore have learned this much: Behave, lest you incur the wrath of Leigh Anne Tuohy. The Southern spitfire and her husband -- who maintain that Oher had a greater impact on their lives than they did on his and remain his biggest fans -- are as protective of their adopted son as they've ever been.
Media Blitz: Not a bad deal, having Sandra Bullock and Tim McGraw play you.
Leigh Anne: Pretty cool, huh? We heard different names for a year and a half.
Sean: There were no expectations. Then, when Sandra Bullock signed on, we were like, oh crap, I guess this is really going to happen.
What do you hope people take away from this film?
Sean: That our system is set up to fail. In the book, Michael Lewis said there was no more obvious person of value walking the streets of Memphis than Michael Oher. It took Nick Saban five minutes to identify him as a first-round NFL draft choice. If this person, who'd been devalued to nothing, could fall through the cracks in this system, how many other Michaels are out there? Michael was a great kid when he walked in our door. It was just a matter of getting him in the right environment. If he almost missed the starting line, anybody can. Some smart dude out there has got to fix the system.
What's your review of the film's accuracy?
Leigh Anne: John Lee did a great job. He was around us for four years, and he was really passionate about this. He spent holidays with us, always lurking in the background, watching our interactions with Michael. He was able to take the compassion and emotion of our everyday life and pull the story from the book. I mean, there are little things: They have our daughter playing volleyball, but she was a pole vaulter and gymnast. But who cares? John Lee was gracious.
Sean: I'll say. Having Tim McGraw play me was very gracious.
An ongoing gag in the film is Leigh Anne's disdain for [the University of] Tennessee. Was that pretty accurate, too?
Leigh Anne: Look, I don't look good in orange. [Laughs] But actually, Fulmer was great when he visited our house. We have a history with the coaches that appear in this film, and we have so much respect for what they do. We wouldn't wish their job on anybody.
Thoughts on Michael's rookie season?
Sean: ESPN had him, through Scouts Inc., as the second-best rookie in the league, after Percy Harvin, which is hard to argue. Michael is doing phenomenal. But I knew it. The Ravens knew it. He went to the right place, too.
Leigh Anne: If every team had an Ozzie Newsome, the world would be a better place.
Sean: From a parent's standpoint, best organization in the world. From Ray Lewis to Joe Cool, they're the best group of guys you can imagine.
Why isn't Michael doing any interviews?
Leigh Anne: He just doesn't care. They're moving him from LT to RT, sometimes in the same game. He's got a lot to do. He didn't want to do Oprah last week. If he's not doing Oprah, he's not doing anything.
Sean: He doesn't know he's making a difference. He just knows he's going up against [Antwan] Odom one week, Jared Allen the next, and he's supposed to talk about a movie?
You were the subject of a book and a movie. So, how about a TV series?
Sean: If this becomes a TV show, I'm going to have your a--. [Laughs] You're the first person to say that. This needs to end.
Leigh Anne: Actually, a few years ago, they wanted to do a reality TV show. I'm like, are you serious? Give it a rest.
Sam Alipour is based in Los Angeles. His Media Blitz column appears regularly in ESPN The Magazine and occasionally on Page 2. You can reach him at sam.alipour@gmail.com.
Sam Alipour is a Senior Writer at ESPN Magazine and contributor to ESPN and ESPN.com. Contact him at sam.alipour@gmail.com and on
Twitter.
Nike Men's Baltimore Ravens Championship Drive Hyperspeed Po Fleece Anthracite Hoodie Shop »
MOST SENT STORIES ON ESPN.COM