Commentary
Unleashing the 'Puppy Bowl'
Originally Published:
February 4, 2011
By
Lisa Altobelli
| Special to Page 2
Super Bowl Sunday equals beer, football and, for a growing number of the population, puppies.
In its seventh year, Animal Planet's "Puppy Bowl VII" (Sunday, 3-5 p.m. ET) has grown from fewer than 500,000 viewers to more than 8 million for the fan in need of collective cuteness in the hours before kickoff.
WHAT ABOUT THE KITTENS?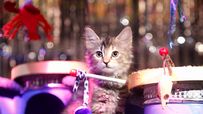 Paul Lukas goes behind the scenes at the making of the Puppy Bowl's halftime show featuring kittens, and finds it's the Cutest Thing Ever. On to the cats »
While the actual game consists of the mutts dragging football-shaped chew toys into the end zone, there's also a referee whose primary job is to pick up the puppy poop as well as whistle fouls (with a regular whistle, not the dog kind -- we asked).
The ref is played by a Jimmy Fallon look-alike named Andrew Schechter who, when not donning the zebra outfit once a year, works as a producer for the network on shows like "America's Cutest Dog," "America's Cutest Cat" and "Hillbilly Hand Fishin'."
As for the fouls, how many puppy puns can we possibly fit into one referee handbook?
There's unnecessary ruff-ruff-roughness.
Unpuppylike conduct.
Illegal napping on the field.
And excessive cuteness.
"The last one happens more often than not," said Schechter. "Pretty much every puppy who walks on the field gets a penalty for excessive cuteness."
[+] Enlarge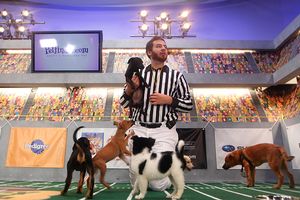 Animal Planet/David Holloway "Puppy Bowl" referee Andrew Schechter is a busy man on game day.
There are some new additions to this year's broadcast, including a puppy cam with a video camera strapped to the head of a floppy-eared beagle for more in-game action. There's also a kiss cam that shows taped footage of viewers' canines nuzzling and even dogs and cats living together ... mass hysteria! OK, that last part is just Dr. Peter Venkman's perspective.
And while there won't be any cheerleaders at this year's Super Bowl since the Packers and Steelers are two of the six teams in the league sans a pompom posse, the Puppy Bowl will have literal chick cheerleaders, with chickens flapping their wings in support on the sidelines.
All of the animals featured in the program come from rescues and shelters from across the United States and its territories.
"The casting is actually really hard," said executive producer Melinda Toporoff of the 58 puppies who made the cut from as far away as Puerto Rico. "Reps from shelters send in pictures of the pups posed next to a soda can so we can see their actual size, but they're usually between seven and 16 weeks old."
And while Schechter says the big message of the show is that all the animals featured need a home, he himself doesn't have a pet because of his tight living quarters.
"It's also about knowing when not to adopt," said Schechter. "I live in a shoebox-sized apartment and it wouldn't be fair to a dog."
But for those who have the square footage, Animal Planet encourages people to visit Petfinder.com to adopt a pet in your area. And then, of course, get them spayed or neutered or Bob Barker will come find you.
Lisa Altobelli is a former reporter for Sports Illustrated. She can be reached at alto22@gmail.com.