Commentary
Johnny Damon's Mohawks fuel Tigers
Originally Published:
May 26, 2010
By
Jeff Arnold
| Special to Page 2
DETROIT -- Johnny Damon has always fancied himself a bit of a fashionista, especially when it comes to his hair.
Whether it was long and flowing in Boston or neat and trim under George Steinbrenner's watch, Damon and his much-ballyhooed locks have been intrinsically linked.
Not that Damon seems to mind.
[+] Enlarge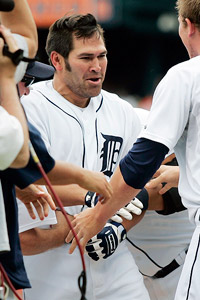 AP Photo/Duane BurlesonDamon's look is viral in Motown.
"At least it takes away from people paying attention to what I do playing baseball," the 36-year-old veteran said. "But I dig myself, and especially if my wife digs me, I dig myself more."
Damon's wife was actually behind the well-quaffed outfielder's suggesting that teammate Alex Avila fashion a Mohawk out of Damon's perfectly acceptable head of hair.
Damon had done his homework, scoffing at former Yankees teammate Nick Swisher's faux hawk before finding a stylistically pleasing model in Mariners pitcher Brandon League.
So two years after Damon's wife started nudging him and after giving careful consideration to League's take on the Mohawk, Damon made the change.
"I told my wife, 'I think I can get by with that,'" Damon said.
During a westward road swing earlier this year, Damon sought out Avila with a pair of clippers.
"I had never done it before so it was kind of learning on the fly," Avila said. "I was sitting there cutting his hair and I thought, 'That looks pretty good.'"
Damon has triggered a full-blown Mohawk epidemic. During a break in between a recent day-night doubleheader with the Yankees, nearly a dozen Tigers players -- including Avila, third baseman Brandon Inge and relievers Ryan Perry, Phil Coke and Joel Zumaya -- followed Damon's lead.
The amateur experiment produced mix reviews. Damon declared Perry's Mohawk the best while casting his personal hairstylist Avila into the thanks-for-playing category, prompting the young catcher to be the first one to shave.
But a couple of hours of clubhouse clipping became a bonding exercise, providing value regardless of what others may think.
"[The Mohawks] are bad to some, but to us, it's awesome," Damon said.
What began with Damon weeks before ran through the Tigers' clubhouse, demonstrating how a free spirit can pay dividends teamwide.
"[Damon] sets the tone for the way things run in this clubhouse," Inge said. "The thing with him is he's light. When you're on the field, you want to make sure you're 100 percent game-on, play hard. But in the clubhouse, you want to joke around and keep things light."
It wasn't long before the Tigers had claimed series victories over the Yankees and Red Sox, and as of May 21, the Tigers were tied with Minnesota at the top of the American League Central.
Although Damon can't directly link his team's success with its recent wave of radical clip jobs, he's certain the Tigers' ability to remain loose away from the field makes them much more cohesive on it.
"There's not too many teams that can succeed on and off the field together," Damon said. "But it seems like if baseball wasn't a factor, we'd still get along."
Bad hair and all.
Jeff Arnold is a freelance writer for Sports Media Exchange, a national freelance writing network.