This month, ESPN is asking fans to pick the best players in the history of all 30 franchises. Here at Page 2, we'll take the opposite approach and have you pick those who were not so accomplished. We can't call it the "worst players," because that's a difficult thing to define. Besides, if a player is that bad, he doesn't stick around very long.
Instead, we'll have you select the worst individual player seasons for each ballclub. We're giving you three candidates for each team and want you to choose the worst season for each franchise from the past 50 years. We scoured the records beginning in 1959 and came up with what we believe are three viable candidates for each team.
We used a variety of criteria to arrive at our selections. You'll see raw numbers quoted, but in order to qualify, the seasons had to pass the scrutiny of being evaluated in the proper context of time and place. After all, the 5.50 ERA of 1998 is something very different from the 5.50 ERA of 1968. To help shape the lists, we used some Baseball Prospectus metrics such as value over replacement player and wins above replacement player, as well as ERA+ and OPS+ as calculated by Baseball-Reference.com. We tried to get a mix of pitchers and hitters for each team whenever possible.
We were heavily influenced by playing time. Anyone can have a bad month; what we were after were those who had sustained their poor performance for most or all of a season (and, in some rare cases, multiple seasons). For our purposes, the guy who had 550 plate appearances received more consideration than the guy with 350. In fact, we set a minimum of 300 plate appearances for inclusion. The pitcher who had 150 innings was a stronger candidate than the pitcher with 100 innings. We tried to stick with pitchers who threw at least 80 innings, so we were heavily biased toward starting pitchers.
We probably could have picked one or more shortstops as the representatives for just about every one of the 30 franchises. Catchers also were over-represented. Because both are defense-first positions -- especially shortstops in the '60s and '70s -- we gave "extra credit" for those who played positions other than short or backstopper. A corner position got the inside advantage. Defense also was considered. A number of players with excruciating offensive showings were spared inclusion because of their ability with the leather.
We also understand that a number of these seasons come with explanations: that perhaps the player was on the way up and starting slowly, or maybe he was finishing a great career badly. Injuries also play a part, especially with the pitchers. If we eliminated all the seasons impacted by those caveats, however, the pickings would have been much slimmer.
NATIONAL LEAGUE EAST

Atlanta Braves
Rowland Office, CF, 1977 (.241 AVG/.282 OBP/.311 SLG, 19 extra-base hits in 428 at-bats): No power. Rarely on base. Questionable defensive stats. Office embodied the frustrations of Atlanta Braves baseball post-Hank Aaron/pre-Dale Murphy.
Finding Braves candidates isn't easy, unless you count shortstops. There have been a host of nonoffensive shortstops over the years. Braves fans can stroll down memory lane and recall all the outs made by Luis Gomez, Rafael Belliard, Jerry Royster, Marty Perez, Andres Thomas and Craig Robinson. A case could be made for any one of them -- like Thomas' .228 on-base percentage in 1989. But to choose one is to ignore the rest.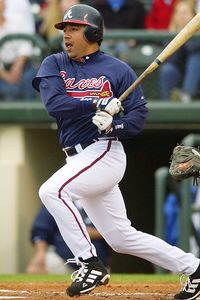 M. David Leeds/Getty Images
Shockingly, Vinny Castilla didn't hit as well at sea level as he did in Colorado.
Vinny Castilla, 3B, 2002 (.232/.268/.348, 12 HR, 61 RBIs in 543 at-bats): In reality, Castilla was never as good as his Colorado-inflated statistics indicated or as bad as he was in 2002 with the Braves. At least Atlanta didn't pay him the big sucker money that Tampa Bay did on the basis of what he had done at altitude. Castilla's slugging percentage was only .348.
Pascual Perez, P, 1985 (1-13, 6.14 ERA, 95.1 IP, 113 H, 57 BB, 57 SO): The unforgettable Mr. Perez made 22 starts in '85, and the Braves won just six of them. He failed to get past the fourth inning nine times. He had the highest ERA in the league and a 1:1 strikeout-to-walk ratio. To be sure, he had injury problems -- he did two stints on the disabled list -- and also was suspended for 10 days. Lifestyle issues were always lurking as well. Tired of his shenanigans, the Braves released him the following spring.
Florida Marlins
Brian Moehler, P, 2006 (7-11, 6.57 ERA, 122 IP, 164 H, .325 average allowed): It's the rare National League pitcher who surrenders more than 12 hits per nine innings. In fact, since 1959, only 11 other NL hurlers have surrendered more safeties per nine (80-inning minimum) than Moehler did in '06.
Chuck Carr, CF, 1994 (.263/.305/.330, 2 HR, 30 RBIs in 433 at-bats): Carr was with the Marlins during the first three years of their existence and in that time managed to rack up three of the eight worst OPS+ figures in team history. Of the three, 1994 was the least impressive, when he combined a .305 OBP with a .330 slugging percentage. If you're looking for reasons not to vote for him, he was a decent center fielder and had an 80 percent success rate in 40 stolen-base attempts.
Eric Owens, RF/CF, 2001 (.253/.302/.335, 5 HR, 28 RBIs in 400 at-bats): Owens was a fairly nondescript player who landed with the Marlins in a trade with San Diego in the wake of what proved to be his career year. His line from 2001 kind of just lays there. It doesn't overwhelm you with its glaring extremes of deprivation, but more lulls you into somnambulation with its banality.
New York Mets
Willie Montanez, 1B, 1979 (.234/.277/.317, 5 HR, 47 RBIs in 410 at-bats): We know what you're going to ask: "Where's Marv Throneberry?" It's no contest, really. Even taking into account Throneberry's infamous fielding skills, his offensive output in 1962 still is far better than Montanez's terrible 1979. Montanez was a classic case of a first baseman who hit like a shortstop (and a bad one at that). The Mets were able to unload him on the Rangers in August after 442 plate appearances; with Texas, he immediately began echoing the talent he showed in his rookie year eight years before. That was short-lived, though.
Doug Flynn, 2B/SS, 1977-1981: For Flynn, we'll waive the ban on middle infielders. We'll do so because Flynn's body of work in a New York uniform is so impressive that his five years on the team resulted in his playing five years below replacement level. He arrived as a shortstop from Cincinnati as part of the trade in which the Mets foolishly off-loaded their greatest player ever, Tom Seaver. Flynn proceeded to put together maybe the worst offensive showing of any Mets player ever: twin .220 OBP and slugging percentages in 300 plate appearances. He played mostly second base, and even if he'd fielded the position like Bill Mazeroski (he didn't), it wouldn't have justified his Mets career line of .231/.264/.275. As for supplemental activities, he didn't steal, he was hit by one pitch in his entire career and he hit into about 15 double plays per season.
Jay Hook, P, 1963 (4-14, 5.48 ERA, 152.2 IP, 168 H, 21 HR): In the history of the major leagues, only a very small percentage of ballplayers didn't really need the game. Hook was certainly one of those; he was a brilliant man whose big league career was merely a prelude to his real work in the world of industry. (Hook, who has a degree in thermodynamics, retired after the 1964 season and took a job with Chrysler.) That he has ended up a candidate here is not to be taken as a measure of the man -- nor should it be for any of the players presented in this poll. A bad season or two playing professional baseball does not a life make. Hook was the winning pitcher in the Mets' first-ever victory the year before and held his own in their inaugural season. In '63, however, he surrendered at least five runs in six of his first eight starts and ended up with a 3-14 record as a starter. His main competition for the slot here comes from Craig Anderson's '62 season, in which he went 0-11 as a starter.
Philadelphia Phillies
Sparky Anderson, 2B, 1959 (.218/.282/.249, 0 HR, 12 extra-base hits in 477 at-bats): The future Hall of Fame-bound skipper's one year as a big league player made one thing abundantly clear: If he was to have a future in the game, it was not going to be with a bat in his hands facing live pitching. He spent the entire season as the Phils' second sacker and managed just nine doubles and three triples in 527 plate appearances.
Don Carman, P, 1989 (5-15, 5.24 ERA, 149.1 IP, 153 H, 86 BB, 81 SO): The Phillies often have seen their former greats exit poorly; Robin Roberts in 1961, Steve Carlton in 1986 and Jim Bunning in 1971 all pitched badly in their final stints for Philadelphia. Carman, though, pitched more frequently than all of them and with arguably equally bad or worse results. He went 3-13 as a starter in '89, as the Phillies won only six of his 20 starts.
Rick Wise, P, 1968 (9-15, 4.55 ERA, 182 IP, 210 H, 67 SO): It was the Year of the Pitcher, but it wasn't marked that way on young Rick Wise's calendar. The 22-year-old had the highest ERA in the National League at 4.55. Nowadays, that will get you a four-year contract at $10 million per, but in '68, that ERA was sky-high. It might have been just one of those things, though, as Wise walked only 37 men and gave up just 12 home runs, and he certainly improved later to win 188 games in his career.
Montreal Expos/Washington Nationals
Peter Bergeron, CF, 2001 (.211/.275/.285, 3 HR, 16 RBIs in 375 at-bats): If Bergeron's last name had been Burke, would he have ever seen the light of day in the majors? While we're pondering that, consider his .211/.275/.285 line in 2001 and the fact that he struck out nearly every four at-bats without the usual power accompaniment. Throw in a low base-stealing percentage (10-for-17) and the dodgy defensive stats in center field, and you've got a prime candidate.
Coco Laboy, 3B, 1970 (.199/.254/.299, 5 HR, 53 RBIs in 432 at-bats): We hate to have to include Laboy, one of the early famous faces of the franchise who seemed like such a natural fit in Montreal with his Francophonic name -- even if he was from Puerto Rico. He had been knocking around the minors since the Eisenhower administration when expansion opened a door. He responded with a pretty decent season in 1969 and even gained some Rookie of the Year consideration. Sophomore year was hell, though. He hit a buck-ninety-nine and saw his home run total drop from 18 to five. He played himself out of the starting third baseman's job and pretty much killed his career as a regular.
Wayne Twitchell, P, 1978 (4-12, 5.78 ERA, 112 IP, 121 H, 71 BB, 69 SO): For the first time in Twitchell's career, he walked more batters than he struck out, helping him earn a 1.71 WHIP. His ERA was more than 5.00 as both a starter and reliever. Lefties were especially rough on him, tagging him for a Cooperstown-like .348/.455/.591.
NATIONAL LEAGUE CENTRAL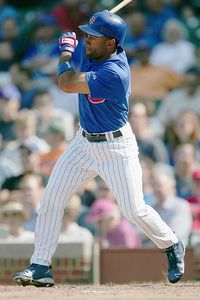 Jonathan Daniel/Getty Images
Corey Patterson's promising career hit the skids after he hit .215 in 2005.
Chicago Cubs
Corey Patterson, CF, 2005 (.215/.254/.348, 13 HR, 34 RBIs in 451 at-bats): If we avoid playing "blame it on the shortstop" here, Ronny Cedeno's 2006 season gets a pass in favor of what Patterson did the year before. Patterson hit .215, supplemented by only 20 unintentional walks in 481 plate appearances. He did show flashes of power, but nothing like the output of his previous two seasons. This performance pretty much ended talk of his being a future star.
Shawn Estes, P, 2003 (8-11, 5.73 ERA, 152.1 IP, 182 H, 83 BB, 102 SO): The good news for Cubs fans is that most pitchers who've had the team's worst seasons have pitched limited innings. Estes is the exception, so he gets the nomination here. Estes failed to make it through the fifth inning nine times in 28 starts and averaged a walk every other inning. Opponents had a .387 OBP against him, the worst figure of the past half-century among Cubs pitchers with at least 100 innings.
Ruben Quevedo, P, 2000 (3-10, 7.47 ERA, 88 IP, 96 H, 21 HR, 54 BB): He pitched only 88 innings, but it's hard to ignore the results. Although a few good starts were in the mix, there were also those with lines that looked like this: 6.2 9 7 5 5 2; 1.1 4 4 4 5 2; 3.2 10 9 9 1 6; 2 4 6 4 5 3. Quevedo also pitched six games in relief and left only one of them unscathed. His relief ERA was 31.91. His home run rate of 2.15/9 IP is the seventh-worst in the National League in the past 50 years.
Cincinnati Reds
Paul Householder, RF, 1982 (.211/.265/.326, 9 HR, 34 RBIs in 417 at-bats): Granted, 1982 was not the hitter's paradise we have come to know baseball to be since, but when a corner outfielder gets on base just 120 times in 455 tries, it's not too surprising when his team loses 101 games.
Eric Milton, P, 2005 (8-15, 6.47 ERA, 186.1 IP, 237 H, 40 HR): It was Milton's misfortune to spend the years 2004 and 2005 playing his home games in two ballparks that are the least friendly to fly-ball pitchers: Citizens Bank Park in Philadelphia and Great American Ball Park in Cincinnati. Except that of the 83 home runs he gave up in those two seasons, 42 came on the road. Opponents had a slugging percentage of .543 against him, the worst in Reds history going back to the very day the fee was paid to start the franchise.
Bobby Tolan, CF/RF, 1973 (.206/.251/.304, 9 HR, 51 RBIs in 457 at-bats): An outfielder with an OPS of .555 will attract some attention in a poll like this. Once a good player (two 100-run seasons), Tolan's power had greatly diminished in 1972 and never really returned before his retirement in 1979. His walk rate also declined, leaving very little to recommend him to start. That, of course, made him an ideal candidate for the San Diego Padres of that woeful vintage, who traded for him that winter.
Houston Astros
Derek Bell, RF, 1999 (.236/.306/.350, 12 HR, 66 RBIs in 509 at-bats): Consider it a prelude to Operation Shutdown. In the midst of one of the greatest offensive eras ever, Bell was bereft of value in the 1999 season. Though their right fielder posted an OPS+ of 66 and provided some very questionable defense, the Astros still managed to win the division.
Bob Knepper, P, 1989 (4-10, 5.89 ERA, 113 IP, 135 H, 60 BB, 45 SO): Knepper was all kinds of inconsistent in the late '80s. Good in 1986, not so in 1987. He rebounded in 1988, then returned to ineffectiveness in 1989. The Astros couldn't take it anymore and released him in August after he posted an ERA of 5.89 in 20 starts. The Astros' rotation was fairly schizo itself that year, as Mike Scott and Jim Deshaies provided the foundation for a team that won 86 games, but Knepper and Jim Clancy (see next item) pitcher laid the foundation for the team's 76 losses.
Jim Clancy, P, 1989 (7-14, 5.08 ERA, 147 IP, 155 H, 66 BB, 91 SO): Clancy issued the second-most intentional walks in team history, which usually is not a good sign. In fact, the majority of pitchers who have issued more than the 15 he gave out in 1989 have been relievers. When he wasn't intentionally putting men on base, his mates often let them on with shoddy defense. Although Clancy's ERA of 5.08 was 50 percent higher than league average, his run average was more than 6.00.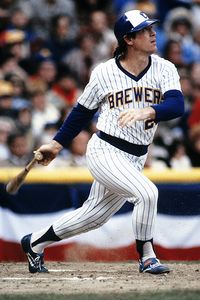 Ronald C. Modra/Sports Imagery/Getty Images
Ted Simmons was an eight-time All-Star, but not in 1984, when he hit .221.
Milwaukee Brewers
Ted Simmons, DH, 1984 (.221/.269/.300, 4 HR, 52 RBIs in 497 at-bats): What is especially troubling about Simmons' showing in 1984 is that the majority of it took place while he was the designated hitter. When he wasn't DHing, he was either playing first or third base, so his nonproductivity was taking place at positions that are normally counted on for some firepower. His AVG/OBP/SLG line easily registers as the worst showing ever by a designated hitter who qualified for the batting title (502 plate appearances).
Mike Matheny, C, 1996 (.204/.243/.342, 8 HR, 46 RBIs in 313 at-bats): We've mostly avoided catchers in this poll because of their defensive contributions as well as the fact that they tend not to play as much as everybody else. Matheny is hard to ignore, however, with a terrible stretch of hitting from 1996 to 1998. Three of the dozen worst OPS+ in Brewers history belong to him, and 1996 (OPS+ of 44) was a particular low point. His power doesn't look so bad on its surface, but bear in mind that this was the happy time for power baseball.
Glendon Rusch, P, 2003 (1-12, 6.43 ERA, 123.1 IP, 171 H, .331 average allowed): Rusch always has been an enigmatic pitcher: He can get torched with the best of them, but he's perfectly capable of tossing the occasional gem. Of course, that could describe just about any journeyman hurler of long standing. In 2003, little went right when Rusch got the ball in his locker. He posted a 7.36 ERA in 19 starting assignments. (His ERA was a much-more-civilized 2.35 in 23 innings of relief work.) The Brewers won just four of his starts.
Pittsburgh Pirates
Bill Virdon, CF, 1962 (.247/.286/.345, 6 HR, 47 RBIs in 663 at-bats): Has anyone ever done less with 705 plate appearances? Virdon batted leadoff 146 times for the Buccos while posting an OBP of .278. Of course, that's on manager Danny Murtaugh's head, not Virdon's. He also took himself off the bases when he was caught stealing 13 times in just 18 tries.
Marvell Wynne, CF, 1985 (.205/.247/.258, 2 HR, 18 RBIs in 337 at-bats): Wynne had a nasty reverse platoon in 1985, as right-handers owned the lefty swinger to the tune of .181/.232/.235. What was already shaping up to be a bad season turned even worse toward the end when Wynne managed just one single in his last 25 at-bats with no walks.
Kevin Young, 1B, 1993 (.236/.300/.343, 6 HR, 49 RBIs in 449 at-bats): In the past 50 years, it's hard to find a worse pitching season for the Pirates than Steve Blass' 1973 campaign. To include it here, however, is not a place we want to go, given the circumstances of his malady, in which he lost control so often that "Steve Blass Disease" was coined to refer to pitchers who suddenly lose the ability to throw strikes. If we were to evaluate pitchers based on their won-loss records, then Jose DeLeon's 2-19 mark in 1985 would get the nod, but DeLeon pitched better than that (4.70 ERA, .231 average allowed).
With the absence of a terrible pitcher, we'll pick Young's rookie year. If the Pirates were looking toward first base to replace the power lost when they lost Barry Bonds to free agency, they didn't get it from Young, who hit just six home runs in 508 plate appearances. You have to go back to World War II to find a regular Pirates first baseman who provided so little power.
St. Louis Cardinals
Lou Brock, LF, 1978 (.221/.263/.252, 0 HR, nine extra-base hits, 12 RBIs in 298 at-bats): "That's right," you're saying, "kick an old guy while he's down." The problem is -- and all teams should be so lucky to have this problem -- the Cardinals don't have a lot of candidates with spectacularly bad seasons. Most of the obvious ones like Dal Maxvill in the late '60s, Yadier Molina in 2006 and Terry Pendleton in the early years of his career played defense so well that their fielding helped mitigate their shortcomings at the plate. In 1978, Brock was 39 years old and did just about nothing other than get 66 hits closer to the 3,000 mark. He hit nine doubles and drew only 15 unintentional walks in 317 plate appearances. Brock batted leadoff for the Cardinals 68 times, more because of tradition than his ability. It certainly looked like a sad end to a nice career, but he bounced back pretty well in 1979 (.304 average) and got his 3,000th hit.
Eli Marrero, C/1B, 1999 (.196/.236/.297, 6 HR, 34 RBIs in 317 at-bats): The lesson here is obvious: Unless you want to get called out for inclusion in something like this, don't have a bad season in the square of an offensive boom town. In 1999, 10 pitchers, including teammate Darren Oliver, had higher slugging percentages than Marrero's .297.
Danny Jackson, P, 1995 (2-12, 5.90 ERA, 100.2 IP, 120 H, 48 BB, 52 SO): He was given the ball 19 times and managed only four quality starts. He left before the end of the fifth inning six times and finished with a 2-12 record. Of course, he was ailing and never fully recovered, so he is included with some regret.
NATIONAL LEAGUE WEST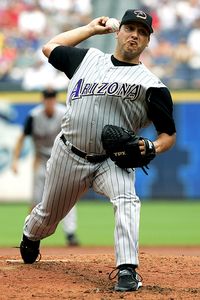 Paul Abell/US Presswire
Russ Ortiz had some solid major league seasons; 2005 was not one of them.
Arizona Diamondbacks
Russ Ortiz, P, 2005 (5-11, 6.89 ERA, 115 IP, 147 H, 65 BB, 46 SO): Try not to focus on how much this season cost the Diamondbacks monetarily. (But if you have to, it was more than $7 million back in the days when that was a lot of money.) Instead, look at Ortiz's strikeout-to-walk ratio of 46:65 and the ERA that was more than two runs above league average. Ortiz always was generous with the passes, but the strikeouts fell off when his arm trouble developed, and the D-backs were stuck footing the bill for a career that was coming to a rapid close.
Casey Fossum, P, 2004 (4-15, 6.65 ERA, 142 IP, 171 H, 31 HR): Fossum's teammates did not support him much in '04, averaging only a little more than three runs per game during his starts. Though that helps explain Fossum's 4-15 record, it by no means exonerates him, as he had only nine quality starts in 27 tries. His ERA was two runs more than league average. (It's tempting to include Edgar Gonzalez's turn that same season in which he went 0-9 and got lit up repeatedly, but he only started 10 games.)
Karim Garcia, RF, 1998 (.222/.260/.381, 9 HR, 43 RBIs in 333 at-bats): The Diamondbacks have pretty much avoided disastrous seasons by position players. Only one player who qualified for the batting title has finished a season below replacement level -- shortstop Alex Cintron in 2004. Tony Womack came close, and he certainly was overrated during his time in Arizona, but it's tough to peg him as a candidate in this contest. Garcia is the sole corner man to have one of the 10 worst OPS+ seasons in Diamondbacks history. He was only 22 when it happened, and he did get better (but never as good as some thought he would be). His OBP of .260 is the worst in team history for players with more than 200 plate appearances.
Colorado Rockies
Mike Hampton, P, 2002 (7-15, 6.15 ERA, 178.2 IP, 228 H, 91 BB, 74 SO): Isn't it amazing to be discussing a season that happened six years ago knowing that the contract that made it possible is still in effect? Hampton's ERA+ of 78 in 2002 is the worst ever for a Colorado regular starter.
Alex Cole, CF, 1993 (.256/.339/.305,0 HR in 348 at-bats): The Rockies have pretty much avoided seasons of decided incompetence in their brief history, hence Cole's presence here from their inaugural season. He had 399 plate appearances in 1993 and remains the Colorado player who batted the most without managing to hit a home run. (Juan Pierre is next with 219 plate appearances in 2000.)
Clint Barmes, SS, 2006 (.220/2.64/.356, 7 HR in 478 at-bats): He finished eighth in the rookie of the year voting the year before and probably would have been ranked even higher had he not broken his collarbone while transporting deer meat given to him by teammate Todd Helton. The follow-up season was not pleasant, with just 22 walks in 535 plate appearances leading to a .264 OBP. That's by far the worst for a Rox player with at least 300 plate appearances.
Los Angeles Dodgers
Hideo Nomo, P, 2004 (4-11, 8.25 ERA, 84 IP, 105 H, 19 HR): Nomo started 18 games for the Dodgers and managed a quality start in just four of them. Remember that a quality start is a bare minimum of what a pitcher needs to do to keep his team in the game: surrender three runs or fewer in six innings pitched. In only two of those four quality starts did Nomo do anything beyond the minimum; twice he allowed two runs in six innings. Three times he allowed seven runs. Twice he allowed six without clearing the second inning. In the entire history of the franchise -- including the games in Brooklyn -- only one pitcher had a worse ERA+, and he was an 18-year-old (Cal McLish in 1944).
John Shelby, CF, 1989 (.183/.237/.229, 1 HR, 12 RBIs in 345 at-bats): Shelby had a decent season in 1987, even adjusting for the offensive spike that occurred that year. Two years later, though, he had become this: a low-average hitter with no power. Shelby actually hit .249 in 1989. Unfortunately, that was only on balls he put in play (and only 13 of those went for extra bases, 11 of which were doubles). In the other quarter of his at-bats, he struck out.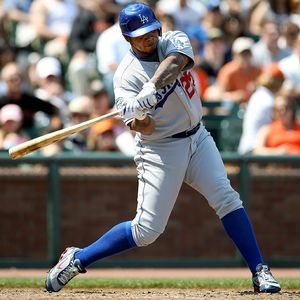 Jed Jacobsohn/Getty Images
Our guess is Andruw Jones swung and missed at this pitch.
Andruw Jones, CF, 2008 (.161/.261/.254, 3 HR, 14 RBIs in 205 at-bats): We weren't going to include any 2008 seasons in this poll, but what Jones is doing is hard to resist. He had let himself get out of shape, and the Dodgers were foolish enough to ignore that and reward him with a handsome contract. He's earned very little activity in August, so he might not reach the minimum of 300 plate appearances that we set, but you have to admire the exquisite depravity of the .161/.261/.254 line he has accumulated so far.
San Diego Padres
Bill Greif, P, 1972 (5-16, 5.60 ERA): Although the Padres aren't exactly having a banner season, their fans can at least take comfort in the fact that their three candidates are from the team's primordial days. When I first typed this name, I reversed the 'E' and the 'I', and it's no wonder. Throwing in a notorious pitchers' park in a season nearly as infamous for its runs scarcity as 1968, Greif still managed to post an ERA of 5.60. He was 4-15 as a starter and had the worst ERA+ in Padres history. On the plus side, he was only 22 and pitched a lot better the next year, but his improvement proved to be short-lived.
Dave Roberts, 3B, 1974 (.167/.246/.252, 5 HR, 18 RBIs in 318 at-bats): Roberts had popped 21 home runs in 1973, his second year in the bigs. Following up, though, proved to be problematic. He didn't hit his first 1974 homer until May 13 in his 110th plate appearance. That also happened to mark the last time his batting average was at .200. In the end, he experienced a .220 drop-off in his slugging percentage from the year before, and his days as a regular were over at the age of 23.
Cito Gaston, CF, 1969 (.230/.275/.309, 2 HR, 28 RBIs in 391 at-bats): The future manager of the two-time World Series champion Blue Jays had one good season in the big leagues. This, his rookie year, was not it. Gaston came to San Diego from the Atlanta system via the expansion draft and had showed some power in the minors. That stroke would reappear in 1970, but in '69 he managed only two home runs in 419 plate appearances. Never a defensive type in center, Gaston slugged barely more than .300. His transformation in 1970 was miraculous, and he made the All-Star team. In 1969, though, he was one of the main reasons the Padres won only 52 games.
San Francisco Giants
Mark Davis, P, 1984 (5-17, 5.36 ERA, 174.2 IP, 201 H, 25 HR): In an especially rough patch, Davis allowed 10 runs in five innings on May 7, then didn't even retire a batter in his next start. He then was sent to the bullpen, where he pitched well enough to earn his way back into the rotation. That seemed to work for a while -- until it didn't anymore, and the carnage began anew. In the end, Davis had a 5-17 record with the worst ERA+ in the bigs.
Neifi Perez, SS/2B, 2004 (.232/.276/.295, 4 HR in 381 at-bats): The happy news for Giants fans is that finding position players for this poll was not easy. Do you know how many Giants there are in the worst 200 VORP seasons since 1959? That's right: not even one. We could single out Hal Lanier for his nonexistent offense throughout most of his San Francisco career, but to do that would require ignoring his world-class glove work. Instead, we go to Perez, whose .232/.276/.295 performance is, in historical context, worse than anything Lanier dreamed up in the '60s. It got him released on August 17 that year. Of course, because fate can be that way sometimes, Perez was scooped up by the Cubs, where he did some of the best hitting of his life for the next five weeks.
Ron Bryant, P, 1974 (3-15, 5.61 ERA, 126.2 IP, 142 H, 68 BB, 75 SO): The year before, Bryant had gone 24-12 and finished third in the Cy Young voting. On March 15, 1974, however, Bryant was injured in a swimming-pool accident that required 30 stitches and a stint in the hospital. He didn't make his 1974 debut until the team's 19th game, and it was a rough one. Things got mostly worse from there, as he failed to make it out of the first inning on four separate occasions. He had the highest ERA in the majors that year and his career was, sadly, pretty much done.
Jim Baker is a frequent contributor to Page 2. You can e-mail Jim at bottlebat@gmail.com.
INSIDE THE NUMBERS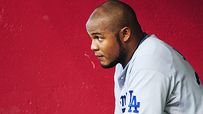 STATISTICAL PRIMER
An explanation of the statistics used in the piece:
ERA+:
The ratio of a league's ERA to that of the pitcher (adjusted for the pitcher's home park. 100 is average; less than 100 is below average.
OPS+:
Adjusted OPS; on-base percentage plus slugging average, normalized to the park and the league the player played. 100 is average, less than 100 is below average.
VORP:
From Baseball Prospectus, Value Above Replacement Player. The number of runs contributed beyond (or less than) what a replacement-level player would contribute given the same number of plate appearances or innings.
ESPN Top Headlines