By Jeff Merron
Page 2 columnist
Editor's Note: This is the 18h report card in Page 2's summerlong series rating all 30 ballparks in Major League Baseball.
MIAMI -- South Florida is no place for summertime baseball. It's way too hot, "cooling off" to 85 or so on an August night. Evening thundershowers are the default weather forecast. And, of course, football season is just around the corner.
REPORT CARD
Pro Player Stadium
Capacity: 36,331
Opened: March 11, 1988
Surface: Grass Our Ratings:
Seat comfort: 5
Hot dogs: 3
Concessions: 4
Signature food: 4
Beer: 3
Bathrooms: 5
Scoreboard: 4.5
P.A. system: 5
Fun stuff: 5
Souvenirs: 0
Tickets: 5
Exterior: 3
Interior: 4
Access: 3
Ushers: 5
Trading up: 4.5
Fan knowledge: 5
7th inning stretch: 5
Local scene: 1
Wild card: 4

---

Total: 78
Because of the terrible weather, I suspect, Pro Player Stadium is often low on the list of ballparks baseball fans want to visit. That's too bad. Despite the dismal fan base, despite the infamous post-1997 fire sale, despite the fact that the Stadium isn't in Miami or Fort Lauderdale but smack-dab in-between, despite it all -- this is a fine ballpark for baseball.
Pro Player is, and always has been, a football stadium to the core. But the fact is that it works for baseball, and is the best all-purpose stadium I've ever been to.
Chances are, the Marlins will eventually move. Sure, an exciting phenom like Dontrelle Willis brings out good crowds, but even though the Marlins are in the wild-card race, Florida ranks 28th in the majors in average attendance.
It's too bad. Pick up the park and move it 500 miles north, and you've got a real winner.
The ratings:
1. Seat comfort: Cup holders even in the Fish Tank, plenty of elbow and leg room, great views of the field. For $4, these seats may be the best bargain in baseball. Points: 5
2. Quality of hot dogs: They have regular dogs and foot-longs with all the fixins', they have kosher dogs, and they have veggie dogs. Since Pro Player is ranked No. 5 in PETA's list of "Top 10 Veg-Friendly Ballparks," I went for the veggie version. But I did it with caution: (Me: "Are the veggie dogs any good?" Vendor: "They're fresh.") Um, OK. Cold bun, warm, freshdog. 3
3. Quality/selection of other concession-stand fare: They've got pizza, ice cream, fries, chicken tenders, bottled water, crab cakes, Mrs. Fields cookies, cappuccino ... for a new park, it's not the most varied selection. But they should be rewarded for a hearty Cuban sandwich (pork, ham, Swiss, mustard, and pickles on Cuban bread) and conch fritters, decent nods to local tastes. 4
4. Signature concession item: The Cuban and the conch fritters remind you where you are. And they're well appreciated. 4
5. Beer: At the Smirnoff bar, they've got about 10 domestic varieties on tap, running $5.50 for your regular (Bud) and $5.75 for your premium (Sam Adams). Also offered: wine and cocktails. Average prices, average selection. 3
6. Bathrooms: 40 for the men, 40 for the ladies. And ... S-p-o-t-l-e-s-s! No lines, plenty of soap and paper towels. Who could ask for anything more? 5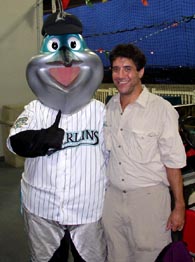 Billy the Marlin must be excited his team's in the wild card race.
7. Scoreboard: Pro Player has two big video scoreboards, one directly opposite the fish tank and a bigger one above right center. Video quality is excellent. Pitch type/speed is displayed on a tiny board along the third-base line -- it took me five innings just to figure out it was there. That's the only demerit. And this ballpark may have the best out-of-town scoreboard in the majors; it's huge, easy to read, and doubles, in its location in left field, as the "Teal Monster." 4.5
8. Quality of public address system: Superb. 5
9. Fun stuff to do besides the game: Well, Billy the Marlin is about as cute as you can make a fish with a killer snout. And he makes himself available. He traveled the main concourse, stopping to have his picture taken with kids of all ages. He walked the aisles, posing happily again. A real kid-pleaser.
Also: excellent video replays -- fast and clear; great choice of music, with generous cuts of "You Can Call Me Al," "Land Down Under," and other tunes not usually heard at ballgames.
There's a guide to "Rain Delay Activities," which include a speed pitch booth, karaoke, baseball trivia put-putt, baseball video bingo, and photo ops with Billy the Marlin. Great idea, but there was no rain delay the night I was there.
There are the usual fan contests between innings, but overall, the Marlins don't overdo it. Nor do they underdo it. Which is to say: they've got it right. 5
PRO PLAYER BUDGET
Here's what Page 2's Jeff Merron spent during his day at Pro Player Stadium: Parking: $9

"Fish Tank" bleacher seat: $4

Sam Adams 14 oz. on tap: $5.75

Carvel hot fudge sundae: $4.75

Veggie dog: $4

Small bottled water: $2.75

Marlins program: $5

Total: $36.25
10. Price/selection of baseball souvenirs: Tiny shops sell a few items at the usual (high) prices. 0
11. Ticket price/availability: An hour-and-a-half before game time I went to the ticket window and scored a $4 fish tank seat that placed me 13 rows up in right field, close enough to clearly see Juan Encarnacion's gold necklace and rate his bubble-blowing ability. 5
12. Exterior architecture: If Pro Player Stadium could talk, it would say "I belong here." There are palm trees, and tropical colors that make you feel like you're in Florida. Nothing cute, nothing fancy, which seems to fit the real reason (football) the stadium exists in the first place. 3
13. Interior Architecture:
It's strange to go to the permanent home of a major league baseball team and see so many homages to football. Names of the great Dolphins dominate the second-tier awning. The Dolphins logo is engraved on the row-end seats. It's huge, to accommodate football crowds. It was, in fact, originally built for football, then renovated for baseball in the early 1990s.
That said, this is a very good park in which to watch baseball. Site lines are great all around. There's little indication, on the field, that football is played there. You're plenty close to the action. The turf is in good shape, able, according to the authorities, to drain so much water so fast that it can sustain a monsoon and return a firm playing surface half an hour after the last drop falls.
The field also has a few built-in quirks: the "Teal Monster," and the "Bermuda Triangle," a notch in left-center that provides for lots of triples. 4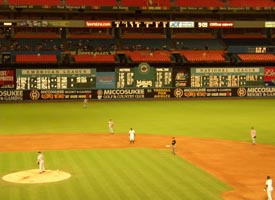 The teal monster looms out in left field.
14. Access: If you're driving (and you are), this is a strange one. Freeway access is easy, but you're going to a baseball game, and you're looking for Dan Marino Blvd. Parking should be a breeze, but there are no signs that say "Park here" or something like that. Just arrows, which convey no information.
After I paid my $9, I wound up going the wrong way and ended up in the season-ticket holders parking section. The parking attendant, as befuddled as I was about how to get to the low-rent parking area, gave me a choice spot. My departure was fast and easy, but word is when there's a decent crowd (say, when Dontrelle is pitching), traffic gets way backed up. 3
15. Ushers: The usher-to-fan ratio may be the highest in the majors, because there are ushers standing guard at empty and near-empty sections. They're very friendly, and really seem to enjoy being there. 5
16. Trading-up factor: Considering that only 12,392 fans were in the stadium, it was a little harder than expected. In the second inning my move to a first-base line seat was OKed by an accommodating usher, then rescinded after only a few minutes -- he explained that he could get in trouble for letting me in. But in the fifth I was able to just walk down to good seats behind home plate, and by the end of the sixth I'd traded in my 13th-row bleacher seat for the 17th row behind home plate. 4.5
17. Knowledge of local fans: Somehow or other, the few fans in attendance managed to make Pro Player sound like it was packed. Incredible enthusiasm in all sections of the park, and a real knowledge of the game -- cheers/applause for all the hard but "routine" plays, appreciation for an excellent pitching duel between Josh Beckett and Houston's Tim Redding. In the fifth, a Beckett sacrifice bunt rolled right along the first-base line, literally on the line, and Jeff Bagwell waited it go foul. It never did. Beckett had a bizarre base hit, and the crowd just went crazy. 5
18. Seventh-inning stretch: You got Billy the Marlin dancing on one dugout, and the Marlins Mermaids boogeying on the other. There was the standard organ version of "Take Me Out," but the place really rollicked to "Crocodile Rock." 5
19. Pre-and-postgame bar-and-restaurant scene: I didn't see much. Plenty of places to grab a bite, but if you want a scene, chances are you're driving about 20 miles to South Beach. 1
20. Wild card: Kudos to the Marlins for having good, very cheap seats -- I was there on a Friday night, and it was (unofficial) family night in the bleachers. A family of four could get good seats for a total of $12 (kids bleachers are $2). Add on the price of parking, and you're still under what you'd spend taking your family to a movie. That's the way it should be.
An extra shout out to the few, but dedicated, Marlins fans.
A double shout out to Juan Encarnacion, who tossed plenty of balls into the right-field bleachers and gave lots of good-natured nods to us folks in the cheap seats.
And finally -- heck, this park is just plain underrated as a baseball venue. Forget about the tens of thousands of empty orange seats. Be prepared for the heat. Focus on the fans around you and the play on the field and the great prices and easy access and kind-of-funky Latino mojo, and you've got a good time. 4
TOTAL SCORE FOR PRO PLAYER STADIUM: 78