By Jeff Merron and David Schoenfield
Page 2
2. YOU GOTTA PLAY SMALL BALL

Theory popularized by: Players who didn't hit home runs; the anti-"Moneyball"/Billy Beane crowd; the 2002 Angels and 2003 Marlins.


The numbers (Examining all playoff teams since 1995)
When the Oakland A's of 2000-03 lost four straight playoff series -- they were a team that rarely stole a base or sacrificed -- the critics said they didn't play enough small ball. To find out whether playing small ball is an indicator for postseason success, we counted the number of "small-ball plays" (stolen bases, sacrifice bunts and hit-and-run plays) for each team and the number of home runs.
Led playoff teams (for each league) in small-ball plays: combined playoff series record of 18-17
Led playoff teams (for each league) in most home runs: 20-19 series record


Fewest small-ball plays: 14-18
Fewest home runs: 15-17
(Two teams led their leagues in both most home runs and most small-ball plays, the '98 Yankees and '04 Cardinals.)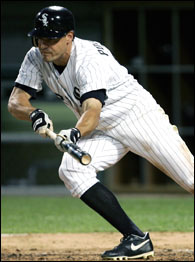 Scott Podsednik's White Sox love to play small ball. (Jonathan Daniel/Getty Images)
Besides the '98 Yankees, the '01 Diamondbacks also led their league's playoff teams in home runs (tied with Houston that season, actually) and won the World Series.
And, yes, the Angels and Marlins had the most small-ball plays and the fewest home runs and won the World Series.
On the other hand, the '04 Red Sox only had 12 sacrifices all season (although small-ball fans point out Dave Roberts' key stolen base in the ALCS).
The bottom line: There is no indication that small ball is a better strategy. Teams that hit the most home runs actually have won the most playoff series.
Theory applied to 2005 playoff teams
In the AL, the White Sox earned a reputation for their small-ball tactics -- they led the league with 53 sacrifice bunts and were third with 137 steals. The Angels also play small ball, finishing a distant fourth among the AL playoff teams with 147 home runs but leading the league with 159 steals. And though the White Sox play small ball, they also hit the long ball (199 home runs, three more than the Red Sox). The Yankees hit 229 home runs.
In the NL, the Braves hit the most home runs (184) and the Padres the fewest (130). The Astros played the most small ball, leading the NL playoff teams in both steals and sacrifices.
Verdict: SPLIT
Jeff
Merron
and
David
Schoenfield

PLAYOFF THEORIES