By Skip Bayless
Page 2
I spent the past three years closely observing Barry Bonds, so I chuckled recently at a Reggie Jackson quote in the New York Post.
Jackson was asked this: If Bonds had played in New York, would they have named a candy bar after him? (Mr. October, of course, inspired Reggie bars when he played for the Yankees.)
In response, Jackson said, "They might have changed the name of the city."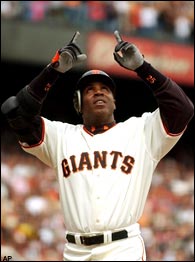 Barry's been a mystery to many people in the sports world.
To what? New Jerk? New Balco?
How exactly would Bonds have endeared himself to New York fans any more than he has to Bay Area fans? He all but dares you to believe he has used steroids; and he often treats media members, team employees and autograph-seekers as if they're cockroaches.
As Gary Radnich, perhaps the Bay Area's most respected TV and radio voice, says: "It's just not that hard to treat people with a little respect."
As a columnist at the San Jose Mercury News, my frustration with Bonds the human being grew almost as quickly as my awe for Bonds the almost-superhuman performer. Purely as an offensive force, no doubt Bonds could have have turned New York into Barryville.
So why didn't the Yankees or Mets bid for Bonds when he became a free agent after his record 73-home run season in 2001? Why didn't any team? Think about this: Barry Lamar Bonds did not get a sniff on the open market. Some of it had to do with his age (37 at the time) and his agent (hard-baller Scott Boras). But most of it had to do with Bonds' reputation for living in his own screw-you world at one enter-at-your-own-risk end of the San Francisco Giants clubhouse.
The home run record generated a couple of short-lived national TV commercials for Bonds. But on Madison Avenue, his name might as well be Barry Bin Laden.
Yet I occasionally sat in the media audience when Bonds gave a rare group interview and felt like turning on his considerable charm. It is there and it is real. The high, soft, almost sweet voice. The insight you rarely find in a baseball clubhouse. The disarming smile breaking like dawn across a face that would easily qualify as handsome, if it belonged to someone else.
When Bonds feels like it, he can be -- dare I say? -- Jordanesque.
So occasionally, I wanted to shake Bonds and say, "Let me be your P.R. advisor for one year, and I'll make you 100 million extra bucks, free of charge."
I wanted to tell him: "Quit reacting to questions about steroids with how-dare-you-ask-me-that defiance. That only increases suspicion. Whether or not you used them, why not focus on how hard you work on your body and what amazing shape you're in at 40?"
And: "Just talk to the media for 10 charming, insightful minutes before and after every game, and people will soon be reading that you've mellowed and turned into a great guy."
And: "Why don't you explain to the media that the real 'bad guy' in your clubhouse was your nemesis, Jeff Kent, who was much more of a moody loner than you've ever been? Why not tell people how well-liked and respected you are by all your current teammates, and how much time you spend helping young players?"
And: "Why don't you kiss up to the biggest national broadcasters and regularly do their shows so you're no longer such an easy target for them?"
But finally, this hit me with the same impact Bonds hits a baseball: He doesn't want to change. He needs to be a "bad guy" for motivation and intimidation. Bonds wouldn't be Bonds without the jagged chip on his muscled-up shoulder.
Bonds drives himself by convincing himself that the world is out to get him. The media must be the enemy. He can't be gracious or courteous to reporters because that would send the wrong message. He doesn't want to be an ambassador. He wants to be Big, Bad Barry. He wants to leave the on-deck circle with that arrogant strut, lean over the plate with that body armor on his right arm and scare the hell out of the pitcher.
Turning into Charming Barry full-time would melt away Bonds' edge. He would be Sampson, shorn. Barely Bonds.
In April of 2002, I asked Barry's father, Bobby, the former star, how upset he was that his son didn't have advertisers lined up at his locker after he hit 73 home runs.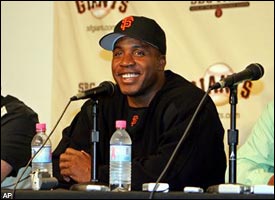 There's that smile -- if only he'd flash it more often.
"Our family is very upset," Bobby said.
Yet, I said, Barry brings some of this on himself.
Bobby raised his hands, palms up, as if to say: "What are you gonna do?"
Then he told me a story about how he had recently asked Barry to take a few minutes to meet the widow and children of a 9/11 victim who were going to be honored before a game. Barry said no, he doesn't break his pre-game routine or concentration for anybody.
"I said, 'Son, this is important'," Bobby said. "And Barry said, 'No.' That's just who Barry is and always has been. He doesn't care what anybody thinks of him. He's going to do it his way. He won't even listen to me, and I'm his father."
When Bobby was dying of cancer through the summer of 2003, Barry finally could have turned himself into a sympathetic figure by telling the media about his visits to the hospital after every game. On Barry's birthday, July 25, he threw out the go-ahead run at home plate in the top of the ninth, then told teammates he was in such a hurry to get to Bobby's bedside that he would end the game with a home run leading off the bottom of the ninth. He did.
Eat your heart out, Disney.
Yet Bonds left without talking to reporters.
He needs to despise the media.
He needs to take an occasional shot at management. After all, Bonds had so little free-agent leverage in 2002 that he and Boras were forced to give the Giants the option on the final year of his current contract, 2006. The team recently waived that option, guaranteeing Bonds two more seasons as a Giant. But Bonds, who was born and raised just south of San Francisco, has occasionally appeared to relish dropping hints that he might want to finish his career as a DH with the Anaheim Angels because he has a home in Beverly Hills. Just what Giants fans want to hear.
He needs to hate everything Babe Ruth stood for to white America. Several times, Bonds has made remarks to reporters that indicate how little respect he has for Ruth's 714 home runs, virtually all of which were hit against white competition. Not exactly what Madison Avenue wants to hear.
But exactly what Bonds needs to drive himself past Ruth's mark.
This weekend, Bonds needs to stand in left field at Dodger Stadium and take more game-long abuse from the bleachers than surely any baseball player has ever endured in any stadium. In the past, it's been so relentlessly profane that Bay Area newspapers have stationed reporters in the stands to do stories about the insults. Game after game at Dodger Stadium, Barry Bonds is constantly serenaded with: "Bar-ry sucks! Bar-ry sucks!"
And the more they taunt, the more Bonds terrorizes the Dodgers. The insults and chants feed the beast in him -- the beast that buries the soft charm. He cannot let himself be loved. He must be as rude as New York can be.
He must show us all.
Skip Bayless recently joined ESPN after a career as a sports columnist that includes stops in Miami, Los Angeles, Dallas, Chicago and San Jose. He can be seen Monday through Friday on "Cold Pizza," ESPN2's morning show. His column will appear weekly on Page 2.