But seriously, how much prize money would the NBA have to put up to entice a kid with a $100 million shoe contract to participate in the dunk contest? Would he show up and dunk for a $1 million appearance fee? A $5 million prize for winning?
Yes, the NBA once offered some prize money, but nowhere near the sums it would take to lure today's eight-figure stars. Prize money didn't matter to Jordan and Larry Bird, who put All-Star Saturday on the must-see map. They realized the real importance: This was Fan Appreciation Night.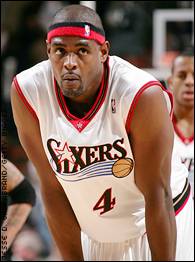 You can take the player out of Sacramento . . .
The principle is the same as the Ryder Cup. Once every two years, Tiger owes it to the fans who help make him astonishingly rich to represent his country without an appearance fee or prize money. For just one week, Tiger owes it to us to at least pretend to defend America's golf honor as passionately as the Europeans genuinely defend theirs.
And just once -- if not twice -- LeBron James owes it to the game that has made him its god to act as if it's an honor to compete in its showcase showdown. Who's the world's baddest dunker? Offering staggering appearance fees or prize money would undercut the fan-pleasing image of the game's greatest leapers matching pride and daring in a friendly competition with highly subjective judging. Winning the dunk contest has become a rite of passage for the game's greatest forwards and shooting guards. For James, it's the "rite" thing to do. Come on, LeBron, it doesn't last even an hour. And Saturday night's show would have been at least 20 minutes shorter without the embarrassing number of aborted attempts by Chris "I'm Only Out Here Because LeBron Isn't" Andersen. Then again, the dunk contest does require preparation, invention and gumption. As the event's mystique has grown, so has the humiliation risk. You wonder: Did James get a touch of the Yellow Flu? Is it possible he feared he couldn't quite sky with the Smiths? The TNT audience found out what NBA insiders have been saying for the last month or so: Josh and J.R. are fearless leapers. Or maybe James' advisers deserve the blame. Maybe they convinced him that risking his reputation isn't worth it. He's already recognized as the game's most exciting dunker. Why give a couple of unknown younger guns the chance to get lucky and shatter Nike's gotta-be-the-shoes image? Whatever, James sat courtside Saturday night wearing -- fittingly -- a camouflage cap with a Yankees logo. Talk about a contradiction. The message:
I want to be inconspicuously conspicuous.
In the few closeups I saw, James watched stone-faced as everyone around him went "did-you-see-that?" nuts.
J.R. Smith pulled off what I thought was the dunk of the night, going behind his back before slamming. Never seen it. Unfortunately, he didn't nail it until his third try. That cost him the competition. Stoudemire fired a pass off the glass, which former soccer player Nash headed back toward the rim just as Stoudemire swooped to dunk it. Never seen it. Josh Smith won by
1)
catching a flip from Kenyon Martin -- who sat mid-lane in a chair, back to the basket -- and hurdling over Martin one leg at a time before throwing down; then
2)
pulling on a No. 21 Dominique Wilkins jersey, in honor of his "Human Highlight Film" mentor with the Atlanta Hawks, and executing an arena-rocking 'Nique tomahawk.