Single page view
By Skip Bayless
Page 2
Allen Iverson did exactly what he told Chris Webber he was going to do.
Late in Saturday's game, he shot his second free throw just long enough that it caromed squarely off the back iron. The ball bounded beyond the two Sacramento Kings with the inside position and fell perfectly within reach of a now-former King. Out flashed one of Webber's tantalizingly long arms. Suddenly, improbably, the newest Philadelphia 76er had the ball and an open path to slam it home just before the buzzer. The basket would force overtime.
What a fairy-tale moment this could have been: Sixers Could Be Kings ... Webber Burns Former Team in Philly Debut.
Yet this was the last place C-Webb wanted to find himself.
See Webb cower. See Webb shrink.
Instead of going up strong, Webber took off toward the right side of the rim, almost as if inviting interference from an ex-teammate. Ironically, the only challenge came from an ex-Sixer, Kenny Thomas, one of three players traded last week for Webber. Yet Thomas didn't block or bother Webber's little scoop layup. It merely didn't have enough oomph.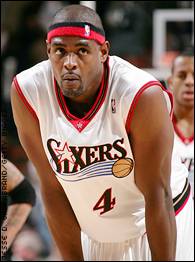 You can take the player out of Sacramento . . .
The shot came to a no-guts, no-glory end against the rim. Kings 101, Sixers 99.
Webber sent himself into an exaggerated and unnecessary fall, as if to fool the Sixers' first official sellout crowd of the season into believing he had been knocked off balance up near the rim. He yanked former teammate Darius Songaila down on top of him.
But C-Webb, more lover than fighter, quickly hugged and patted Songaila as if to say: "Thanks for falling with me, man. I still love you guys."
At least, Webber loves all the Kings except the one who couldn't play Saturday night. The town of Sacramento wasn't big enough for both Webber and Peja Stojakovic. That was one reason Webber had to go. General manager Geoff Petrie wants the Kings to finally become Peja's Team.
Oh, the pain: Even with an injured Peja watching from the end of the bench, the Kings outscrapped and outshot the Sixers in the fourth quarter and upstaged the Seventy-Webbers in his first game in Philly.
As I watched, I felt a little sorry for Webber. I've always felt a little sorry for a guy who was blessed with way too much talent — attached to way too much sensitivity and intellect. Gut feeling: Mayce Edward Christopher Webber III has never wanted to be as great as we expected him to be.
His mother, Doris, a teacher, has always told him: "The more you've been given, the more that's demanded of you."
She means money. But this also applies to ability.
Webber stands 6-foot-10, but his arms and springs have always allowed him to play 7 feet tall. Until he hurt his knee in the 2003 playoffs, he was the quickest-jumping big man who ever played. Such natural strength. Such sweet touch, inside and out. Such point-guard feel for the game.
All of which allowed Webber to dominate the competition at Detroit's Country Day prep ... and as the Fab One of Michigan's Fab Five ... and in lots and lots of regular-season NBA games at Golden State, Washington and Sacramento.