Single page view
By Skip Bayless
Page 2
Go ahead, crack your near-sighted jokes.
Tell me that the motorcycle cops who escorted the limo carrying Randy Moss from the airport to the Raiders' offices on Wednesday were just practicing for his first Oakland arrest.
Tell me the team that always plays under a full moon deserves the Moon King.
Tell me Moss will turn the Raiders' slogan, "Commitment to Excellence," into Commitment to Ex-Lax.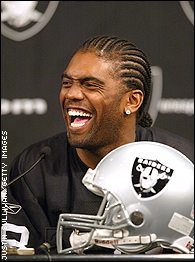 Randy Moss is delighted to be a Raider -- and Raiders fans should be thrilled.
That's right: Just quit, baby.
Go ahead. Cackle at Raiders owner and operator Al Davis, who's called the Cryptkeeper by some fans who consider him even older than the creature who introduced episodes for "Tales from the Crypt."
The last laugh will be Al's.
No, make that the first laugh. Davis just turned a team without much of a defense into an instant contender for the AFC West title.
And Davis, like former Dallas Cowboys coach Jimmy Johnson, can thank the Minnesota Vikings. Moments after trading Herschel Walker to Minnesota in 1989 for enough draft choices to build a dynasty, Johnson said: "This is the Great Train Robbery."
Davis' trade with Minnesota was the Reverse Herschel. Moss will do for the Raiders what the Vikings thought a fading Herschel would do for them. And Davis stole Moss for no more than the seventh pick in the draft, along with a late-rounder and a linebacker who hasn't made the Pro Bowl and won't -- Napoleon Harris.
Call this the Greater Train Robbery -- the steal of this young century.
So go ahead, tell me how much trouble Moss will cause -- for opposing defenses. Moss is simply the most talented receiver who ever set foot in an end zone. He always occupies at least two defenders. Heave it deep in his direction, and he'll probably come down with it. The NFL has never seen a better blend of top speed, leaping ability, agility and hands.
I'd rather have Moss going up for my last-second, playoff-game-winning catch than any other receiver, ever.
I spoke Thursday to an AFC defensive coordinator whose team plays the Vikings next season. He asked not to be quoted by name, but said: "Our coaches breathed a sigh of relief because we were already discussing how to stop Randy Moss. He makes the entire team better -- the other receivers, the running game, even the defense. That Raider defense won't be playing from behind so much next season. I don't care if the Vikings draft Mike Williams or Braylon Edwards. They just won't be as dangerous. I cannot believe they gave away Randy Moss."
Congratulations, Red (Faced) McCombs. You agreed to sell your Vikings to a group headed by Reggie Fowler, pending league approval. Fowler said he would not trade Moss. But you gave Moss away. Then you told reporters on Thursday that you considered firing your coach, Mike Tice, near the end of last season to help motivate Moss and jump-start your team.
Now you tell us. What a lame attempt to reduce your blame. What a low blow for the team you're selling. Now you've wrecked what little authority Tice has left.
McCombs should have fired Tice and kept Moss. Tice tried to buddy up to Moss instead of commanding his respect. Moss surely knew that Tice is your basic offensive line coach masquerading as a head coach.