Baseball, our national pastime, should be treated as a public trust. Baseball has long been allowed to operate under the protection of an antitrust exemption. Baseball hasn't been able to police itself through what will become known as the Steroid Era -- approximately 1988-2002 -- because baseball's players union became far more powerful than the commissioner or the owners. Then again, some of those owners looked the other way because home runs sell.
So if sluggers cheated to set cherished home-run records, I want to know. No indictments. No prosecution. Just the truth. The only potential penalty should be public disgrace -- forever tarnishing a Hall of Fame legacy.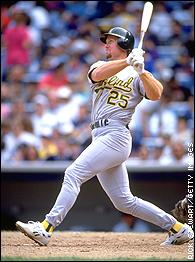 C'mon, Mark -- tell us how you got so big!
If that requires congressional subpoenas, swing away. Consider this a public service.
And don't argue that rock stars also should be hauled before Congress and interrogated about their drug use. Rock stars are mostly anti-heroes, not heroes. Rock stars don't cheat to break cherished home run records.
At the very least, I want to watch these baseball players answer a very simple question, under oath, with immunity, before the scheduled congressional hearing March 17: "Have you used steroids?"
McGwire, Sosa and Palmeiro have told reporters that they've never used steroids. So why wouldn't they jump at their recent invitations from Congress?
This could have been the opposite of a McCarthy-esque witch-hunt. This could have been a great stage for a wrongly accused role model. Here was the chance to expose Canseco as a liar.
If he's a liar.
But if you've always been clean, wouldn't you relish the opportunity to answer every possible question on steroids before God and country? To preach to kids about the horrors of steroid overdosing during teenage years? To tell America that you hit your home runs the right way, by working your tail off in the batting cage and weight room?
McGwire, Sosa and Palmeiro did not readily accept their invitations. So Congress is sending subpoenas.
Congressional subpoenas are even more powerful than America's most powerful union, which is fighting them. Perhaps lawyers for some of the subpoenaed players will successfully argue that the committee doesn't have enough "probable cause" to question them. But I wouldn't bet against this hearing taking place.
I'm even more excited about March 17 than I am about Opening Day. Even if a player takes the Fifth, he'll be admitting guilt in the court of public opinion. Play ball!
There's just one letdown -- the elephant that isn't in the room.
Sources close to the BALCO investigation believe Congress left Barry Bonds off the list because of his ongoing involvement in the cases against BALCO founder Victor Conte and trainer Greg Anderson. Otherwise, how can you have a credible steroid investigation without the man who leaped from 49 homers in 2000 to a record 73 in 2001?
Representative Tom Davis, who is chairing the congressional committee, noted the other day on ESPN's "Cold Pizza" that Bonds has already testified. Yet so has Giambi, who has been asked to appear at the hearing. Davis said Bonds' public responses to steroid questions have been "conflicting." Indeed, last week, Bonds sounded as if he was rationalizing steroid use, basically saying: "We're entertainers. Leave us alone and let us do what we need to do."