Single page view
By Skip Bayless
Page 2
I am a fan of sports, not teams.
As a journalist, I owe it to my readers and viewers to remain objective and dispassionate. But I do root for the teams I pick, even if I'm no fan of that team or its tradition. See last year's Red Sox.
And I rabidly root for teams I pick when Woodrow Paige Jr. goes with their opponents. Woody is my friend and debate partner on "Cold Pizza's" First and 10. Woody and I are as different as Felix and Oscar were on "The Odd Couple." I'm Felix, to a fault.
Before the NCAA Tournament began, "Cold Pizza" took a light look at how Woody and I pick our brackets. Woody talked to pigeons in Central Park, who apparently told him to take North Carolina, Duke and Illinois. Woody asked passing tourists in New York where they were from – "Louisville? I'm picking Louisville." Usually, Woody has a rule against picking schools with bird mascots. But he went with the Cardinals.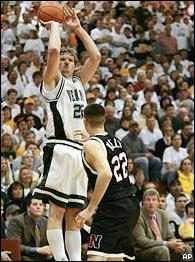 Taylor Coppenrath and his Catamounts didn't exactly help Skip out.
I, on the other hand, played the part of Russell Crowe's tormented mathematical genius in "A Beautiful Mind." I slowly spun in the middle of circle upon circle of newspapers, searching for inspiration. I scribbled rocket-science formulas on a glass board and came to this irrefutable conclusion: Georgia Tech, Oklahoma State, Carolina and Duke were going to the Final Four, with Georgia Tech winning it all.
I believe Woody also threw a dart that hit Vermont, because he picked the Catamounts to upset Syracuse in the first round. Woody claims he "just had a feeling, because I saw a story about their seniors, Coppenrath and Sorrentine, and I've been following them all year."
Right, and I'm Woodrow Wilson Jr.
The first time Woody attempted to say Taylor Coppenrath and T.J. Sorrentine on TV,  they came out something like Copperhead and Summerville. Woody hadn't been following Vermont any more than I'd been following Bucknell. As I always say about picking NCAA brackets: The more you know, the worse you do in the first two rounds.
Unfortunately, I started calling his Catamounts the "They Don't Counts."
Yet if Vermont had shocked Syracuse because Copperhead and Summerville played like Bill Walton and Pete Maravich, I could have lived with it. But the star of the game was a guy I'm pretty sure Woody had never heard of – Cameroon's Germaine Mopa Njila, who was averaging 5.0 points a game. Mopa Njila hit nine of 10 shots, including both 3s he took, scored 20 points and dominated inside with nine rebounds.
Mopa Njila scored zero in the next game against Michigan State.
I'm not sure Woody even watched the Vermont-Syracuse game – I think he had a date. But I, of course, watched every appalling second and let the game get to me the way "Psycho" did the first time I saw it at age 15. I couldn't sleep for three nights.
Next, Woody's Louisville hit its first six shots – four of them threes – and my Georgia Tech Strait Jackets drove me madder than March. They rolled over and played dead in that second-round game. So much for last year's national runner-up – a team that handled Carolina in an ACC tournament semifinal. I was the Ramblin' Wreck.