Single page view
By Skip Bayless
Page 2
One moment, we were talking NFL draft prospects. The next, this AFC coach showed first-round change of direction and pursuit speed.
He asked me not to quote him on his rant. But for the record, his team has drafted consistently well for the last decade – an NFL rarity. So I buy what he says.
NFL draft coverage on ESPN.com
Get your complete coverage of this year's NFL draft at NFL Draft Central.

And don't miss Aaron Schatz's look at the best NFL draft classes ever. Which team drafted four future Hall of Famers in one draft?
"More and more, people in this league don't trust the tape," he said. "If you look at the tape, and the kid made play after play in college, the odds are he'll make plays in the NFL. Don't tell me he's not big enough or strong enough, or that he ran a poor 40 at the combine or had a bad individual workout. Just look at the tape. The tape does not lie."
I don't watch tape. But I watched enough college football last season to qualify for rehab. The TV screen doesn't lie, either.
It told me that Auburn's Jason Campbell will be a little better NFL quarterback than Utah's Alex Smith, that Carnell "Cadillac" Williams will be a much more valuable pro back than Auburn teammate Ronnie Brown, and that Texas linebacker Derrick Johnson should be commanding consideration for the No. 1 overall pick.
You think I'm nuts? I think teams at the top of the draft are nuts for talking themselves out of these three players.
The teams picking 1-2-3 – the 49ers, Dolphins and Browns – have looked to trade down but haven't found equitable deals in an all-time buyer's market. Nobody wants to be stuck at the top of the draft because nobody seems to think any players are worth top-slot money.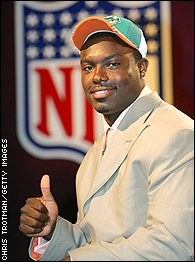 Thumbs up for Ronnie Brown, thumbs down for the Dolphins.
I'm not saying Campbell, Williams and Johnson are surefire Hall of Famers. I'm just predicting they'll turn out to be worth a high pick.
Let's start with the woebegone 49ers. Just their luck to land the No. 1 pick in a year without the NFL equivalent of a Shaquille O'Neal available. Yet the Niners are answering their own questions about Alex Smith. If they're hesitating to pay him the market rate – a little more than Eli Manning received last season – they shouldn't take him.
I'm intrigued by Smith. But like the 49ers, I'm not can't-eat, can't-sleep in love with his potential. Nor would I settle for Cal's Aaron Rodgers simply because he grew up a 49ers fan and would take a "hometown discount." I'd want Cal coach Jeff Tedford to coach my NFL quarterback – but I don't trust products of Tedford's college offense. You're not drafting his system. You're drafting Akili Smith or Kyle Boller or Trent Dilfer or Joey Harrington or Aaron Rodgers.
Which brings us to Jason Campbell.
Don't be surprised if he goes much higher than his projected late-first, early-second range. Seriously, is Smith considerably better than Campbell? Any better? I don't see it, and I watched both play numerous games last season.
At almost 6-foot-5, Campbell is slightly taller than Smith. He's slightly faster, a little more nimble, has a little stronger arm (especially on deep throws) and is equally accurate. Campbell's delivery isn't classic – it's more of a wristy whip – but the release is quick and the results defy doubt. The only knock I've heard from scouts and coaches on Campbell is that he scored low for a quarterback on the NFL's version of an IQ test, the Wonderlic.