By Skip Bayless
Page 2
Surely the San Antonio Spurs were in trouble.
Tied 1-1 in their first-round playoff series with the Denver Nuggets, the NBA's hottest team since the All-Star break, the Spurs were at the wrong place (the Pepsi Center, where the Nuggets were 19-1 under coach George Karl) at the wrong time (for Saturday night's Game 3). The Pepsi was about to explode like a shook-up soft drink.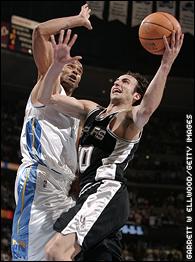 The Spurs would have been in trouble in Game 3 ... if not for Mr. Ginobili.
The Nuggets had jumped ahead 10-3, and San Antonio's best player, Tim Duncan, looked like he needed a caffeine fix. During a timeout, Spurs coach Gregg Popovich berated Duncan, basically telling him to get his head in the game. Duncan had been flat-footed on defense and as flat as an opened, day-old Pepsi on offense. He already had two fouls, one on a charge.
Amazing how the best player on what many coaches consider the NBA's best team can be so unpredictably passive and often unselfish to a fault.
Also out of it was point guard Tony Parker, whose mind had perhaps drifted toward his next date with his squeeze, Eva Longoria. Hard to blame him.
So with 6:58 left in the first quarter, and San Antonio down 14-8, in came the Spurs' sixth man. Wait a second, Manu Ginobili no longer starts? How in the name of Allen Iverson can a man make the All-Star team, then agree one game into the playoffs to let Brent Barry start so Barry can immediately get into the offensive flow?
<!––––––––––-INLINE TABLE (BEGIN)––––––––––->
BY THE NUMBERS
U.S.-born white All-Stars since 2000:

Brad Miller (2003-04)
Wally Szczerbiak (2002)
John Stockton (2000)

Total: 4 appearances

Non-U.S. white All-Stars since 2000:

Manu Ginobili (2005)
Zydrunas Ilgauskas (2003, 2005)
Dirk Nowitzki (2002-2005)
Steve Nash (2002-03, 2005)
Peja Stojakovic (2002-04)
Andrei Kirilenko (2004)
Vlade Divac (2001)

Total: 15 appearances
<!––––––––––-INLINE TABLE (END)––––––––––->Man, oh, Manu.
Yet Ginobili didn't have the lackadaisical body language of a pouter. No, he hit Denver like a blizzard of slashing, swooping, sprawling energy. He was all over the floor, playing with an intensity unbecoming of a true star. He dove for loose balls and lazy passes. He cut through Denver's interior defense – Kenyon Martin, Marcus Camby and Carmelo Anthony – like it was a house of wax. He hit circus shots off the glass, jumpers on the break and three-pointers out of the half-court offense.
Manu Ginobili took over the game and the arena. He scored 19 in the first half, 32 in total. Though the Spurs got just 11 points from Duncan and 10 from Parker, they won 86-78. And they have the momentum heading into Game 4 tonight.
Near the end of Game 3, an obviously frustrated Carmelo basically clotheslined Ginobili as he attacked the basket one last time. Anthony was ejected.
And after the game, an even more frustrated Karl said of Ginobili: "I'm going to put in a tape and show my son how to play basketball – just put your head down and run into people. I guess that's the new brand of basketball. It's not very pretty. He just goes in there and throws his arms up in the air and throws his elbows at us. He hits you as much as you hit him."
That is not true. That's just Karl, begging the refs to give his team some breaks.
Ginobili definitely will flop on defense, trying to draw charges. And he'll definitely launch himself into a rather melodramatic fall, arms flailing, to convince the ref he was hammered on a drive.
But mostly, Ginobili used his savvy and fearlessness and quickness and quick-jumping ability to beat Denver defenders to the rack. He doesn't throw elbows. But his are sharp, and if defenders challenge him in flight, Ginobili will leave his marks.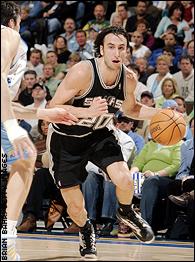 You can't help but enjoy Ginobili's slashing style of play.
But this is not a dirty player.
This is a man who embodies the guts and spirit and fundamentals and basketball IQ that have distinguished the invasion of internationally-bred players.
Growing up in Argentina, Ginobili wasn't conditioned as a kid to believe he couldn't compete with black players. That, basically, is what has happened to so many American white kids. They give up basketball by high school, because, as the movie title said, "White Men Can't Jump."
Too many American white kids have been intimidated by the prospect of having to compete against black players. But the nonblack players coming from leagues overseas are not afraid of anyone of any color on a basketball court. They are utterly confident doing the things they do best, and the only fear they have is of failure. In many cases, the NBA is also their way out of poverty.
So now we've seen Ginobili, Dirk Nowitzki and Peja Stojakovic become stars. Steve Nash, who played college basketball at Santa Clara, but grew up in Canada, has turned into an MVP candidate. The NBA hasn't had an American-bred white star since John Stockton. Sacramento's Brad Miller and Minnesota's Wally Szczerbiak have made an All-Star team, but neither is considered a big "star."
Now, Chicago's Kirk Hinrich, a high school coach's kid from Iowa, looks like he could become a perennial All-Star. But the point is, the kids from leagues abroad are routinely better shooters and smarter, tougher all-around basketball players.
After the Spurs drafted the 6-foot-6 Ginobili near the bottom of the second round, with the 57th pick, he spent three years learning the game in Europe. Spurs insiders chuckle over the times Ginobili, as an NBA rookie, was trash talked during games by defenders. Ginobili understands and speaks good English, but on the court, defenders might as well be speaking Greek to him.
He isn't listening. He's playing.
In Europe, he played in much crazier arenas than Denver's.
Argentina's Olympic team – featuring Ginobili and Andres Nocioni – embarrassed Team USA on the way to last summer's gold medal. Now, Nocioni has become the guts of the Bulls' underrated defense.
During the regular season, Nocioni was suspended for allegedly throwing an elbow at Detroit's Tayshaun Prince. Miami coach Stan Van Gundy called Nocioni a "punk," while Detroit coach Larry Brown let him off with just "dirty."
Nocioni told reporters: "When did I do something dirty? When? Because I tried to deny the ball? Is that dirty play? I play defense. How many times do you see me throwing an elbow or punching somebody? I don't understand the American player."
Translation: Nocioni doesn't want to fight. He just wants to play hard, smart basketball, and he expects his American opponents to do the same.
Ditto, Ginobili.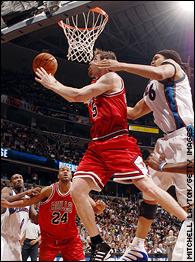 AP Photo
Another Argentine, Andres Nocioni, has become a huge player for the Bulls.
Deep down, George Karl respects Ginobili's game almost as much as he respects the Spurs. In fact, late in Sunday's interview session, almost as an aside to reporters, Karl said, "It just ticks me off we're playing San Antonio."
The Spurs are the kind of team that Karl dreams of coaching. In fact, as an unemployed coach, Karl spent part of the preseason in San Antonio studying the way the Spurs play basketball. The Spurs play the NBA's best coordinated defense and unselfish offense.
Ginobili probably could average 30 points for a bad team. But on this one, he scores when needed. On Saturday night, he was desperately needed.
So we were treated to the Ginobili who scored 48 in an overtime win at Phoenix.
As Karl said after Game 2: "The Spurs are the best team in the league. Not the most talented team – but the best team."
Not the networks' or fans' favorite. But the best t-e-a-m – the NBA's New England Patriots.
The Spurs aren't the run-and-fun Suns, who consider defense an afterthought. And the Spurs aren't the Nuggets, who blazed through the second half of the season mostly riding a flying-circus offense.
As Ginobili told ESPN's Jim Gray at halftime of Game 3: "The Nuggets don't play great defense. If we make the extra pass, we'll get open shots."
He wasn't talking trash. He was just stating a fact.
A fact that tortures Karl's coaching soul.
Skip Bayless can be seen Monday through Friday on "Cold Pizza," ESPN2's morning show, and at 4 p.m. ET on ESPN's "1st & 10." His column appears twice weekly on Page 2. You can e-mail Skip here.