That is not true. That's just Karl, begging the refs to give his team some breaks.
Ginobili definitely will flop on defense, trying to draw charges. And he'll definitely launch himself into a rather melodramatic fall, arms flailing, to convince the ref he was hammered on a drive.
But mostly, Ginobili used his savvy and fearlessness and quickness and quick-jumping ability to beat Denver defenders to the rack. He doesn't throw elbows. But his are sharp, and if defenders challenge him in flight, Ginobili will leave his marks.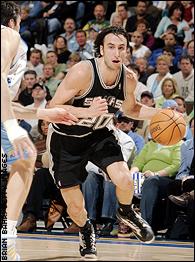 You can't help but enjoy Ginobili's slashing style of play.
But this is not a dirty player.
This is a man who embodies the guts and spirit and fundamentals and basketball IQ that have distinguished the invasion of internationally-bred players.
Growing up in Argentina, Ginobili wasn't conditioned as a kid to believe he couldn't compete with black players. That, basically, is what has happened to so many American white kids. They give up basketball by high school, because, as the movie title said, "White Men Can't Jump."
Too many American white kids have been intimidated by the prospect of having to compete against black players. But the nonblack players coming from leagues overseas are not afraid of anyone of any color on a basketball court. They are utterly confident doing the things they do best, and the only fear they have is of failure. In many cases, the NBA is also their way out of poverty.
So now we've seen Ginobili, Dirk Nowitzki and Peja Stojakovic become stars. Steve Nash, who played college basketball at Santa Clara, but grew up in Canada, has turned into an MVP candidate. The NBA hasn't had an American-bred white star since John Stockton. Sacramento's Brad Miller and Minnesota's Wally Szczerbiak have made an All-Star team, but neither is considered a big "star."
Now, Chicago's Kirk Hinrich, a high school coach's kid from Iowa, looks like he could become a perennial All-Star. But the point is, the kids from leagues abroad are routinely better shooters and smarter, tougher all-around basketball players.
After the Spurs drafted the 6-foot-6 Ginobili near the bottom of the second round, with the 57th pick, he spent three years learning the game in Europe. Spurs insiders chuckle over the times Ginobili, as an NBA rookie, was trash talked during games by defenders. Ginobili understands and speaks good English, but on the court, defenders might as well be speaking Greek to him.
He isn't listening. He's playing.
In Europe, he played in much crazier arenas than Denver's.
Argentina's Olympic team – featuring Ginobili and Andres Nocioni – embarrassed Team USA on the way to last summer's gold medal. Now, Nocioni has become the guts of the Bulls' underrated defense.
During the regular season, Nocioni was suspended for allegedly throwing an elbow at Detroit's Tayshaun Prince. Miami coach Stan Van Gundy called Nocioni a "punk," while Detroit coach Larry Brown let him off with just "dirty."
Nocioni told reporters: "When did I do something dirty? When? Because I tried to deny the ball? Is that dirty play? I play defense. How many times do you see me throwing an elbow or punching somebody? I don't understand the American player."