By Skip Bayless
Page 2
You feel like you're watching an only-in-Hollywood movie produced by the NBA's Spielberg, Phil Jackson.
But after the opening scenes, you can't figure out if "Prince Andrew" is a comedy or a tragedy.
The plot: Andrew Bynum, small-town kid from Plainsboro, N.J., sprouts up to 7-feet tall – and out to 300-plus pounds. Late bloomer physically and socially. Tries to meet girls through Web site personals. Has some athletic ability and basketball skill, and has a pretty good senior year of high school, averaging 22 points, 12 rebounds and five blocks.
Signs letter of intent to play at University of Connecticut.
Chosen as a McDonald's high-school All-American. Catches eyes of some NBA scouts at McDonald's practices. "Like a big, awkward colt," one says. Has a pretty good game – nine points, five rebounds.
But goes on crash diet and drops 20 or 25 pounds over next couple of months. Agent arranges workouts for NBA teams, just to test market. Once-proud Lakers, who missed the playoffs after making one of the worst trades in NBA history – Shaquille O'Neal to Miami – are so desperate that owner Jerry Buss convinces himself the kid could be the Next Shaq.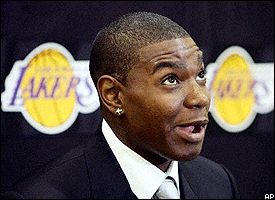 It's all good for Bynum . . . for the time being.
Lakers take him with 10th pick in the draft!
Kid becomes youngest player ever drafted, at just 17! Tries to act cool in first interview with L.A. media and compares self with Shaq and Kareem Abdul-Jabbar, with a little Tim Duncan thrown in! Even makes fun of Shaq's free-throw shooting! Los Angeles media runs wild with "Next Shaq" references!
Hail, Prince Andrew!
Cut to: Jack Nicholson, beaming like proud papa.
Dissolve to: Old/new Lakers coach Phil Jackson grinning devilishly. Prince Andrew has become pawn in $30 million semi-retirement con game Jackson is running on gullible Lakers fans …
Uh, in case you haven't figured it out by now, this is no movie we're watching. It's really happening.
Only in Hollywood.
What happened on draft night validates my suspicion that the Zenmaster – or Spinmaster – came back for the money, not the legacy. At 59, he's far more interested in making $10 million a year for the next three years than he is in winning a record 10th championship.
When Jackson surprisingly said his return isn't about winning a championship and that he'll be surprised if the Lakers are even in title contention when his contract is up, he was telling the expectation-lowering truth.
Jackson knows he can't win big with Kobe Bryant as his lone star – certainly not after Jackson spilled his guts in print about how impossible Kobe was to coach. That was in Jackson's never say never book, "The Last Season."
Now, Phil and Kobe will be lucky to coexist. More likely, this relationship eventually will go down in flames.
But back when Buss wouldn't pay Jackson the double-digit millions he wanted – or give him total control of basketball operations – the coach "retired." Buss ordered general manager Mitch Kupchak to trade Shaq; and predictably, Kupchak's rebuilt team went 34-48.
Kupchak is to GMs what his new center, Chris Mihm, is to NBA big men.
So, incredibly, Buss and Kobe and Phil came to need each other. The owner desperately needed to appease fans who could buy a second Rolls for what he's asking them to pay for courtside seats. A second star player won't fit under the Kobe-dominated salary cap. But Phil's star continued to rise in L.A. as the Lakers fell. Just seeing the Zenmaster back on the bench will anesthetize some fans for an entire season.
Kobe failed by himself and was condemned as the Man Who Ran Shaq and Phil Out Of Town. Now, Kobe can look like he's man enough to forgive and forget and welcome back the coach who trashed him in his book. Kobe badly needs someone else to blame.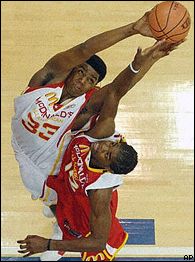 That's Bynum on the left as a McDonald's All-Star. His next stop? Tim Duncan.
Jackson became addicted to the Hollywood stage and missed it dearly. Life in Montana grew dull without the minicams following him from the moment he climbed out of his Porsche or pulled off his motorcycle helmet at Staples Center.
So as Kupchak's team predictably cratered, Jackson made it known to Buss that he would entertain the notion of returning. Jackson, of course, made that known through Buss' daughter Jeannie, who is very close to Jackson.
Jackson insisted on a record coach's salary, $10 mil a season. But stunningly, he did not insist on control. His health took the kind of beating in his "last" Lakers season that Detroit coach Larry Brown's did this season. Now, Jackson doesn't want the killer stress that championship expectations unleash.
He mostly wants to enjoy one last three-year act on the Staples stage while making $30 mil. If miracles happen and the Lakers win it all in Year Three, great. But for the first time in his career, Jackson won't be coaching two of the top five players in the NBA. He'll have a damaged relationship with just one.
He knows he'll have no chance.
And in Andrew Bynum, Jackson saw his 7-foot excuse.
Jackson watched at least one of Bynum's workouts. Surely, Jackson knows that the odds are much greater that Bynum turns into Michael Olowokandi, the failed Clippers' former No. 1 overall pick, than into the Next Shaq. For sure, there's no way Bynum lives up to his billing until he's 24 or 25, which will be long after Jackson is gone.
So Jackson made sure the media reported that he wasn't actively involved in the draft process. That he spent draft night at his home in Montana. He literally distanced himself from this pick.
Kupchak said he thought Jackson was "on board" with taking Bynum. Yet in the Los Angeles Times Thursday, Mark Heisler, who often knows more about the team than those who run it, quotes a team source as saying this when asked if Jackson had been against drafting Bynum: "I'm sure he was."
Perfect.
If the kid fails for three years, Jackson can say to reporters, "Don't look at me." If the Lakers don't make the playoffs, Jackson needs only to sigh and glance in the GM's direction.
It sounds as if Buss pushed for Bynum. With Jackson, the owner renews short-term hope. With Bynum, he buys some long-haul patience.
Oh, what an E-ticket ride this kid is about to take.
This is no LeBron James, who was 18 going on 30 when he was drafted. To get a sense of just how much of a kid-next-door Bynum is, visit the profile he's posted on MySpace.com. It's possible it's a year or so old, but can you imagine any other McDonald's all-American wanting or needing to do this?
It's as if one minute, the kid who calls himself Andy was trying to meet "gurlz" on the Web. The next, somebody was knocking on his bedroom door saying, "Son, how'd you like to come to L.A. and make millions taking Shaq's place with the Lakers?"
Here are his answers to some of the profile questions.
Is he a nerd in school? "Yea."
In the past month, has he been dumped? "Not dumped, not rejected, just kind of put off to the side."
What do you want to be when you grow up? "NBA balla/entrapenour [sic]."
Do you have a girlfriend? "She's out there sumwhere [sic]."
Yes, Andy, dozens of potential girlfriends will be circling like vultures outside the Lakers locker room every night after games.
So can he turn into an NBA balla? GMs and scouts give shrugging responses. They all like his agility and coordination for a 7-footer. But nobody says he's a sure-fire superstar.
Please, we are not talking about Kareem Abdul-Jabbar or Bill Walton or Shaquille O'Neal. When they were seniors in high school, there was no doubt.
With Bynum, there's one big doubt. He's a fat kid who suddenly lost weight. Shaq was a lean, powerfully built kid who gained weight at 30. Bynum might battle his bulge throughout his career. And if he regains his weight, his past knee trouble could return.
I met and talked briefly with Bynum the morning after the draft. At a glance, I wonder how competitive he'll be. I wonder if he talks tougher than he plays. I wonder if he has any idea what a beating he'll take under the NBA boards, and if the sensitive kid inside that big body can take the rookie and sophomore humiliation.
For what it's worth, Bynum's hands are small for his size. Shaq's are huge.
Yet this kid is already inviting comparisons with two of the most dominant centers in NBA history.
God bless him.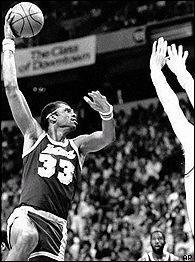 "Anything Kareem can do, I can do better."
On draft night, he told the L.A. media: "I want to bring back the skyhook that Kareem left behind there. Nobody uses that shot and it happens to be one of my favorite shots."
And: "I'm compared to Shaq now just because of my body type, but I can hit my free throws."
The L.A. media's appreciative laughter echoed all the way to Miami, where Shaq will surely use that quote for motivation during every torturous offseason workout.
Lakers fans will be distracted for a while by second-round steal Ronny Turiaf, whose relentless energy will help immediately. But if Prince Andrew seems overwhelmed and overmatched, Laker fans eventually will remember they could have had Sean May or Danny Granger or even Gerald Green, who will turn out to be the biggest star of the last class to go straight into the NBA from high school.
I'm betting that in this movie's closing scene, the $10-million-a-year coach will smile and shrug as if to say, "I told them so."
Skip Bayless can be seen Monday through Friday on "Cold Pizza," ESPN2's morning show, and at 4 p.m. ET on ESPN's "1st & 10." His column appears twice weekly on Page 2. You can e-mail Skip here.