Kupchak is to GMs what his new center, Chris Mihm, is to NBA big men.
So, incredibly, Buss and Kobe and Phil came to need each other. The owner desperately needed to appease fans who could buy a second Rolls for what he's asking them to pay for courtside seats. A second star player won't fit under the Kobe-dominated salary cap. But Phil's star continued to rise in L.A. as the Lakers fell. Just seeing the Zenmaster back on the bench will anesthetize some fans for an entire season.
Kobe failed by himself and was condemned as the Man Who Ran Shaq and Phil Out Of Town. Now, Kobe can look like he's man enough to forgive and forget and welcome back the coach who trashed him in his book. Kobe badly needs someone else to blame.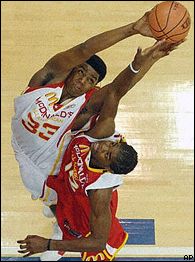 That's Bynum on the left as a McDonald's All-Star. His next stop? Tim Duncan.
Jackson became addicted to the Hollywood stage and missed it dearly. Life in Montana grew dull without the minicams following him from the moment he climbed out of his Porsche or pulled off his motorcycle helmet at Staples Center.
So as Kupchak's team predictably cratered, Jackson made it known to Buss that he would entertain the notion of returning. Jackson, of course, made that known through Buss' daughter Jeannie, who is very close to Jackson.
Jackson insisted on a record coach's salary, $10 mil a season. But stunningly, he did not insist on control. His health took the kind of beating in his "last" Lakers season that Detroit coach Larry Brown's did this season. Now, Jackson doesn't want the killer stress that championship expectations unleash.
He mostly wants to enjoy one last three-year act on the Staples stage while making $30 mil. If miracles happen and the Lakers win it all in Year Three, great. But for the first time in his career, Jackson won't be coaching two of the top five players in the NBA. He'll have a damaged relationship with just one.
He knows he'll have no chance.
And in Andrew Bynum, Jackson saw his 7-foot excuse.
Jackson watched at least one of Bynum's workouts. Surely, Jackson knows that the odds are much greater that Bynum turns into Michael Olowokandi, the failed Clippers' former No. 1 overall pick, than into the Next Shaq. For sure, there's no way Bynum lives up to his billing until he's 24 or 25, which will be long after Jackson is gone.
So Jackson made sure the media reported that he wasn't actively involved in the draft process. That he spent draft night at his home in Montana. He literally distanced himself from this pick.
Kupchak said he thought Jackson was "on board" with taking Bynum. Yet in the Los Angeles Times Thursday, Mark Heisler, who often knows more about the team than those who run it, quotes a team source as saying this when asked if Jackson had been against drafting Bynum: "I'm sure he was."
Perfect.
If the kid fails for three years, Jackson can say to reporters, "Don't look at me." If the Lakers don't make the playoffs, Jackson needs only to sigh and glance in the GM's direction.
It sounds as if Buss pushed for Bynum. With Jackson, the owner renews short-term hope. With Bynum, he buys some long-haul patience.