Single page view
By Skip Bayless
Page 2
Wonka bars had become even more popular among professional athletes than bling-bling.
Wonka bars, they raved, made them feel stronger and faster without needing anabolic steroids or growth hormone. Wonka bars, they said, helped them live up to godlike images without needing weed or booze.
Wonka bars contained no protein or carbs; they had zero fat and zero calories! And they tasted heavenly, especially the Never-Ending Spot-Hitter, which somehow filled you up with one tiny nibble.
No one was sure what the world's most mysterious recluse, Willy Wonka, put in his magical confections. But a congressional investigation could find no reason to ban them, and pro athletes ate them like, well, candy, before and after games.
Terrell Owens loved Never-Ending Spot-Hitters so much that he had one of his Rolls-Royces painted from bumper to bumper with a wallpaperlike pattern of their pink and yellow wrappers.
*****
And so it was that, out of nowhere, Wonka began running ads on ESPN that triggered hysteria. These ads aired more often than Tiger Woods' Nike or American Express spots, yet lasted only five seconds. You saw only a gleaming gold coupon floating in the clouds, and you heard the voice of Yankee Stadium P.A. announcer Bob Sheppard say: "Find a Golden Ticket, visit the Factory."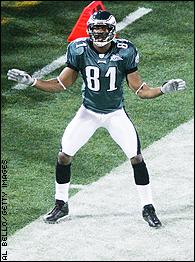 The word is, Wonka bars make Terrell Owens dance.
Naturally, T.O. ordered his agent, Drew Rosenhaus, to buy him 10 or 12 of Wonka's outlet shops, just so T.O.'s posse could open entire shipments of Wonka bars searching for a Golden Ticket.
And naturally, T.O. and Rosenhaus held a news conference to announce they had indeed found the first Golden Ticket. T.O. used this opportunity to call Eagles management "a bunch of greedy egomaniacs." Rosenhaus used it to promote his new book about saving a drowning boy's life, "Samaritan Shark."
The next Golden Ticket was found by Manny Ramirez as he disappeared into the Green Monster between pitches to open another Wonka bar. Ramirez was so excited that he went running back into left field without his glove, yelling, "I won! I won!"
Red Sox fans said it was the fastest they ever saw Manny move. They said he made one of the greatest running catches in Fenway Park history -- when a fly ball accidentally landed in the cap he was waving.
The next Golden Ticket was found by Kenny Rogers, though he refused to talk to the media about it and warned photographers that if they tried to get a shot of it, they might be the ones getting shot.
The next Golden Ticket was found by coach Larry Brown, who said he had bought several hundred boxes of Wonka bars to give his Detroit Pistons players as he departed.
"I wanted to show them how much I loved each and every one of them," Brown said.
(Pistons players later said they did not receive a single Wonka bar from Brown, who avoided questions about how many bars he had to open before finding a Golden Ticket.)
The final Golden Ticket was found by Sammy Sosa, who celebrated with a ballroom news conference in which he gave his fans heart-tap kisses and said, "Baseball been bery, bery good to me."