Single page view
By Skip Bayless
Page 2
A friend called to tell me about taking his son, Sam, to an Orioles game Monday night for Sam's 10th birthday.
Naturally, young Sam had turned into a Rafael Palmeiro fan, as Raffy recently pursued a 3,000th hit to go with his 560-plus home runs. So, as they entered Camden Yards, dad bought Sam a No. 25 Palmeiro jersey and an Orioles cap to wear during the game.
They had been sightseeing all day in D.C., so they didn't hear the news until they settled into their seats and dad began listening to the local broadcast on his radio. Imagine his shock.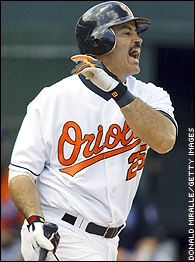 Palmeiro has kept his mouth shut as to what he might have taken if it wasn't steroids.
Imagine having to tell your son that, uh, well ...
"Dark day for baseball," my friend told me.
No, my friend, Monday and Tuesday were actually great days for our grand old game. I was pleasantly shocked twice. A star player and a drug-testing program I didn't trust were, respectively, exposed and exonerated.
Meanwhile, an ex-player whose book I defended from the week it came out has been, to quote the title of a planned sequel, "Vindicated."
Jose Canseco wrote "Juiced" in part because he believed baseball had scapegoated him as its only steroid-freak slugger, blackballing him and denying him the opportunity to reach 500 homers and the Hall of Fame. Off the field, of course, Canseco has often been a Hall of Shamer. But here's the better-than-fiction irony: He has written a book that now deserves a place in Cooperstown's museum.
The book has been that important in helping clean up baseball.
I don't know about you, but I want to know the truth and I want our children to know it.
Without "Juiced," there probably wouldn't have been a March 15 congressional hearing on steroids. Without it, Mark McGwire wouldn't have jeopardized his Hall of Fame future by saying, "I'm not here to talk about the past." Without it, Sammy Sosa wouldn't have raised doubts about his Hall worthiness by pretending he barely speaks or understands English.
And without it, a finger-wagging Palmeiro wouldn't have set himself up to go down as sports' biggest liar and hypocrite this side of Pete Rose. My friend grew up idolizing Charlie Hustle and wearing Rose's No. 14. But as Rose's gambling and underworld associations came to light, his nickname took on a whole new meaning.
We'd been hustled.
By using steroids, at least a player is trying to get better -- to help his team win. By gambling, it's possible a player or manager might help his team lose. Steroids are the lesser of the evils.
But they're still cheating; and for years, baseball all but forced every player to use them by not testing for them. That's the message for kids that should go beyond the potential dangers of unsupervised steroid abuse. They're an illegal drug that can give you an illegal advantage.
Palmeiro to Cooperstown?
Is Rafael Palmeiro going to make the Hall of Fame? Page 2's David Schoenfield picked 40 current major leaguers who will someday end up in Cooperstown. Here's his list.
Even before testing, Canseco was cheating.
Yet when it comes to steroids and how to use them, Canseco is extremely knowledgeable and convincing. So when he wrote that, in Texas, he educated Palmeiro, Ivan Rodriguez and Juan Gonzalez and injected all three "many times" with a combination of Deca Durabolin and Winstrol, with smaller doses of testosterone, I believed him.