Single page view
By Skip Bayless
Page 2
Terrell Owens demanding a pay cut wouldn't be more shocking.
Ditto for the Kansas City Royals losing all their remaining games.
Or the cow -- or Tiger -- jumping over the moon.
What Tiger Woods did Sunday night at the PGA Championship was far more mind-blowing than his trick-shot chip-in off the 16th green's steep slope on Masters Sunday.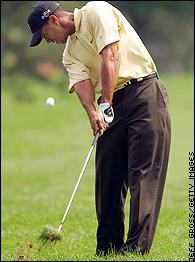 Jeff Gross/Getty Images
Maybe Tiger left early to go work on his short game.
He left!
And he got away with it!
Apparently, no one in the media -- at least no one fearless enough to risk never again being granted an interview by His Tigerness -- knew he did not show up Monday morning at Baltusrol. Woods, of course, had only a long-shot chance of winding up in a playoff with any of the five contenders who were forced by weather delays and darkness to finish the last few holes of their final round.
But he still had a chance!
Much stranger things have happened -- such as Tiger Woods, whose professional life is dedicated to winning major championships, risking what might have gone down as the biggest blunder in sports history.
If Woods had blown off what became a playoff opportunity to win an 11th major, this would have made Roberto De Vicenzo's blown scorecard at the 1968 Masters even more forgivable and forgettable. In his euphoria following a final-round 65, De Vicenzo overlooked playing partner Tommy Aaron's scorekeeping error. Aaron gave De Vicenzo a four on No. 17 when in fact he made a birdie three.
So De Vicenzo signed for 66, which cost him a spot in what would have been a Monday playoff against Bob Goalby. "I made a stupid," said Argentina's De Vicenzo.
He made a momentary mistake as he glanced over his card.
Tiger Woods, the one player in golf who will never, ever give up no matter how long his odds, went back Sunday night to the house he was renting in New Jersey and made the decision to pack up and head home!
This wasn't some Roberto De Vicenzo, who wound up winning only one major, the '67 British Open. This was Tiger Woods, Nike god, risking an embarrassment that would have stained what could become the greatest epitaph in golf history. This, he would have been asked about for the rest of his life.
Yet the public wouldn't have known about this unfathomable decision if Woods had not chosen to tell reporters about it Tuesday, before the NEC Invitational.
Astounding!
Woods was asked an innocent question about what he had done on Monday as the other players finished their round.
Nonchalantly, Woods said he was polishing up his game for the NEC.
At Baltusrol?
No, Woods said with a smug smile, he was working on his game at home in Orlando. In fact, he said, he caught only bits and pieces of Phil Mickelson's victory while he was working out in his gym.
Start the presses.
It's possible the question about what he did on Monday caught Woods off-guard and he blurted the truth before he could catch himself. Yet this man does not make bogeys during interviews. He's always in complete control of what he wants -- and doesn't want -- to say.
So the educated guess here is that Woods wanted the world to know he took this gamble. Of course, it's possible Woods knew or feared this would soon leak out and his high council of image-protectors strongly advised a preemptive strike with a plausible defense.