I dreamed I was preparing for my morning show on ESPN2, "Cold Pizza," when a researcher handed me this story:
LITTLE LEAGUE SUPERSTAR BUSTED
Bruiser Jones Jr., who led California to the Little League World Series title while pitching three no-hitters and batting .967 with eight home runs, has been disqualified, for two reasons.
Not only has Jones tested positive for the designer steroid ZXT, but his birth certificate has been proven to be fake. He's only 8 years old -- too young to play in the LLWS.
"Bruiser didn't knowingly take steroids," his agent, Scott Boras, said. "And we will fight the age limit in court. Bruiser obviously was physically mature enough to compete at this level -- he was the biggest kid in the tournament."
Bruiser is listed at 6-2, 200 pounds. He signed with Nike a year ago, and has played professional baseball for the St. Paul Saints.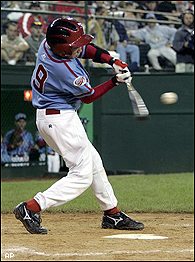 Dante Bichette Jr. reaches out to launch one.
Said Bruiser's father, Bruiser Sr.: "He could have dominated the Little League World Series when he was 5 or 6."
Line drives off Bruiser Jr.'s bat put an opposing pitcher and a third baseman in the hospital during the LLWS. And two paternity suits were filed against him. Yet TV ratings shattered previous highs, and games routinely drew sellouts of 65,000 in Williamsport's new ballpark.
I'm no hypocrite. I readily admit I can't take my eyes off the LLWS. But I can't decide whether I watch because I'm amazed at how good (and big) these kids are -- or because I'm so alarmed by how the Little League World Series is taking on all the characteristics (good and bad) of the big-league World Series.
ESPN's "Baseball Tonight" aired live from Williamsport the other night. Ravech, Kruk and Gammons, elevating the exploits of 11- and 12-year-olds.
Hey, maybe I'm just jealous.
I played on powerhouse Little League teams when uniforms consisted of jeans, T-shirts and caps. We weren't the Yankees or the Red Sox. We represented our grade schools and we were stuck with their goofy nicknames.
We were the Mayfair Chipmunks and we played the Madison Magpies and the Kaiser Kangaroos.
Some parents came to games, some didn't. To my knowledge, none of my friends was pushed to perform by a "stage" dad. It was hard enough to get our parents to take us all to Dairy Queen after we run-ruled another overmatched opponent.
OK, I wish my parents had cared more, and that the girls had chased me home, and that my games had been nationally televised.
But in my wildest 12-year-old dreams I couldn't have imagined the impact that televised sports would eventually have on parents.
When I was a kid, I could watch one nationally televised baseball game a week, Saturday's "Falstaff Game of the Week" with Dizzy Dean and Pee Wee Reese. Now I can watch every game every night, and I know exactly how many millions of dollars each player makes.
And so do parents everywhere. Now parents see how famous they can get for raising a star athlete. After all, Earl and Tida Woods have become household names.
It was their son who sent parents everywhere completely over the edge.