By Skip Bayless
Page 2
In the fall of 2002, while doing a radio show on KNBR in San Francisco, I said in exasperation that Terrell Owens needed counseling. The guy was tearing apart a surefire playoff team with a quarterback, Jeff Garcia, who was on his way to a third straight Pro Bowl.
That prompted an off-air call from the man who built and coached the greatest 49ers teams, Bill Walsh.
Walsh was an advisor to the team and was just as frustrated with Owens as I was. Walsh wanted me to know that the team had provided Owens with counseling -- unsuccessfully.
Counseling rarely works when the recipient doesn't believe he needs it. With Owens, it was always everyone's fault but his.
| | |
| --- | --- |
| | Beneath all of T.O.'s outrageous egomania still lurks a shy, late bloomer from Alexander City, Ala., who wasn't heavily recruited out of high school and who went higher in the draft (third round) than most experts projected. Owens has never quite been comfortable with being the can't-get-enough-of-him star he so badly wants to be. |
Nothing has changed.
I'd still like to see Owens seek what you might call T.O.-management counseling. Yet it still appears he doesn't really believe any of his flameout in Philadelphia was his doing.
Owens has always been a deeply flawed collision of fame-craving ego and fatherless, small-town insecurity. When he has been on the threshold of superstardom, in San Francisco and then Philly, the insecurity has prevailed. He still isn't sure he can live up to the cornerback-terrorizing, Sharpie-in-the-sock T.O. persona he created -- the virtual video-game character. So he keeps creating phantom feuds with his quarterback, his coach and his management so he has someone to blame if he fails.
His inferiority complex wins out over his superiority complex.
Garcia used to say that Owens "plays with such rage." I always thought he was motivated by rage's evil twin, fear.
Beneath all of T.O.'s outrageous egomania still lurks a shy, late bloomer from Alexander City, Ala., who wasn't heavily recruited out of high school and who went higher in the draft (third round) than most experts projected. Owens has never quite been comfortable with being the can't-get-enough-of-him star he so badly wants to be.
As Walsh said in 2002: "What's so perplexing is that he doesn't get in any of the usual off-the-field trouble. He's as sharp in meetings as any player I've seen -- he knows his assignments and everyone else's. But just when you think he's ready to become a truly elite player, he just self-destructs."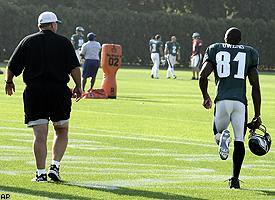 AP Photo/Coke Whitworth
Andy Reid and the Eagles finally turned their backs on T.O.
He makes himself impossible to live with. He alienates his teammates, his bosses and, finally, his fans. He destroys heaven-sent situations.
What more could he have wanted than to be the star for one of the NFL's best franchises in San Francisco, one of the world's greatest cities? After Jerry Rice moved across the Bay to Oakland, Owens led the NFL in touchdown catches in 2001 and 2002.
Yet, while he dropped more than his share of crucial passes, he began knocking Garcia's arm strength. Though he alligator-armed an over-the-middle pass that turned into a game-ending overtime interception at Chicago, he accused coach Steve Mariucci of letting up with a 28-9 lead on close friend Dick Jauron, who coached the Bears. And of course, Owens was always underpaid and underappreciated by management.
And yes, management eventually decided he was more far trouble than he was worth.
Several 49ers officials were amazed and amused that Philadelphia's Andy Reid, of all the tough-guy, no-nonsense coaches, thought he could harness Terrible Owens. But Owens convinced Reid that all he ever wanted was to catch passes from Donovan McNabb, who welcomed and embraced No. 81.
Reid began treating T.O. with a mellowing patience he hadn't shown any other player. Philly fans worshipped T.O. as their Super Bowl savior. The Eagles tore up his 49ers contract and gave him a new long-term deal he gratefully signed. What more could he have wanted?
But if you had observed Owens in San Francisco -- as I did -- you knew it was just a matter of time.
I thought of Walsh's 2002 call Tuesday afternoon as I watched Owens read a grudgingly unapologetic apology. He "apologized" to McNabb for any comments that may have been negative. May?
Owens agreed with Michael Irvin's contention on ESPN that the 4-3 Eagles would have been 7-0 with Brett Favre at quarterback. Not Peyton Manning or Michael Vick. Favre, who is 36 years old and has thrown an NFL-high 14 interceptions.
Yes, McNabb has a stomach-muscle tear that, he says, will require surgery after the season. But this was a last-straw, low-blow shot at a quarterback who has been to five straight Pro Bowls -- one who had established himself as an MVP candidate through the Eagles' first four games. Since February's Super Bowl, Owens has conducted a smear campaign of McNabb -- just like he attacked Garcia in San Francisco.
McNabb had to be even more angered by that "may." The single biggest reason Eagles management finally came to its senses and sent Owens home was that he refused to apologize to McNabb face-to-face after reportedly offering to fight McNabb last week in the locker room.
May?
Owens also laughably apologized to Eagles coach Andy Reid, saying, "you and I were in a tough spot this year." No, Reid was in the tough spot because Owens was constantly defying him, verbally abusing offensive coordinator Brad Childress and feuding with the franchise quarterback.
Eagles president Joe Banner indicates there were many more incidents that didn't become public, and I believe him.
McNabb says the Eagles will be a little better off without Owens, and I believe him.
Don't be surprised if, with the T.O. cloud lifted off the locker room, the Eagles pull back together, beat Dallas at home on Monday night, win seven of their last eight and take the NFC East.
That would teach Owens … wouldn't it?
Pardon the wishful thinking.
I'm obviously no fan of Owens, but I do feel sorry for the guy in one regard. He's much closer to burning every NFL bridge than he thinks. And what a sorry waste of talent that would be.
Rodney Harrison, New England's respected team leader, surely spoke for veterans on many teams when he said on Boston radio station WEEI: "If I was a GM, I don't care if he wanted to come play for the league minimum, I would not want him in my locker room. I would not want him around my organization or my city. … I do not respect him. I just think he's a selfish jerk. All he thinks about is money and himself."
Listening, T.O.?
Insiders in Atlanta and Oakland say those teams want no part of you. You hear Denver or Miami, but would Mike Shanahan or Nick Saban take you after what you did to Reid? Maybe New Orleans would risk signing you just to sell some tickets and distract fans from the mess that owner Tom Benson has made of the Saints.
But now that you've been kicked out of the Eagles' nest, your places to land are dangerously dwindling.
The best thing you could do isn't to offer qualified apologies carefully crafted by your crafty agent or to file a grievance against the Eagles. No, it's time to voluntarily get some kind of counseling.
Time to -- shocking concept -- humble yourself.
Time to show the NFL you're finally mature, and man enough to publicly admit the problem lies within you. No more finger-pointing. No more letting your self-promoting showman of an agent tell you how much more money you deserve so he can get more camera time.
Time to do what the greatest coach ever -- Walsh, a man you admire -- wanted you to do three years ago.
Time to find a professional you can trust.
Time to make peace with that insecure kid from Alexander City.
Skip Bayless can be seen Monday through Friday on "Cold Pizza," ESPN2's morning show, and at 4 p.m. ET on ESPN's "1st & 10." His column appears twice a week on Page 2. You can e-mail Skip here.