By Skip Bayless
Page 2
The first day of the NFL draft is the third-best day in sports, behind Masters Sunday and Super Bowl Sunday. Draft Saturday is even greater theater than most NFL regular-season weekends because championships can be won and futures wrecked in this 32-team card game.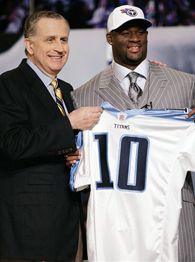 Julie Jacobson/AP Photo
Vince is headed to the Hall of Fame, says Skip Bayless.
But, of course, we won't begin to know for sure which teams stole the 2006 pot for, what, three or four years? So let's make it 10 and let's lay it on the line.
In 10 years, the Tennessee Titans' first two picks of 2006 will be regarded as the greatest one-two steal in draft history.
The Titans got Vince Young with the third pick -- just the way Michael Jordan fell into the Chicago Bulls' happy laps. Then the Titans snatched LenDale White -- who should have been a top-10 pick -- midway through the second round?
That's almost unfair. That's the greatness of the NFL draft.
In 10 years, Vince Young will have won two Super Bowls and will be a cinch Hall of Famer.
In 10 years, LenDale White will be considered even better than Jerome Bettis was as a chain-moving touchdown machine. If, moments after the Texas-USC national championship game, you had told me the Titans would wind up with Vince and LenDale, I'd have said, "Right, and Elvis and Johnny Cash are playing tonight at the Opry."
I don't care about LenDale's torn hamstring or weight or the drug rumor that built steam through NFL war rooms -- the one completely shot down by Titans coach Jeff Fisher. Did anyone care that the Bus was fatter than many of his blockers? No, he had the feet of a scatback. So does LenDale, who was as valuable to USC as Reggie Bush was.
Remember what the USC coaches said during the season? If the opposing defense was slow, it was a "Reggie game." If it was fast -- and Texas was real fast -- it was a "LenDale game." That's why LenDale, not Reggie, was on the field when the game was on the line against Vince's Longhorns. Every NFL defense is fast -- and many of them will have a hard time bringing down the beastly LenDale short of first downs and touchdowns.
And now Vince and LenDale are teammates in Nashville? With chips on their shoulder pads larger than Dolly Parton's famed attributes? Vince says he'll make it "tough" twice a year every year on his hometown team, the division rival Houston Texans, for not even considering him with the No. 1 pick. LenDale says he'll run with a "32-team chip" on his shoulder.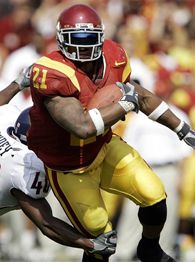 Matt Sayles/AP Photo
People tend to forget how important LenDale White was to USC's success.
In 10 years, the Texans won't look nearly as idiotic for passing up Reggie Bush. But they'll live in greater infamy for ignoring the Jordanesque Young and letting him fall to Bud Adams, who moved the beloved "Love Ya Blue" Houston Oilers to Tennessee and renamed them the Titans. Oh, the pain for Houston fans.
In 10 years, Mario Williams will be playing for his third or fourth team. The Texans' 2006 No. 1 pick will have had a rough ride in Houston, where the poor kid was crushed by the Reggie White-Bruce Smith-Julius Peppers expectations created by the boobs who drafted him.
As a coach told me Sunday: "If he's Hakeem Olajuwon in Houston, he'll be OK because no one ever blamed Houston for not taking Michael Jordan with the first pick. They blamed Portland for taking Sam Bowie with the second pick."
In 10 years, Williams will be somewhere in the murky middle between Olajuwon and Bowie. He'll be a pretty good defensive tackle who hasn't made a Pro Bowl. Manny Lawson, his bookend defensive end at NC State, will have proven to be the better NFL pass-rusher. Lawson went 22nd in the first round to the 49ers.
And NFL talent evaluators still won't have learned their lesson: Trust the tape; don't get carried away with the shorts-and-T-shirt combine numbers. So what if Mario Williams ran a 4.7 40 and benched 225 pounds 35 times? Did he leap out at you on the game tapes? Not the way Peppers did when he took over games at North Carolina.
And surely Williams occasionally looked a little better than he should have because he often was single-blocked. Yes, Williams was playing with two other first-round picks on his defensive line. Even scarier for the Texans, NC State defensive tackle John McCargo went 26th to Buffalo -- although that was far too high for him.
(In 10 years, the first draft of rookie Bills GM Marv Levy, which happened when he was 80, will be remembered as the worst of 2006.)
Yet the Texans decided Williams could have more impact as a pass-rusher than Young or Bush could have on offense? Monumentally mind-boggling. It shouldn't have mattered what the Texans had (quarterback David Carr, running back Domanick Davis) or what they needed (a pass-rusher), they were looking through the wrong end of the telescope at two rare players who will be far greater on offense than Williams ever will be on defense.
If it's true that signability played a small part in this decision, owner Bob McNair should bear a large part of the blame. If it's true that McNair allowed Charley Casserly to have the final say on the pick as a lame-duck GM -- if Casserly is soon fired -- McNair deserves full responsibility for Williams.
If you didn't know better, you'd think Casserly took Williams to sabotage the team that's going to fire him.
In 10 years, Reggie Bush will be known as a Pro Bowl back who isn't always there for his team when it needs him. It's baffling why his USC teammates, White and Winston Justice, fell because of "character" issues but Bush didn't. Perhaps Bush's alleged two-year dealings with a documented gang member did play a small part in the Texans' opting for Williams, though they insisted it did not.
A lawyer for a group of investors who tried to sign Bush with a new marketing agency told The San Diego Union-Tribune that Bush's parents took $100,000 from them two years ago, then free rent in a new home last year. Although Bush has repeatedly said he did nothing wrong, the Los Angeles Times reported he sat in on a tense settlement meeting with the investors, whose point man was known gang member Lloyd Lake, reportedly a longtime friend of Bush and his family.
Shouldn't the Saints wonder whether Bush is really the saint he's portrayed to be? Shouldn't they question his integrity and dependability?
For that matter, several NFL scouts I've talked to were curious about the way Bush reacted to the first real adversity he faced as a college player -- his lateral-fumble that gave Texas life in the title game. After that, Bush pretty much went in the psychological tank.
Bush will experience much more adversity as a New Orleans Saint.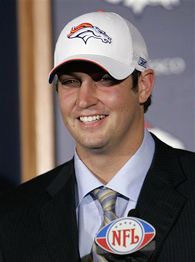 Ed Andreiski/AP Photo
Denver moved up to land its quarterback of the future, Jay Cutler.
In 10 years, Denver fans will look back and say, "Mike Shanahan won a Super Bowl on April 29, 2006." Incredibly, Shanahan went from coaching the favorite in the AFC Championship Game to trading all the way to 11th in the first round -- and stealing the Jay Cutler pot.
In 10 years, Raiders fans will still be wondering why Al Davis didn't take Cutler with the seventh pick. Davis, who needed a quarterback, went for the best defensive player in the draft, Texas safety Michael Huff.
But in 10 years, Cutler will be regarded as the NFL's most exciting quarterback. He will have won at least one Super Bowl throwing to Javon Walker, whom Shanahan stole from Green Bay for a second-round pick.
Even with Walker coming off knee surgery, he'd have gone in the top 15 if he had been in this draft. And Shanahan added Walker and Cutler to a team that would have been favored in the Super Bowl if Jake Plummer hadn't thrown two interceptions and fumbled twice in the home loss to Pittsburgh. That is unfair.
That's why, after his Cowboys stole Tony Dorsett from Seattle in the 1977 draft, Dallas president Tex Schramm said of the NFL: "You can't legislate intelligence."
No, you can't.
You can have "American Idol" and "Deal or No Deal." I wouldn't trade my Draft Saturday for a first, second and two thirds.
Skip Bayless can be seen Monday through Friday on "Cold Pizza," ESPN2's morning show, and at 4 p.m. ET on ESPN's "1st & 10." His column appears twice a week on Page 2. You can e-mail Skip here.