Commentary
Expert analysis: Thanksgiving draft
Originally Published:
November 25, 2009
By
Matthew Berry
| ESPN.com
Regardless of who or what is being drafted, every fantasy draft comes down to the same essentials: Building a balanced team, finding value and maximizing every pick.
Page 2's Thanksgiving draft was no different. There were some clear winners and losers, some terrific value and some head scratchers. Some folks will be sitting pretty on Thanksgiving, while some should start planning for Christmas and Hanukkah right now.
Let's break it down.

First round
Best Picks: Generally speaking, everyone is going to have a solid first-round pick, but I particularly liked Kieran Darcy's getting oven-roasted potatoes toward the end of the round at pick 10. Along with Toby Mergler's nabbing sweet potatoes at pick 11, these were two starches that may not be sexy, but they are Thanksgiving staples that will give the kind of solid, consistent production you need on the biggest eating day of the year.
Worst Pick: At the end of his meal, Jim Caple is going to look back at his first-round selection of ginger-marshmallow carrots as the point where it all went wrong. I've always been a believer in getting the team (or meal) you want, but this is way too early for a specialty dish that would have still been there in the later rounds.
Second round
[+] Enlarge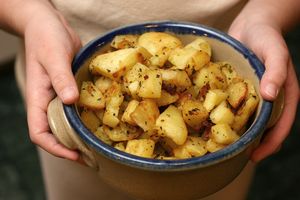 AP Photo/Larry CroweThere's no doubt oven-roasted potatoes provide terrific bang for the buck at the No. 10 selection.
Best picks: This is where you separate the men from the boys. And Jemele Hill is a man. Er, you know what I mean. Grabbing sweet potato pie ensures that no matter how she starts, she ends strong. After realizing his draft was already killed, I did like Jim Caple's grabbing the gewurztraminer wine here. If you are drunk enough, it doesn't matter what you're eating. Which is why Thomas Neumann's Wild Turkey pick three slots later is even more inspired. Scoop Jackson got a gift when cornbread was left for him. Not only should it have been drafted much earlier, it's a perfect handcuff to the first-round pick of chitlins. Finally, Lynn Hoppes' grabbing ham with the last pick in the second round is just ridiculous value for a quality meat that doesn't have the same name recognition as turkey, but provides almost as satisfying a dinner at half the cost. If turkey is Albert Pujols, ham is Carlos Peña.
Worst picks: With the third pick, Darcy's parsnips went too early for my, er, taste, considering what else was on the board. When you consider Jeff MacGregor's first pick was ambrosia salad, you have to wonder what he was thinking with oyster stuffing. Not complementary at all. I have no problem with oyster stuffing in general, but given where he was in the draft and the rest of his meal, this is just a terrible pick.
Third round
Best picks: Hoppes' green bean casserole makes his meal the one to beat and gives him some nice depth with which to trade. Once again, Jackson makes the most of his pick with fan favorite mac and cheese. Mike Philbrick's pick of apple pie à la mode is another solid performer with no downside.
We always say in fantasy that when everyone is zigging, you should zag. That's what Patrick Hruby did. After controversial picks of Chinese takeout and pizza, I love his grabbing Pepto-Bismol here to ensure an enjoyable meal. I like the comfort of Hill's Snuggie, but Mergler's turducken selection, with the second-to-last pick, is not only the best pick of the round, it's the best pick of draft, showing you can still find valuable meats late.
Worst picks: In theory, there's nothing wrong with Paul Lukas' frozen TV turkey dinner, but considering he already had turkey carcass in Round 2, this is overkill and makes his meal very one-dimensional. It won't go far. Neumann's silverware pick is the baffling kind of selection usually reserved for the Clippers. With a menu consisting of pumpkin pie and Wild Turkey, his is the meal that needs silverware least. Maybe he can make a trade, but at face value, he'd have been better off dealing the pick for some extra cap room.
Overall
Best meals: Hoppes, Philbrick, Mergler
Worst: Lukas, Caple, MacGregor
Matthew Berry -- The Talented Mr. Roto -- is very excited to have his Mom's stuffing. Seriously. It's like crack cocaine with carbs. He is the creator of RotoPass.com, a Web site that combines a bunch of well-known fantasy sites, including ESPN Insider, for one low price. Use promo code ESPN for 10 percent off. Cyberstalk the TMR | Be his cyberfriend
ESPN Senior Writer
• Senior Fantasy analyst for ESPN
• Member, FSWA and FSTA Halls of Fame
• Best-selling author of "Fantasy Life"