Commentary
Serves and volleys with James Blake
Originally Published:
September 1, 2009
By
Laura Lane
| Special to Page 2
Page 2 caught up with American tennis star James Blake heading into the U.S. Open. Here's what transpired:
Page 2: How strict do you keep your diet when you're getting ready for big tournaments like the U.S. Open?
Blake: I'm actually really lucky, and I know every girl hates me, but I can binge on pretty much anything, because my trainer's OK with me eating just as many calories as I can get in. So I eat a lot of ice cream. … Chocolate Fudge Brownie from Ben & Jerry's is my favorite.
What's a good prank that's been pulled off the tennis court?
The best one I ever had was when I got Todd Martin at the Davis Cup. We had a food fight in the locker room, and he thought we were very juvenile. I was still kind of young. He got the last laugh in the locker room, and then he was doing an interview and we had it set up. The interviewer asked him if he thought we'd be able to get him back, and he said we lacked the creativity or the guile to get him. And I was right behind him with a pie in his face.
[+] Enlarge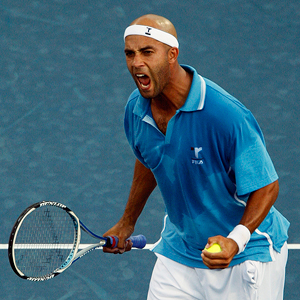 AP Photo/Kathy WillensJames Blake exults after his three-set victory over Spain's Ruben Ramirez Hidalgo in the first round of the U.S. Open.
You've got some famous friends off the tennis court, like your childhood friend John Mayer. Will he be out here watching you at the U.S. Open?
I think he's out in L.A. working on an album right now. If he gets back to New York, I'm sure he'll come out. He's come out to watch me at Wimbledon before, and he's come out and watched me in L.A. I've come out and watched him [perform] a million times before, so it's really a treat when you get to see someone you grew up with kind of putting their name in lights and seeing the whole rest of the world enjoying their performance.
If you didn't play tennis, what sport would you have a chance at playing?
Baseball. I love to play baseball. I'd love to play shortstop [for] the Mets. I'm a huge Mets fan. They've got a pretty good shortstop over at the Yankees, too.
Derek Jeter is your guy?
It's tough to say as a Mets fan, but I really look up to Derek Jeter. He lives near me in Tampa and I've seen him training. And to see someone who's got everything going [for him], and has the ability if he wanted to slack off, but never slacks off … that's something that's really impressive to me.
Yeah, but how are his tennis skills?
[Laughs] I've got to work on his tennis game, but he's pretty good compared to people who don't play tennis. … I've got to get some tips from him on the baseball field sometime.
When the Bryan Brothers were working on their album at your house, did they ever try to get you to do a cameo?
They did, and I informed them of my lack of musical abilities. I don't think I'd be best served on that.
What did you think of their music?
I think they're great. It's unbelievable to think how talented they are to do that. They put in so much time and effort on the tennis court, that the little [free] time they have they spend devoted to music, and they're real students of it.
The Williams sisters recently purchased a stake in the Miami Dolphins franchise. If you were going to invest in a team, what team would you buy a stake in?
The Giants. I'm a New Yorker by heart and I grew up a Giants fan. I'd go Big Blue.
Think you'll ever do it?
My bank account isn't like [the Williams sisters'], so I don't know if I'll be buying an NFL franchise anytime soon.

2009 U.S. Open

2009 championsWomen's singles:
Kim Clijsters, Belgium
Men's singles:

Juan Martin del Potro, Argentina
Men's doubles:
Lukas Dlouhy, Czech Republic and Leander Paes, India
Women's doubles:
Serena and Venus Williams, United States
Mixed doubles:
Carly Gullickson and Travis Parrott, United States
Scoreboard
Slam Tracker
Follow us on Twitter
ESPN360.com
Slam Central
USTA
Latest news
Audio & Video
Photo gallery
U.S. Open shop
---
Day 15
Day 14
Day 13
Day 12
Day 11
Day 10
Day 9
Day 8
Day 7