THE NCAA TOURNEY: GREATEST EVENT IN SPORTS ... OR THE MOST DECEPTIVE?

Is the college basketball tournament the biggest event of the sports year, or just another way for the NCAA to fleece the athletes? Jim Caple and his sports photographer friend, Rod, debate the issue from the sub-regional in Seattle.
Jim: Debate? What debate? There is no debate. This is the best weekend on the sports calendar.
Rod: Let's see. The Mariners don't have their season opener for two more weeks, and I know you got your copy of the SI swimsuit issue four weeks ago, so I can only assume you're talking about the start of your precious NCAA basketball tournament. And more importantly, the start of your NCAA tournament pool. Or, as the great philosopher Ty Webb once said, "Pool ... pond ... pond would be good for you."
Jim: That's right. Year-in, year-out, this weekend is the best in American sports, crammed with enough drama to fill Allen Fieldhouse. The first round is non-stop upsets, Cinderella stories, buzzer-beaters, bracket-busters, cheerleaders, weeping players and Josh Childress' hair.
Rod: Geez -- you put the "polly" into "pollyana." But I will give you this -- it's the best Thursday and Friday of all the weekdays of the sports year. And I know you're in a pool ... who wouldn't want a sucker like you to fill out a bracket? Let me guess your rules for picking your teams ...
Jim: No, let's don't.
Rod: No. 1: Choose teams that strongly resemble Hickory High, and run "the ol' picket fence" in crunch time.
Jim: Aw, c'mon.
Rod: No. 2: Choose teams that wear canvas high tops.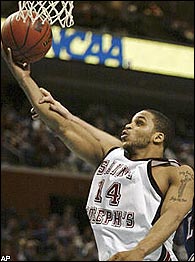 Can Jameer Nelson even dunk?
Jim: We were going to have a serious debate, and now you're just being silly.
Rod: No. 3: Pick teams with players who refuse to "stuff" the basketball, but rather "lay it up" like gentlemen.
Jim: Well, you got that one right.
Rod: I know I got that one right. No. 4: Choose teams with cheerleaders who still wear turtleneck sweaters, not those belly-baring jobs those "harlots" wear.
Jim: What, you don't agree?
Rod: No. 5: Choose teams whose players raise their hands after being called for a foul.
Jim: I'm sorry if good sportsmanship is too "old-school" for you.
Rod: And lastly, Jim's absolutely golden rule for picking teams in the pool ...
Jim: Can't wait for this libel.
Rod: NO PLAYERS WITH TATTOOS!!!
Jim: OK, are you done having your fun? Good. Because here are my real criteria.
Rod: This will be good.
Jim: 1. Are they a Catholic university? 2. Do they play on the West Coast? 3. Do they have a tree for a mascot? 4. Have I ever visited their campus? 5. Do I have a sweatshirt with their logo on it?
Rod: Dude, I've known you for 20 years. I've never seen you wear a shirt without a team logo on it. And I was at your wedding.
Jim: And finally, my most important criteria for picking a team: Do they play against Duke?
Rod: Nice. And when was the last time you won a pool with this, ahem, "strategy"?
Jim: Not since Ewing was at Georgetown. I'm usually out by Thursday afternoon.
Rod: Dude, I know you love the NCAA tourney and all it supposedly embodies ... the honest love of the game, the two-handed chest passes, the shirts tucked in (it explains why you love baseball so much), but it's all a big pile of hypocrisy. Despite all the NCAA wants us to believe about the tourney ... that the 65th best team in the nation has a shot at the title, that the tournament embodies all that American sports "used" to be, blah, blah, blah ... it's still all about money ... more specifically, gambling money.
Jim: Boy, you are cynical. Can't you just enjoy the game on the court?
Rod: Not when the NCAA is so damn hypocritical as to continue hyping the scholar/athlete facet of their big money pot. Rick Neuheisel got fired for (gasp!) participating in an office pool, and yet before there were office pools, the NCAA tourney was just a bunch of games and the Final Four. Now, you've got a SELECTION SHOW with it's own damned name -- "SELECTION SUNDAY." No one cares about the Cinderella teams like Eastern Washington or Vermont; fans just want to count up their winners at the end of the day.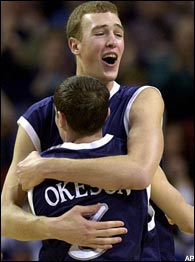 If you can't feel happy for Nevada, then you have too much invested in your bracket.
Jim: I'll grant you, the NCAA is hypocritical. But that doesn't change the fact that the game on the court is still exciting. And everyone roots for Eastern Washington or Vermont to pull off a major upset, even if they don't have them in their pools, because everyone roots for the underdog. Besides, they know a huge upset will screw up everyone else's pools, too, so it doesn't really harm their pool chances.
Rod: Thank you for seeing the light. Without the pools, the tourney wouldn't be more than a blip on the sports radar screen, until the Final Four.
Jim: Pools add to the excitement, no doubt. But if it was just the pools, how come people aren't madly filling out NIT pools right now? It's the pools and it's the games and it's the cheerleaders and it's the emotion and it's the atmosphere and it's the players linking arms on the bench and it's cutting from one dramatic finish to another. It's everything.
Rod: In other words, it's everything that isn't on the court. It's just a parade for you. I bet you're counting down the days until the Macy's balloons go floating down Herald Square.
Jim: Two-hundred and fifty-free to be exact. But you're wrong. I love the games, too.
Rod: But not as much as the carnival show. Let me guess what you love about the tournament.
Jim: No, let's not.
Rod: The five things Jim loves most about the NCAA's: 1. Right after the Final Four ... OPENING DAY!!!
Jim: Yeah, OK. You got me there. And that reminds me. That @#$%$& Steinbrenner ...
Rod: No. 2. Those glorious PEP BANDS -- where else can you still hear "Smoke on the Water" and "Tequila'"?
Jim: And don't forget "Birdland." Love that tune.
Rod: No. 3. Mascots!
Jim: I defy you to look at the Stanford Tree and not smile.
Rod: No. 4. School fight songs.
Jim: Want me to sing "Bow Down to Washington"?
Rod: No. I never want you to sing. And your absolute favorite thing about the NCAA's -- that insipid montage of video clips set to that song ... what is it called?
Jim: "One Shining Moment"!
Rod: I KNEW YOU'D KNOW!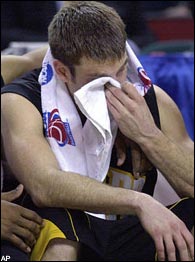 You did your best, Valpo. And that's all that matters.
Jim: Isn't that just the best? And when they show a player crying after a loss, doesn't it make you tear up, too?
Rod: I'm not surprised. When you lived at my crib, you would start sniffling at the NFL's United Way commercials.
Jim: "The ball is tipped/And there you are/You're running for your life/You're a shooting star ..."
Rod: This isn't what I think it is, is it?
Jim: "And all the years/No one knows/Just how hard you worked/But now it shows ..."
Rod: Good God.
Jim: "IN ONE SHINING MOMENT
IT'S ALL ON THE LINE
ONE SHINING MOMENT
THERE FROZEN IN TIME!"
Rod: The saddest part is that I know you didn't Google that.
Jim: "Feel the beat of your heart/Feel the wind in your face/It's more than a contest/It's more than a race ..."
Rod: This is more frightening than when I caught you in the bathroom with your baseball glove and a Victoria's secret catalogue.
Jim: "And when it's done/Win or lose/You always did your best/'Cuz inside you knew ..."
Rod: This isn't going to be pleasant.
Jim: "THAT ONE SHINING MOMENT
YOU REACHED FOR THE SKY
ONE SHINING MOMENT, YOU KNEW
ONE SHINING MOMENT, YOU WERE WILLING TO TRY
ONE SHINING MOMENT ..."
Rod: Man. And this from a guy who doesn't like "God Bless America" played instead of "Take Me Out to the Ballgame."
Jim: And when that Michael Bolton sings it, boy, it doesn't get any better than that, does it?
Rod: (Sigh.) See you in the buffet line in the pressroom.
Jim: Go 'Zags!