Commentary
Step into the ring of white-collar boxing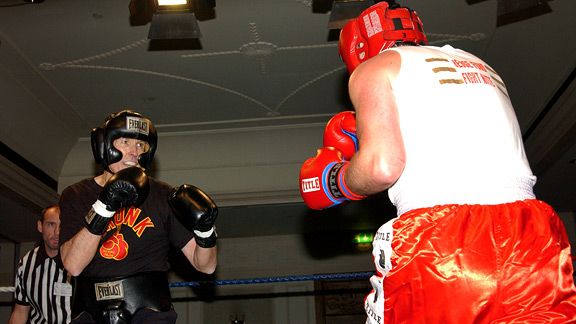 Richard PriceJohn Oden touts boxing as a way to learn life lessons and blow off steam at the same time.
By day, John Oden is a New York City financial manager. By night, he's a recreational boxer who believes success in the workplace might be enhanced by walloping people outside it.
White-collar boxing experienced popularity in the early 2000s for its tough workouts and as an outlet for working professionals, both men and women. But lately, it has become controversial.
For the past four years, Oden has attempted to overturn a ban in New York state on fight shows, bouts deemed too dangerous for white-collar boxers.
Oden hopes his just-released book -- "Life in the Ring: Lessons and Inspirations from the Sport of Boxing" -- will help the cause. It's a collection of short stories about well-known boxers that aim to provide lessons that can be applied in life and the working world.
Take former heavyweight champion Floyd Patterson, for example. Oden writes that Patterson was afraid of his own shadow while he grew up in Brooklyn. He'd hide out in movie theaters and subway stops to avoid people. Boxing, says Oden, taught Patterson to channel his fear.
"I use that all the time in my business," said Oden, who works for AllianceBernstein CQ, a global investment firm. "I give talks to boards of directors. It's the fear of embarrassing myself in front of my peers or my clients [that] requires me to do an extra level of preparation."
In boxing, that translated to extra training for fights. Perry D'Alessio, an accountant who trains in renowned Gleason's Gym with Oden, said his first fight started disastrously.
"The guy nearly knocked me out of the ring," D'Alessio said. "I asked myself, 'Who is going to help me here?' You realize quickly, no one."
[+] Enlarge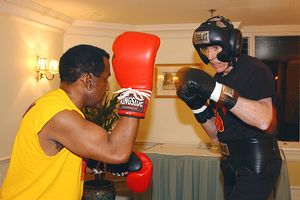 Shannon Stapleton Oden participates in a sparring session with Hall
of Fame boxing trainer Emanuel Steward.
Oden, who puts his age "on the dark side of 50," once helped Hilary Swank train for her role as the ill-fated star in "Million Dollar Baby." He still works out in the boxing gym, but said his competitive days are over.
Yet Oden, boxing writer Bert Sugar, legendary trainer Emanuel Steward and Gleason's Gym owner Bruce Silverglade are among those trying to overturn New York's 2006 ban on white-collar bouts.
The state's athletic commission shut down the shows, insisting the bouts be sanctioned by USA Boxing, which has requirements for frequent fitness tests, clearance by doctors and record-keeping.
Oden and other white-collar fighters say that forcing them to follow the same regulations required of Olympic boxers keeps recreational boxers from competing.
Jack Kendrick, who trained Oden, has won multiple New York Athletic Club titles and fought in the U.S. Army and around the world. Kendrick said recreational fights are "well-handled."
"You can get hurt more in rugby," he said.
Nearby states, like New Jersey, allow white-collar fights. So does England, where Oden and D'Alessio competed in an event that pitted New York financial executives against London counterparts.
"It's very popular with the brokers," Kendrick said. "They get competitive when you have one company against another."
For Oden, even the act of writing the book, his second, provided a life lesson. He wrote it over the course of six months in early 2009 as the financial market "was just cratering," right outside his door.
Oden said he'd write in the early morning hours before going to work.
"It was a very, very difficult time. For me, it was a very introspective time. I didn't suffer any major damage. Our firm's assets went down. Everyone's did," he said. "I was inspired by the stories I was writing. It helped me put things in perspective."
Meri-Jo Borzilleri is a freelance writer for Sports Media Exchange, a national freelance writing network.