Watching Derek Fisher's dramatic entrance and courageous performance during Game 2 of the Jazz-Warriors playoff series made me think about those times when life imitates art; basketball as cinema, if you will. Fisher, fresh off the plane after his daughter's eye cancer surgery, walked directly onto the court, forced a late turnover, hit a clutch 3-pointer in OT and the Jazz took a 2-0 lead in the series. It's moments like these that make basketball so compelling.
The NBA playoffs have often served as a perfect venue for the exhibition of real-life drama, broad comedy and tragedy as well. As the championship stakes increase with each round and as the individual personalities become as familiar to us as a paparazzi photo of Lindsay Lohan, the potential for what I call the "cinematic moment" increases.
Yet not all of these moments are of the family-themed variety like Fisher's. Though I have mellowed some, there's not a whole lot of room in my movie collection for tales of sentimentality, Fisher's moment notwithstanding. So what I've put together a list of some of my own personal favorite "NBAflix," which demonstrate themes of overcoming the odds, gaining respect, making history, being gangsta and, on occasion, watching something with a less than happy ending.
"And a Child Shall Lead Them"

Los Angeles Lakers vs. Philadelphia 76ers; NBA Finals, Game 6; The Spectrum, Philadelphia; May 16, 1980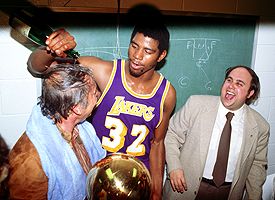 Focus on Sport/Getty Images
By scoring 42 points and playing every position, Magic Johnson ascended to superstardom and paved the way for the modern NBA.
In the late 1970s, the NBA had an image problem. With meager national television coverage and the number of fans in the seats dwindling, many saw the league as a bunch of overpaid black drug addicts. Most indicative of this sentiment was the derisive name used by some to describe the New York Knicks: the "Niggerbockers." Help was on the way though.
The year 1979 marked a new beginning. Enter stage right, Magic Johnson and Larry Bird. These two competitors had met in the '79 NCAA championship game, beginning a rivalry that would forever change the game. With Magic's Lakers on one coast and Bird's Celtics on the other, this heated rivalry would redefine the NBA and revive the game in the process. Before this rivalry could really take hold in 1984, when the two teams met for the first time in the NBA Finals, there were other issues that had to be dealt with. Namely, the Lakers' battle against the Philadelphia 76ers in the 1980 Finals, Magic's rookie season.
This series featured two of the most iconic figures in basketball history, Kareem Abdul-Jabbar and Julius Erving. Both did their part to demonstrate why they had become icons in the first place. Kareem dominated, averaging 31.9 points per game in the playoffs, with his signature sky hook being nearly impossible to defend, while Dr. J was putting on his own show every night, including his famous, suspended in midair, behind-the-backboard layup in Game 4. Yet when Kareem injured his ankle and couldn't travel for Game 6, many thought the series was destined for seven games, with the Lakers having little chance if Abdul-Jabber couldn't return. These thoughts were all but confirmed when the Lakers decided to have their rookie point guard jump center for the opening tip that night.
As the game began, Magic quickly demonstrated that positions on the court were irrelevant. In what still has to be one of the most impressive performances in sports history, Magic beat the Sixers as if they had stolen something from him. Driving, slashing, passing, jumping and doing whatever it took, Magic put the Lakers and the NBA on his back that night and made it clear that a new era was dawning. His line: 42 points, 15 rebounds, seven assists and three steals.
The Lakers won the first of five titles in the '80s, and Magic started a revolution in a sport that many had already written off. The NBA championship had been shown on tape delay because the games were not considered significant enough to preempt prime-time programming. Things changed quickly though, as the league was on its way to an unprecedented run through the '80s and well into the '90s. The NBA that we see today is a direct descendant of that night in Philly. With his unbelievable performance, Magic ushered in the birth of what I like to call the "modern NBA."
Watching Magic's emergence amidst two giants like Kareem and Dr. J was something like watching Robert De Niro as the young Don Corleone in "The Godfather: Part II" (1974). Though he was surrounded by greatness on all fronts, De Niro stepped into the shoes of the great Marlon Brando and shared screen space with another emerging superstar in Al Pacino. Just like Magic, De Niro's truly amazing performance in this film set the stage for his ascendancy into superstardom.
"Game Recognize Game"

Detroit Pistons vs. Boston Celtics; Eastern Conference finals, Game 6; Pontiac Silverdome, Pontiac, Mich.; June 3, 1988
The Pistons, having defeated the Celtics, were on their way to the NBA Finals for the first time since moving to Detroit in 1957. This intense rivalry had been defined by hard fouls and hard feelings, not to mention Robert Parish's imitation of Marvelous Marvin Hagler on Bill Laimbeer's head in Game 5 of the '87 series.
Isiah Thomas makes his way around the court that night and is approached by Kevin McHale. Considering that the teams had no love for each other, it was safe to assume that McHale had nothing good to say to Isiah as the Pistons had finally ended Boston's choke hold on the Eastern Conference. Isiah looks a little surprised. McHale is talking fast and waving his finger in Isiah's face. Suddenly Isiah smiles and reaches out to give McHale some dap. They shake hands and go their separate ways. Isiah later reveals that McHale told him not to go to L.A. and simply be happy to be there, but to go out there to win.
The Isiah/McHale exchange demonstrated the streetball notion of "game recognize game," which is all about the mutual respect that two equally qualified competitors have for each other, regardless of the outcome of the contest. One might compare this to Pacino and De Niro in Michael Mann's "Heat" (1995) or better yet, the verbal sparring between Dr. Hannibal Lecter and Clarice Starling in "The Silence of the Lambs" (1991), in which two people on opposite ends of the spectrum, over the course of their game of mental chess, gain a great deal of respect for each other.
"Make it Rain"

Chicago Bulls vs. Portland Trail Blazers; NBA Finals, Game 1; Chicago Stadium; June 3, 1992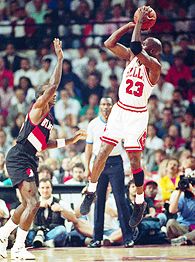 AP Photo/Fred Jewell
Who could forget when Michael Jordan rained 3-pointers on the Trail Blazers en route to 35 first-half points?
Michael Jordan's career was an epic film unto itself, and so it's difficult to pin it down to one moment. I mean, there's the six-trey that he put on the Celtics in the '86 playoffs, the "spectacular move" when he switched hands in the lane in Game 2 of the '91 Finals and the famous "sick game" in the '97 Finals, just to name a few.
My personal favorite, though, was the barrage of 3s that he threw at the Trail Blazers in '92. Jordan won his first NBA title in 1991, and by the '92 Finals he was one of the most visible icons in America. Jordan was so popular in '92 that he could have probably beaten Bill Clinton, George Bush and Ross Perot had he run for president.
Many in the media were hyping Clyde "the Glide" Drexler, the former Phi Slamma Jama alum and current Trail Blazer. Some said that Drexler was perhaps as good as Jordan, only he played in a small market and didn't get all the media attention. This hype is probably the worst thing to ever happen to Drexler, though, as Michael used it to fuel his already out-of-control competitive fire. To make things worse, many at the time were saying that Jordan was an "athlete," but not a pure shooter.
Jordan started raining 3s like the fabled "Lamar Mundane," the fictional player featured in a popular Reebok commercial in the early '90s. After hitting another 3 while Cliff Robinson flew past him in vain, Jordan began to trot back up the court. He looked over in the direction of Magic Johnson, who was courtside, calling the game for NBC. Jordan had defeated Magic the year before in the Finals, and after Magic's forced retirement due to the HIV virus, Jordan stood alone at the top of the NBA totem pole. As he looked over in Magic's direction he made that famous befuddled shrug, as if to say, "I can't explain it either." This contrived humility was vintage playground, where the dominating player consciously downplays his dominance, in spite of its obviousness.
Jordan hit six 3s and finished the first half with 35 points. They could have ended the series right there. Though it went six games, the series was never really in question after Jordan let loose.
From his first triumph over Magic in '91 through his Oscar-winning shot to win his sixth title against the Jazz in '98, Jordan faced all comers and disposed of them in succession. Jordan's dominance was not unlike that of the great Bruce Lee in his film "Game of Death" (1978). Lee wrote, starred in, directed, produced and choreographed the fight scenes for "Game of Death." In the film there is a pagoda with several floors, and on each floor there is a different style of martial arts that Lee must go up against. He succeeds, only to reach the top and find a sunglasses-wearing Kareem Abdul-Jabbar, who had been one of Bruce's students in real life. Bruce takes out Kareem and emerges as the undisputed champion.
Jordan went through his own "Game of Death," facing all the top challengers of his day -- Isiah, Magic, Clyde, Patrick, Sir Charles and the Mailman -- and disposing of them, one by one, until there were no more left. He walked away from the game having opened his career with a game-winning shot against Georgetown in the 1982 NCAA final and ending it with the game-winning shot against the Jazz. We'll ignore the Washington Wizards straight-to-video sequel, the same way we should ignore Eddie Murphy in "Norbit" (2007), right after being nominated for an Oscar in "Dreamgirls" (2006).
"Going Down Slow"

Orlando Magic vs. Houston Rockets; NBA Finals, Game 1; Orlando Arena, Orlando, Fla.; June 7, 1995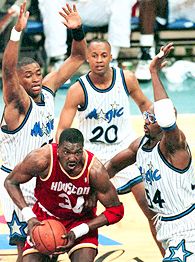 Robert Sullivan/AFP/Getty Images
Four consecutive missed free throws by Nick Anderson (top left) stung Orlando in 1995. At least Scott Norwood only missed once.
The Orlando Magic began play in the NBA as an expansion franchise in 1989. Six years later, it was playing for a championship. Orlando had originally used its first draft pick ever to select Illinois guard Nick Anderson, a prominent member of the "Flyin' Illini," one of the greatest college basketball teams not to win a national title. Six years in, Anderson would find himself mired in one of the worst emotional downfalls that the league has ever seen.
With less than a minute left in the game and Orlando holding the lead, Anderson went to the foul line with an opportunity to seal the deal. He was a 70 percent free throw shooter that season. Anderson missed both free throws. He was soon fouled again with the opportunity to redeem himself. He again missed both free throws. As they say in the 'hood, "pressure will bust a pipe." The Rockets won in OT and went on to sweep the Magic for their second straight championship.
Anderson had become the Scott Norwood of the NBA. Charles Smith of the Knicks had missed four straight layups in an eventual lost to the Bulls in Game 5 of the '93 conference finals, but Anderson's missed free throws were on a bigger stage.
Things got so bad for Anderson that two years later he was shooting a Ben Wallace-like 40 percent at the foul line. Anderson's downward spiral is reminiscent of Denzel Washington as Bleek Gilliam in "Mo' Better Blues" (1990). Eventually, Anderson even sought out a psychologist, a la Tony Soprano, to get over the horror of those missed free throws. Talk about the "agony of defeat," Anderson lived it, for all to see.
"Say Good Night to the Bad Guy"

Philadelphia 76ers vs. Los Angeles Lakers; NBA Finals, Game 1; Staples Center, Los Angeles; June 6, 2001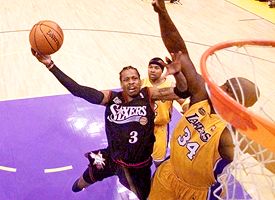 AP Photo/Jeff Mitchell
You need people like me so you can point your fingers and say, "That's the bad guy."
By 2001, Allen Iverson had come to represent the merger between basketball and hip-hop, and not everyone was happy with this fact. AI had recorded a hardcore hip-hop album that was never released. He was "tatted up," his shorts sagged, his hair was corn-rowed. It looked like he had just left the prison yard. On top of it all, he really didn't "give a f---." But for all the haters out there who were offended by his image, there were many others who loved the fact that AI always kept it real.
The Lakers had steamrolled through the playoffs undefeated, and it seemed that there was no way the 76ers could derail them on the way to their second straight title. Iverson strolled into Game 1 having won the MVP award, but many criticized him as a selfish player. What these people didn't realize was that AI had pretty much single-handedly taken a very mediocre team to the Finals.
Once the game began, AI was simply unstoppable. In the fourth quarter, Phil Jackson put little-used Tyronn Lue in to guard AI. Lue was small and quick, and for a time he slowed down Iverson's onslaught. But when the game went into OT, AI took over. With the game in the balance, AI gets the ball in the corner, makes several moves, finally frees himself, steps back and drops a dagger on Lue so deadly that Lue finds himself on the floor. AI stops for a second, stands there, taking it all in, and then steps over Lue's fallen body, before heading back up the court. This was so humiliating that Lue should have just crawled all the way back to the locker room. The shot sealed the victory for the 76ers who had done their part to shake up the world, at least for a night. AI and his crew wouldn't win another game in the series, as the Lakers were simply too strong. But for one night, the most hated man in the NBA had silenced his critics, finishing with 48 points and a highlight reel clip that has to be one of the best cinematic moments in league history.
On this night, AI was like that venerable gangsta, Tony Montana. He was the ultimate antihero, who in spite of all the obstacles in his way, went about his business with grit, flair and determination. His do-or-die attitude, like Scarface, meant that he wouldn't be denied, even if it killed him. AI reveled in his outlaw status, and all of those who felt that he had been given a raw deal in the first place were now vindicated. Say good night to the bad guy, indeed!
Dr. Todd Boyd, a columnist for Page 2, is an author, media commentator and a professor of critical studies at the USC School of Cinematic Arts. His next book "The Notorious Ph.D.'s Guide to the Super Fly '70s" will be published in June.
Also See
ESPN Top Headlines