One of my favorite documentaries is the Oscar-winning Errol Morris film from 2003, "The Fog of War." The film features former Secretary of Defense Robert McNamara reminiscing about all the lessons he learned from the Vietnam War, now that he is in the twilight of his life. McNamara arrives at his conclusions because he now is far removed from what he calls "the fog of war." What he means is, in the heat of battle, things might appear to be one way -- but in the aftermath, with the aid of objective critical distance, these same things might look very different.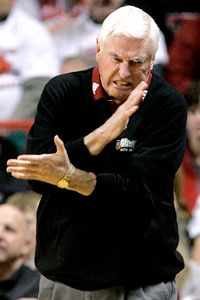 AP Photo/Tony Gutierrez
Is Bob Knight gone for good? Time will tell.
Considering that Robert Montgomery Knight will be forever linked to military metaphors, our historical distance from "the fog of war" as it pertains to his career allows us to review his overall legacy without fear that this assessment will be unduly clouded.
The first time I saw Bob Knight in person was during a postgame news conference in the late 1980s at the University of Michigan's Crisler Arena, after Michigan had soundly defeated Knight's Indiana Hoosiers. Not only had the Wolverines won in convincing fashion, but Michigan's star player at the time, Gary Grant, had celebrated a particularly flashy play by doing that signature '80s dance, the Cabbage Patch, right in Knight's face. So not only had Knight suffered a humiliating defeat at the hands of a bitter rival, but he had been "clowned" in the process. As you might imagine, he was in no mood to talk as he made his way through the assembled media.
Knight took the first question, a slow-pitch softball from a friendly Bloomington, Ind., reporter. After Knight's brief response, there was dead silence for what seemed like an hour, before someone else finally spoke up. The next question had something to do with the point in the game when the momentum shifted Michigan's way. Knight looked the questioner directly in the eye, then proceeded to unleash an especially profane tirade in the reporter's direction. In other words, Knight "cussed" him out. Trust me, this was far too raw to be described simply as "cursing." No, what Knight did that day was "cuss." There is a difference. Knight used every ounce of his voice and intimidating physicality to tear apart this reporter, right in front of everyone else. He then stormed out of the room.
With Knight's recent resignation, the sport of college basketball and the nation as a whole have lost an American original. They don't make 'em like that anymore. And for good reason. Knight was, at times, an abusive tyrant and gung-ho military madman in the mold of Marlon Brando's Colonel Kurtz from the film "Apocalypse Now." He also was the coach who won more games than anyone else, while regularly graduating his players and staying out of the NCAA infractions book. It was the clash of all these things that made Knight so fascinating. With Knight, there always was the good, the bad and the ugly. Always.
After John Wooden retired in 1975, Knight emerged as the preeminent coach in the country. In the 1974-75 and 1975-76 seasons, Knight's teams lost only one game, went undefeated in the Big Ten and won a national title in 1976, while sending several players to the NBA. He would repeat the championship feat again in 1981 behind Isiah Thomas' exceptional play. He completed the hat trick in 1987, winning his third NCAA title thanks to a legendary Keith Smart shot with five seconds remaining against Syracuse. Also, during this same time in the '80s, Knight's coaching disciple, Mike Krzyzewski, was in the process of making his own mark, as his Duke teams were becoming regular participants in the Final Four. I point all this out because it indicates there was a time when Knight was on the cutting edge of the college basketball world.
It isn't so evident now, considering how much the game itself has changed and how curmudgeonly Knight looked as he spent his last years coaching in a college basketball backwater, after he was unceremoniously dismissed from Indiana by Myles Brand in 2000. Yes, Knight was at one time both relevant and modern. Knight never changed, but the world did, and that was where things started to come undone.
Knight began his coaching career at Army in the mid-'60s, at a time when the military still was a revered institution in America. With the country still on a high from its victory in World War II, along with a draft that had far-reaching implications for a large percentage of male citizens and their families, the military generally was held in high esteem. All of that would change drastically, though, as Lyndon Johnson sent more and more troops to Vietnam.
Eventually, the public dissent against the war came to define a generation, and in the process, the military came to be seen by some as the evil henchman of American imperial power. In the aftermath of the Vietnam War, many people said the military was "broken." This sense of being broken was epitomized by the ubiquitous media image of a helicopter being pushed off the flight deck of an aircraft carrier into the South China Sea after the fall of Saigon in 1975. By the '80s, filmmaker Oliver Stone -- himself a Vietnam vet -- was making popular movies like "Platoon" and "Born on the Fourth of July" that were both critically acclaimed and quite critical of the military. All this helped transform the image of the military from noble to suspect in the minds of many.
It was around this time, with images of a diminished military circulating throughout the culture, that Knight's star began to shine, but then eventually decline, in the college basketball world. I am not suggesting that all Americans were against the military. But the anti-Vietnam War movement did transform the image of the military to a point where not everyone would be so fond of a coach who came to be known as "The General."
Add to all this a change in the way some people regarded corporeal punishment in schools and the increasing prevalence of therapy throughout society -- there was more awareness of issues of abuse, be it physical, emotional or verbal. And when you factor in the increasing distrust of authority that came about in the aftermath of the Watergate scandal, it's not surprising that by the late-'80s, Knight's antics started to be seen in a different light.
These social circumstances notwithstanding, changes in the nature of the game of basketball also accelerated Knight's aging process throughout the '80s and into the '90s. College basketball became more "professionalized" as television coverage increased following the Michigan State-Indiana State NCAA championship game in 1979. Many of the best players began picking schools based on how much television exposure they would get. And as more and more players started leaving college early to try their hand in the NBA, college coaches began losing some of their power. Players had become more independent. Many coaches began to realize they couldn't always count on players being in their program for four years, so they had to adjust. Coaches went from being viewed exclusively as military-like authority figures to being viewed as something like therapists or motivational speakers -- people who needed to curry favor with players in order to ensure job security.
Knight, who was slow to accept junior college transfers and loathe to recruit more independent-minded urban players in the post-Isiah era, found himself in a situation in which the game was quickly passing him by. Yet, like the true solider he is, Knight bore down even harder. Like his mantra -- Frank Sinatra's "My Way" -- Knight insisted on remaining true to his own vision, in spite of how retrograde his vision was becoming.
It is this defiance that keeps me from completely throwing Knight under the bus. Considering my own personal politics, I probably should despise Knight. But I don't. Never have, really. Actually, I always found him kind of amusing, because, as was evident that day in Ann Arbor, Knight always was performing. I am not saying he was dishonest, but I am saying the "I don't give a f---" persona was indeed a well-rehearsed act to a certain point.
There is a section in Miles Davis' autobiography in which he talks about how, because of the image the media had created for him, many of the people he met in person expected him to be gruff, abrasive and intimidating, so he often went about fulfilling these stereotypes. Like that old O'Jays line, "Got to give the people/give the people what they want," Knight -- like Miles Davis -- knew there was some currency in playing the role, in "giving the people what they want." And both of them did this to perfection.
In listening to all the commentary about Knight since he stepped down from his perch at Texas Tech, there seems to be two schools of thought. One school points to Knight's many transgressions -- assaulting a police officer in Puerto Rico, throwing the chair, making a sexist statement to Connie Chung that ridiculed rape, and kicking, choking and head-butting players, among other things -- and uses these transgressions as evidence of why we shouldn't celebrate his legacy. Others point to the national championships, the high graduation rate of his players, the testimonials from former players about Knight's inspring mentorship and the squeaky clean programs he ran as evidence that his tough-love approach paid dividends.
To say that Bob Knight is a polarizing figure is like saying Amy Winehouse has a substance-abuse problem. I mean, how obvious can you be? Such a statement is so readily apparent that it is redundant. With Knight, you have to recognize that his complicated legacy is in fact both a gift and a curse. His strengths are his weaknesses, and his weaknesses his strengths. This is what makes him an American original, in my book. He is not some manufactured coach straight from central casting who went out of his way to curry favor with the media or the public based on some false pretense. No, Knight is real -- warts, scabs and all.
Knight's day might have passed, and I can't say that is a bad thing. There is no room for abuse of any kind in the workplace.
On the other hand, Knight will be missed. He was the real deal. And in a world where realness has taken an extended hiatus, Knight's authenticity deserves our applause.
Dr. Todd Boyd, a columnist for Page 2, is an author, media commentator, and The Katherine and Frank Price Endowed Chair for the Study of Race and Popular Culture at USC. The paperback edition of his "hip hop history" of the NBA, "Young, Black, Rich and Famous," will be available in March 2008.