Page 2's Mary Buckheit has an affinity for all things vintage. So this year it's in with the old! While everybody else is busy sniffing out the hottest will-be faces of the year, MB throws it back.
With a three-fingered girl scout salute, she sings "Make new friends, but keep the old. One is silver, the other gold." … And really, who would want to lose touch with Amanda Beard, Tanith Belbin, Heather Mitts and Jennie Finch?
Rather than search for some new flash in the pan, we made Mary catch up with the timeless babes gone by.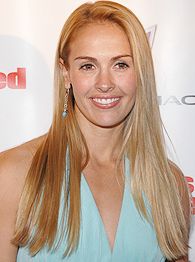 WireImage.com
Page 2 is giddy to be able to check in with 2004 Hottest Female Athlete winner Heather Mitts.
Before Tanith Belbin and Amanda Beard, there was Heather Mitts --
Page 2's Hottest Female Athlete of 2004
.
Heather has had flings with FHM, the SI swimsuit issue and Playboy.com, but we like to believe that this classy lass, now 28, has a special thing for us. You may have spotted her on ESPN, covering the sidelines of college football games or providing the best-looking soccer analysis we've ever seen. Lately, she's been staying out of trouble and keeping that famous bod in top shape through U.S. women's national soccer team training, and we think she's about the finest representative of the Stars and Stripes there is.
Mary caught up with Heather in Los Angeles to get the latest on her life, relationship with NFL quarterback A.J. Feeley and the newest addition to Team Mitts-Feeley. Here's the dish.
What have you been up to since the last time we heard from you?
Gosh, the last time we talked must have been 2004, because it was an Olympic year. I have a gold medal now, which is very cool. It's actually probably the coolest thing in the world. Let's see, I must have been in Miami. We've moved three times since then -- first to San Diego, and now we're back in Philly where we belong. It's been crazy, nonstop. I've done some work with television here and there, but really I've just been playing soccer. Soccer is now an 11-months-a-year thing for us. Since we don't have the WUSA anymore, the national team is full time. It's been keeping me busy. I love it. I just feel so fortunate that I'm able to keep playing soccer. Other than that, things are still going well with A.J., and that's about everything. Life's been great. I can't complain.
Alright, so how long have you and Mr. Feeley been an item?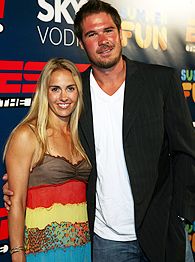 WireImage.com
Mitts and her beau, A.J. Feeley, have been an item for four years -- and there's a new addition to the family.
Four years, Mary. Can you believe it? But, when you factor in all the traveling that he and I do, we have spent maybe two of those together. It's been an adventure, that's for sure. Lots of long distances, but it's been four really great years.
No marriage or kids to report, right?
Well, we do actually have a new addition to our family … an 11-week-old mini-bulldog that I got for A.J. for Christmas.
I thought we were about to knock baby Suri to the back burner, Heather.
[Laughing] We have a baby right now, we really do! He's a handful! We have to take turns and figure out who's going to get up in the middle of the night with him to take him outside, and whose turn it is to pick up the poop. He's not quite trained yet, but I'm gone for the next three weeks in China.
Conveniently.
Yes, so hopefully by the time I come back, A.J. will have that all figured out.
Having a pet together is pretty serious, you know.
That's what everybody keeps telling me! It's a big step. I know that.
What's his name?
Bentley.
Who named him?
A.J.
Is that because he really wanted the car and you got him a bulldog?
No, he just liked the name. He's wanted a dog for a while, so this was my combo Christmas/long overdue birthday present for him.
I noticed Mr. Feeley on S.I.'s list of hottest male athletes.
I know, I've been bragging to all my friends! It's kind of a running joke on the team now. There was a shot of him on TV during an Eagles game and I immediately got a text message from one of the girls that said something like, "Ooh look, that's got to be one of the hottest athletes in America!" So everybody's having fun with it. It's fun that it's not me getting the heckling this time.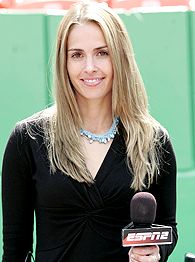 WireImage.com
Mitts has covered soccer and college football for the Worldwide Leader.
Nobody's pushing your buttons about the honor anymore?
Nah. That was how many years ago? It's old news.
For what it's worth, I can't believe A.J. was only No. 9. Who won that poll anyway?
I don't even know. I just know my guy is No. 9!
I think he would do better in our hands. ESPN fans are smarter than SI fans. We could have him in the top five, at least.
Exactly, I think so too.
Alright, so give us a new looker?
Well, I don't know if anybody's noticed, but I have a couple of very attractive teammates. Leslie Osborne, for one, is just gorgeous. So is Hope Solo and Lindsay Tarpley. I've gotta give some props to my U.S. teammates. They're beautiful and they're also such great people.
Are you a little upset that you're not the prettiest face in U.S. Soccer anymore?
Nah, I already knew that.
I mean with Beckham coming to town.
Yes, I've been replaced! I'll be coming out to watch Beckham purely for his soccer skills, of course [laughs]. No, A.J. knows that I have a crush. Seriously, it's very exciting that he's coming over here. And not only is he a really great soccer player, but he is nice to look at, and I think he will help the game in this country immensely.
Were you able to make it to many Eagles games this year?
I wasn't, unfortunately. I travel so much with the team, and we live out here in L.A. for four months of the year for training camp. I was able to make it to a few games this season. They are so much fun. Every time I go to a game, it's just awesome. Plus, it's great to be back in Philly. The Eagles have the greatest fans.
Where did you watch the tough Eagles-Saints game?
From my hotel room here in Los Angeles. Kind of a bummer that I couldn't be there, but they had a great season and what can you say? New Orleans played really well, and if anybody is going to come out on top, it's kind of nice to see the city of New Orleans.
What's your favorite city to party in?
Of course I love Philly, but I mean, you can't go wrong with Vegas. As they say, "What happens in Vegas, stays in Vegas," but every time I've gone there I've had the best time. But you can only go for like, two days at a time, you know?
Oh yes. I know just what you mean.
More than two days in Vegas and you end up pretty much worthless [laughing]. I'd say it's about a once-a-year trip for me. That's plenty.
Speaking of Sin City, any New Year's resolutions?
You know, I'm really bad at that. I'm the kind of person who makes one when it's too late, and then I'll find myself thinking, Darn, I should have made one. Usually something will happen that will get me thinking about it after the fact.
Like people who put in a security system after they've been robbed?
Exactly. I'll make it my New Year's resolution for this year to make one for next year.
Way to be proactive. Did you guys do anything cool for New Year's Eve?
Believe it or not, A.J. was really sick. That day was the game that he ended up playing in [Feeley threw for a career-best 321 yards and three touchdowns against Atlanta to help the Eagles win their fifth straight game without Donovan McNabb]. He had a flu, and he was throwing up and his stomach was really bothering him. He didn't think he was going to play in the game, and he didn't feel like going out. He actually told me earlier that day, "You're going to hate me, but we probably won't go out tonight." So I had no intentions of doing anything. I figured we'd probably just hang out after the game, but then he ended up playing in the game, and he did well and they won and we went out to dinner with some friends, and did the old countdown and toasted in the new year. It was pretty laid back, but it turned out to be a nice night.
What was the best thing you discovered in 2006?
Hmm. My favorite discovery of the year came because one of my friends is a travel agent. My eyes were opened to first-class upgrades! Just because I travel so much. It's been the saving grace when you're coming home from China or Portugal or South Korea or Japan. Sometimes you've just got to suck it up and go first class.
What's your favorite perk, the warm peanuts?
No, the comfy seat! That's it! It's all worth it for the seat. All I care about is a little more room on those long flights. I end up sleeping the whole time anyway, but at least I'm not leaning on somebody. It makes all the difference.
Was there one standout, nightmare trip of the year?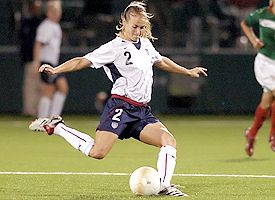 WireImage.com
The travel can be brutal, but Mitts still thrives on international competition.
One? I mean, it's pretty much anytime the team goes over to Asia -- just because it's 15 hours in coach, and somehow I always end up in a middle seat. So it's just long, and you get there, and you try to adjust and have to be ready to play and perform, and then you're back on the plane. Our flight out there for the Four Nations Tournament is from L.A. to San Fran, to Beijing, and then to Guangdong. Then on our return flight, we get in to L.A. at 1:30 in the afternoon, and then I have a 10 p.m. red-eye home to Philly. So needless to say, I want to go over and win the Four Nations Tournament, but the travel is brutal.
When's the last time you've been able to do absolutely nothing?
Early December. The season was over on Nov. 22. I took two and a half whole weeks off to not do anything. I didn't work out. I didn't do anything. For a minute I was kind of like, "What am I doing with myself?" But I just wanted to veg and hang out in Philly. It was so nice.
Alright, last question. Easy one: What's your cell phone ringtone?
"Beautiful Day," by U2. And then, you know, I have my specific little rings for different people, but that's my ring for just about everybody.
What, you can't disclose your ring for A.J.?
[Laughing] Oh man. It's Marvin Gaye, "Let's Get It On."
Note: This interview took place on the day Heather found out that she had been named to the 20-player roster that would head to Guangzhou, China, the following day for the Four Nations Tournament -- the annual event that features four of the world's top women's soccer teams. Heather and the girls won the tournament for the fifth time and are now back home gearing up for the World Cup in September.
Mary Buckheit is a Page 2 columnist and can be reached at marybuckheit@hotmail.com.