LAS VEGAS -- No doubt you've noticed that the mainstream media are finally coming around and covering ultimate fighting. (No, you weren't hallucinating, it really was on "SportsCenter" this past weekend.) And, as someone who has been singing UFC's praises for some time, I'm thrilled to see this happening.
But, as much as I loved seeing Roger Huerta kicking it on the cover of last week's Sports Illustrated, I'm still wrangling with the antiquated idea presented in the mag's headline, which asserts that the sport is "too brutal" and "most controversial."
Nonsense. The idea that this sport is too violent is outdated, overdramatic nonsense.
I won't waste my breath or your time defending the skills inherent in mixed martial arts. But I will take this opportunity to tell you something that might surprise you -- that UFC shares something in common with a certain Phil Collins ballad.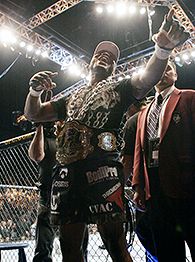 AP Photo/Eric Jamison
"Rampage" Jackson took Chuck Liddell's belt away on Saturday night.
Because lately, the outcomes of several UFC fights have been "against all odds."
For instance, this past weekend at UFC 71, Quinton "Rampage" Jackson knocked out Chuck Liddell -- fan favorite, ESPN The Magazine cover boy and the oddsmakers' much-preferred pick -- in the first round. Jackson heard roaring boos from most of the sold-out crowd of 14,728 at the MGM Grand Arena. But he needed only one minute and 53 seconds to displace the UFC light-heavyweight champion by TKO.
And Liddell's loss wasn't even the biggest upset of UFC 71 (each UFC card is given a number). Thirty-five-year-old UFC rookie Houston Alexander knocked out light heavyweight "Dean of Mean" Keith Jardine in only 48 seconds!
Upsets are nothing new to UFC, though. All five UFC titles have changed hands in the past eight months. The three previous cards featured the falls of welterweight champ Georges St. Pierre and heavyweights Tim Sylvia and Mirko "Cro Cop" Filipovic at the hands (and feet) of underdogs.
Liddell, 37, who fell to the 28-year-old Jackson once before, in Nov. 2003, made no excuses after the fight for his second and swift demise.
"I made a mistake," he said. "I went out there and I got caught. It happens."
Liddell had won seven fights, all by KO or TKO, since his first loss to Jackson.
At first I thought the quick call from referee Big John McCarthy was premature (and I can only imagine what those watching on pay-per-view were thinking). But upon further review, the call was indeed warranted. A Jackson right hook connected with Liddell's jaw and sent him wearily to the ground, and a subsequent barrage of fists and elbows left Chuck's body flat on the canvas and justified the TKO.
In the postfight press conference, when asked to distinguish between the initial blow from Jackson and the beating that ensued on the ground, Liddell explained, humbly smiling, "Uh, I think I got hurt when I fell. That's my guess."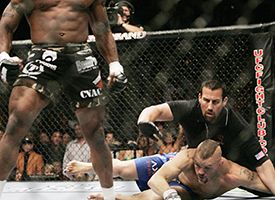 AP Photo/Eric Jamison
The sight of Chuck Liddell on the canvas surely shocked many.
While I don't have to tell longtime Liddell fans that their beloved fighter will bounce back from this loss, those newly sweet on Chuck since seeing him on "Entourage" or holding his son Cade on the ESPN Mag cover may need some further assurance. So know that in the back hallways of the MGM Grand at 10 p.m. Pacific time on Saturday, after the fight's all-too-quick conclusion, Liddell was sitting calmly in jeans and a T-shirt on a table outside his dressing room, drinking a bottle of Bud. His painted toenails (alternating black and blue) shone through his sandals.
His team stood somberly around him, leaning against the walls, saying nothing as the buzz from the winner's locker room poured out mercilessly into the same corridor. As a few folks made their way down the hallway past Liddell, some stopped to give him a handshake or a pat on the back. I overheard Josh Barnett (youngest champion in UFC history and long-time friend of Liddell) offer some constructive condolences.
"Hey man, it's already an hour behind you now. It's over. Already in the past."
"Thanks man," Chuck said, adding a sincere head nod and pausing before saying, "it might be in the past, but I've got about two weeks of interviews to get through before it's behind me, man."
Liddell most likely will face Wanderlei Silva next. "That's what we'll probably do, Chuck verse Wanderlei," UFC president Dana White said afterward. So to all of you UFC admirers old and new, get ready for Silva-Liddell -- and get pumped up for Jackson defending his belt against current PRIDE two-division champ and former UFC fighter Dan Henderson (which will be the first title fight between current UFC and PRIDE champions).
Just think twice when you're picking the winners, though, because the only safe bet inside the octagon these days is UFC's rocketing rise, against all odds.
Mary Buckheit is a Page 2 columnist. She can be reached at marybuckheit@hotmail.com.